Event Information
Location
The Hut
305 N 4th Ave.
Tucson, AZ 85719
Description
HALF of all ticket sales will--through Tucson's Educational Enrichment Foundation--go to their Interscholastic Scholarship. Academically eligible, financially in-need students in middle school and high school who are unable to pay TUSD's mandatory participation fee for organized co-curricular activities (such as orchestra, band, and art) can apply for this scholarship.

Learn More about where your money goes:
http://www.eeftucson.org/default.html

Not only does this event support a great cause, but the show will be out of this world!!

There will be TWO stages with the live entertainment never stopping. From 6pm to 9pm you are encouraged to bring music lovers of ALL AGES!! There will be food, family friendly music, and live art including live Poi Dancers!

After 9pm the event changes gears and the lights and music are designed to envelop all the senses. You will NOT want to miss local sensation, Vibe, and reggae phenoms, Kava Kreation, and Fortunate Youth!

At midnight, we switch into high gear and turn the inside of The Hut into a full blown dance club with a rock-your-face-off-DJ vs Drums-BATTLE! DJ MastaMonk rocks out to all your favorite house, dub step, and electro beats while Mike Drums leads the beat with his over-the-top enegertic drumming!

Confirmed Bands:

Fortunate Youth:
http://www.youtube.com/watch?v=jCovoVrwgUI&feature=related

Kava Kreation:
http://youtu.be/KvvAGs1QU10

Kat Nestal:
http://youtu.be/aCANk-_EXpU

Vibe
http://www.facebook.com/123VIBE

Ben Micheals:
http://youtu.be/eMGSNVYIXL8

The Jits

Stay tuned for more!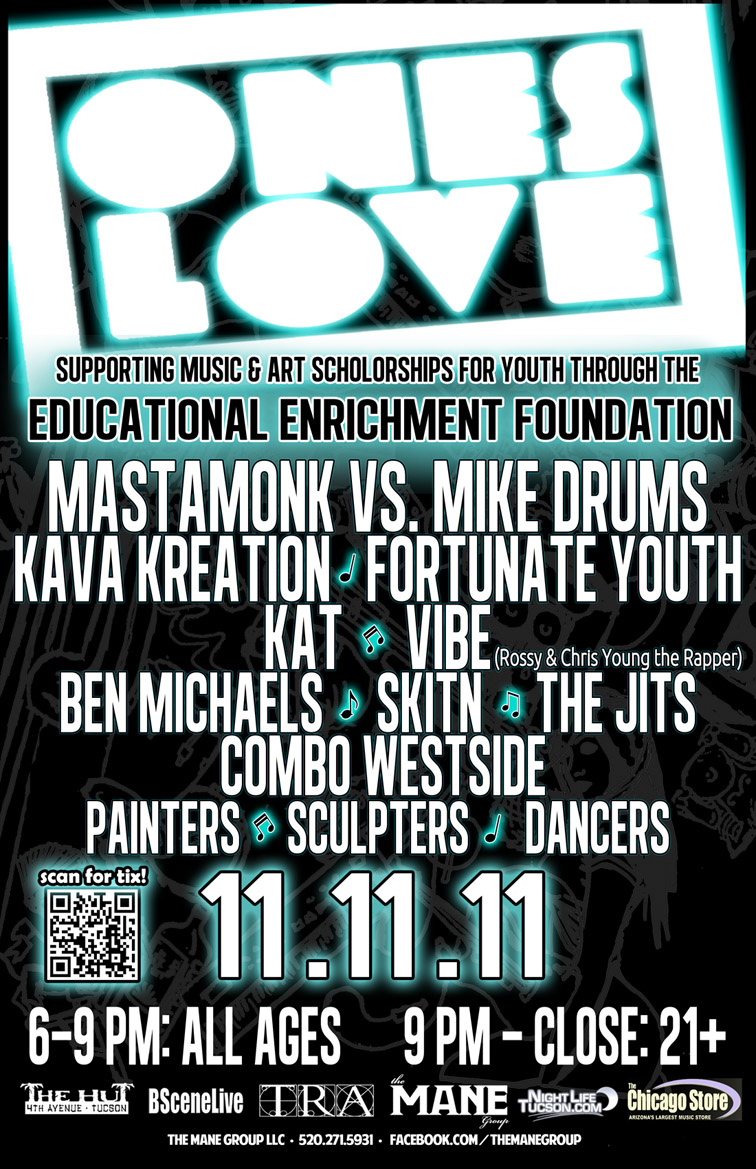 Date and Time
Location
The Hut
305 N 4th Ave.
Tucson, AZ 85719