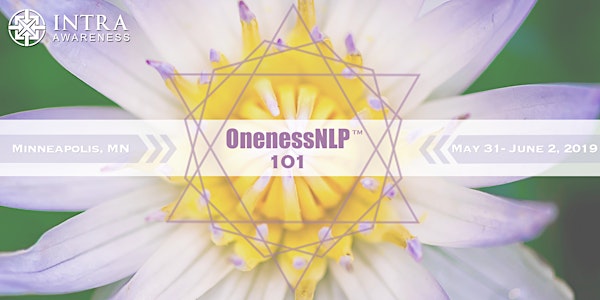 OnenessNLP™ 101 Certificate Course | June 2019
When and where
Location
NE Minneapolis MN 55418
Description
Are you ready to increase peace and flow in your life?
Live 3-Day Event in NE Minneapolis
May 2 - June 2, 2019
Learn Techniques and Tools to Communicate More Clearly and Create the Life You Want
Be immersed in the transformational energies of healing consciousness through our OnenessNLP™ 101 Certificate Course covering the fundamentals of Neuro Linguistic Programming and Humanistic Neuro-linguistic Psychology techniques, and how to begin applying them immediately to your life. In addition, OnenessNLP™ will explain and give you an experience of connecting to your Unconscious Mind and Higher Consciousness. It is an experience not to be missed!
Over the course of this insightful 3-day weekend, we will dive into how to improve and develop communication skills with our personal relationships, loved ones, co-workers, clients, and peers. NLP will empower you to recognize and enhance your personal power and professional value. Learn to become a more effective leader, role-model, and make every outcome an attainable reality. Experience the benefits of NLP, explore its history, develop and apply the fundamental skills of NLP directly to your life.
Join us for an inspirational weekend open to anyone interested in self-improvement. A great enhancement for parents, teachers, trainers, coaches, nurses, holistic practitioners, and corporate leadership trainers.
The NLP 101 Course is the prerequisite for the full NLP/HNLP Practitioner and Hypnotherapist Certification Training.
NLP 101 Certificate Learning Outcomes
By applying the learning from our NLP 101 Certificate course you will be able to:
Learn how to better communicate your feeling to friends and family

Understand the difference between your thoughts and feelings

Develop your ability to read people and understand situations more clearly

Gain a practical map of how your mind works

Experience how to quiet the mind with specific techniques & tools

Learn how to create goals and stick to them

Understand how to clear up miscommunication and create happy relationships

Help others overcome limiting reactions and beliefs
Course Details:
- Friday, May 31st through Sunday, June 2nd (3-Day Weekend)
- 9:30am-6:30pm Each Day
- Certificate of completion for 27-hours NLP 101
- Tea and Snacks Included
- This course is a prerequisite to the OnenessNLP™ Practitioner Training Course.
- Licensed Massage and Bodyworkers earn 24 Continuing Education Credits through this NCBTMB approved course.
Upon completion you qualify to apply for the 2020 Level 2: NLP/ HNLP Practitioner & Level 3: Hypnotherapy
Please contact us at Info@IntraAwareness.com or (612) 930-2662 for more information.