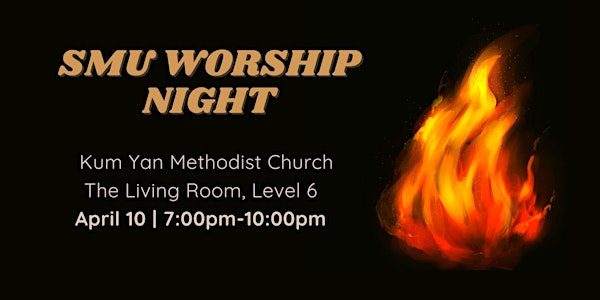 Oneness: SMU Worship Night
SMU Worship night is a night for us to realign ourselves to the cross, seeking and remembering Jesus
Date and time
Monday, April 10 · 7 - 10pm +08
Location
The Living Room, Level 6 Kum Yan Methodist Church 1 Queen Street Singapore, 188534 Singapore
About this event
Dear Children of God,
As the Worship Night team came together to share what God has put on our hearts for SMU, a common theme we noticed was 'Oneness'.
We believe the word oneness calls us to be one with God and one another just as Jesus and the Father are one (John 17:21) Before Jesus did anything, he always sought the Father first and only did what the Father told him to. In essence, being one with God means to be of one mind and spirit, in tune with what God is saying and doing. With God's love, God called us to love one another as well despite our differences.
Perhaps we have missed or lost sight of being one - with God and one another - because we are too caught up with our studies, relationships, ministry, or we are wounded.
This worship night, regardless of where you are in your walk with God, let's come together as a body of Christ to realign our hearts with Christ, to worship and pray for our school, and to encourage one another in this journey!
P.s: Doors open at 6.30pm! Feel free to come earlier :)