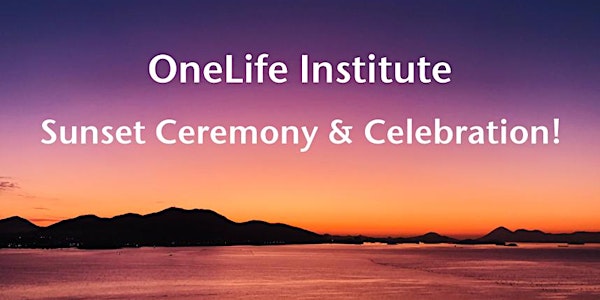 OneLife Sunset Ceremony
Join us on zoom - Sunday, Oct. 17th - to celebrate OneLife as we conclude our seventeen years of community service!
By OneLife Institute for Spirituality & Social Transformation
Date and time
Sunday, October 17, 2021 · 4 - 6pm PDT
About this event
For seventeen years OneLife Institute has served at the intersection of spirituality and social action to nurture, inspire, and sustain people committed to healing and justice.
In October, we will be sunsetting the organization and ceasing operations.
OneLife was intentionally launched with a community gathering of prayer and celebration in 2004. We want to close the circle in the same way - in sacredness - and with you, our beloved community both near and far.
We hope you will join us for this special gathering. We will share memories, enjoy some live music, and hear from a few special guests. We will give thanks for all that has been, and bless the way forward for each and all of us.
Everything in Life has a season. OneLife Institute has had a long one. When we began there were very few organizations doing this work locally or nationally. Now there are many. When we began, very few spoke about supporting the wellbeing and sustainability of activists and community caregivers. Now it is a given. When we began, foundations had no program areas to fit our mission. Now there are a growing number supporting this expanding field. Now it even has names: Healing Justice, Contemplative Activism, Transformative Practice.
We are proud of the work we did to help expand the conversation and establish the field. We are proud of the number of people we served and the difference we made in so many lives. We are humbled that so many many people invested their time, talents, and resources in support of our vision. It has been an amazing journey, and we are deeply grateful.
We chose to call this a "sunset" rather than "closing down" with intention. There is magic and beauty in the sunset. Colors paint the sky in a way that makes us stop in awe and watch the majesty unfold. Humans, animals, all of Life sit in reverent communion with the Divine… And then, following every sunset – and a period of rest – a new day dawns, a new beginning… But without the setting of the sun there can be no dawn. We are excited to make way for all that is dawning!
We will also be creating an online platform where everybody who has been touched by OneLife Institute can upload photos, videos, stories, memories, prayers, and testimonies to create an accessible history of our journey together. Please start thinking about what you would like to share and we will provide more information on this along the way. OneLife is made of all of us, and it will take all of us to tell its story.
Whether you have been with us for the full seventeen years, or have only recently discovered us, we are grateful for you and for your presence. And to our many donors, volunteers, team members, and community partners, we love you so much! Your support made OneLife possible.
May the gifts that you shared with us return to bless you a thousand-fold!
About the organizer
OneLife Institute is a POC-centered organization serving at the intersection of spirituality and social action. We nurture, inspire, and sustain people committed to healing and justice. Through workshops, retreats, events, resources, counseling and consultation we provide a place where those on the front lines of social change and community service can be supported and renewed.

Since 2004, our work has centered three primary goals: (1) Increasing the well being of individuals and communities living under the stress of poverty, violence, oppression and uncertain times; (2) Enhancing the  sustainability and integrity of movements for social transformation and community uplift; (3) Fostering an ever-growing Beloved Community.