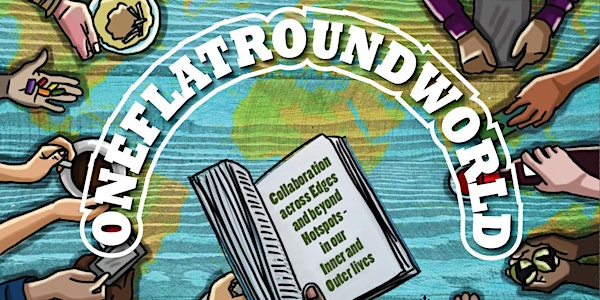 OneFlatRoundWorld - 7 Day Deep Democracy Intensive | Amsterdam + Online
Join Learners from Global South + North to learn Awareness-based Interventions to Collaborate with your Inner Life and the Outer World
By Deep Democracy Institute
Date and time
October 10, 2022 · 10am - October 16, 2022 · 1pm CEST
Location
Tolhuistuin 2 IJpromenade 1031 KT Amsterdam Netherlands
Refund Policy
Refunds up to 7 days before event
Eventbrite's fee is nonrefundable.
About this event
In a Nutshell
Join our international learning community from Global South and Global North to learn awareness-based interventions and attitudes. Practice to create, facilitate and impact collaboration across ALL divides - inside yourself and outside in your community and the world.
Take-Away from this Intensive
New applications of precise Deep Democracy interventions to facilitate highly diverse often polarized communities and teams.
New and detailed applications of Inner Work practices to stay centered and resilient during inner and outer crises situations.
Specific skills and strategies to facilitate and resolve conflicts where the opposing party doesn't collaborate.
New perspectives and practices for facilitating collaboration across intersections of oppressive systems: racism, sexism, heterosexism, ageism, etc.
Enhanced creativity from seeing how our diverse members apply DD and PW in their own cultures.
Our Course Fees are discounted 10 % from last year, due to the global economic situation.
Please inquire about scholarships : mpere@deepdemocracyinstitute.org
Please scroll down for more course details

OneFlatRoundWorld
We are visitors on our earth. We CAN and MUST learn to collaborate. Learning how to co-create and co-facilitate this process is challenging. It forces us into an inner learning journey and transformation, which include
Knowing, owning and appreciating our rank and the privileges associated with it. It brings creativity into our lives and relationships, and flattens the world.
Opening up to our "Dreaming", our inner voices and experiences which we marginalize. It makes our lives multi-dimensional, and the world rounder.
Working with "quantum flirts" – the flickering experiences like the glimpse of a flower in the middle of a concrete world changing subtly our mood. It shows us the intelligence of our connectedness and makes the world One.
Our inner work and our ability to lead and facilitate mirror each other. Learn how to bring these processes into relationships, teams and communities by
Unfolding rank and privilege in conflicts, divisions and polarizations.
Co-create resolutions - coolspots - by unfolding the dreaming aspects of division and polarization.
Framing and expanding "magic" moments in groups so their transcending beauty can become lasting and useful.
Learn to develop and practice a conscious process-oriented awareness discipline. Learn the theory and practice of Process-oriented Inner Work and defined group interventions that require a high degree of precision. Enhance collaboration by developing your personal facilitation style. Deep Democracy Facilitation is meant to show the multi-dimensionality of community life, make space for spontaneous human warmth in the midst of conflicts and forward unlikely connections across divisions and borders. Our full immersion Intensive in a highly diverse learning community creates a great foundation to work on your vision and the practice of your style and talent to improve collaboration in our world.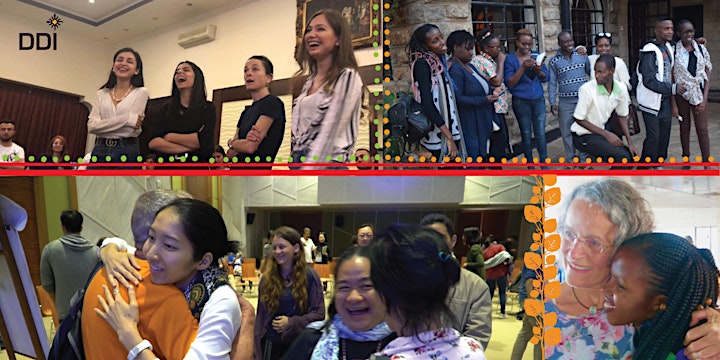 Our Community
We – the community that make up the Deep Democracy Institute, are eager to welcome you this year in Amsterdam. We are co-learners from over 30 countries from Africa, South East Asia, Australia, the Middle East, Ukraine, Russia, Europe and the Americas. We are an informal and ever-changing network of individuals who live and work in…slums as community activists, hospitals as doctors and nurses, families and extended families as caretakers and teamleaders, rural areas as farmers, and in business, non-profits, and corporate environments as owners, leaders, or team-members. We are in universities as first year college students and as professors in various disciplines, we are artists, ordained or non-ordained elders (in many of the world's religions), government officials, psychologists and consultants. Our group is comprised of introverts who identify as being awkward in social settings, extroverts who feel they thrive in groups, and the entire spectrum in between.
Inclusion for us means co-creating together a space where all voices are heard and we learn to connect to our inner truth and can link it to the process that is happening. Many of us understand and practice the value of political correctness and many of us understand the value of expressing experiences and beliefs beyond it, or before it 🤣. We love the diversity of our group, the many voices that are present and the care and effort that goes into creating a space together where these voices can be heard.
We are proud of the wild brew of lived experiences that come together! We invite you to join us and learn and contribute to our shared fermenting process.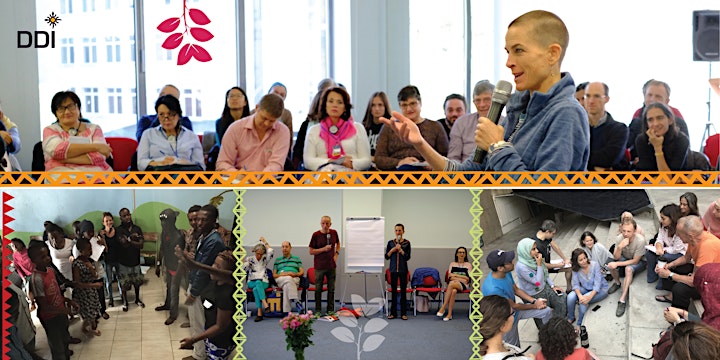 Our Location
Our yearly Intensives are one-of-a-kind which cannot be replicated. Global issues that challenge everyone along with local hotspots and beauties show their interrelatedness during these courses. They happen each year in a different city. In the past we have been hosted in Kyiv, Barcelona, Yerevan - the Capital of Armenia, Paris, Bangkok, Berlin, Cairo, San Francisco, and Otranto - a coastal town in Southern Italy.
This year, in Amsterdam, we will be in working in the Tolhuistuin, a cultural hotspot in Amsterdam. Most of us will get there with Amsterdam's most popular and maybe shortest ferry ride, with boats leaving every few minutes 24/7.
Amsterdam is known for its art and its openness to many liberal ideas. Among international change makers, it is often acknowledged as a Global North Center, studying aspects of collaboration. For many of us, Netherlands has also a painful past as a colonial power, and in the view of many of its diverse communities, needs to work on how this past is present now and how to address the Inclusion, Equity and Diversity issues that are present.
We are grateful to our Amsterdam DDI colleagues, the team on the ground, Sara Huang and Mara Verduin, and thankful to all colleagues and friends in the Netherlands who have supported us in the past and support us now. Sara and Mara have put together a list of accommodations and things to see in Amsterdam, which you will get when you register. We also recommend all who are not familiar with acquiring a Schengen Visa to get in touch with us as soon as possible mpere @ deepdemocracyinstitute.org.

This Year's Focus: Unfolding Edges and Hotspots in your Inner Work, Relationships, Teams and Organizations
Our Intensive Courses are full immersion courses, designed to create a lived experience of the Deep Democracy paradigm, which states that our inner lives mirror the processes of the world at large, and vice versa. In order to understand and interact – facilitate – both, we need to develop different knowledge systems or awareness tools. In this course, we will show how to use Mindell's three level approach consistently, and how it can be integrated into diverse global knowledge systems. The course will include some mini lectures for background, however the main focus will be on hands on experience and practice. This year's focus is on learning and applying specific Process Work interventions in various contexts. It will include working on diverse epistemologies - various ways in which different cultures create and manage knowledge, and the resulting worldviews. The purpose is to master the art and skills of "Process Work Unfolding". You will practice unfolding individual processes, relationship and community conflicts, and political and geopolitical polarizations.
Process Work Unfolding is the most important term for practitioners and learners of Arnold Mindell's Process Work and Deep Democracy paradigm. Unfolding has become a buzz word these last years, frequently used as a synonym for unpacking. Process Work Unfolding refers to a skillset that applies precise and specific awareness interventions to use disturbances and conflicts as portals to parallel worlds, where radical new perspectives, insights and solutions become lived experiences. Compare this to a lucid dream in the daytime that sheds light on aspects of conflicts and problems that were previously in the dark. These portals offer themselves in all moments of slightly altered states - for example in heated group conflicts, moments of unintended communication between rigidified positions, and/or other disturbances, including body symptoms.
With this new perspective, we organically discover a hidden cohesion, a potential, that if used becomes the emerging future. It frequently leads to equally radical, surprising and innovative solutions.
The real power of this intervention is in using the slightly altered states that are present to facilitate the awareness of the participating parties, without having to control, calm down, or force them into linear rational discourses, or arbitrary so called out-of-the-box ideas.
Mastering "Unfolding" allows us to bring out the depth of roles and ghost-roles in group processes that lead to coolspots (resolutions) and often contain magical changes of the group atmosphere. DD facilitation makes these touching moments in groups and relationships useful, so that they do not remain momentary experiences of group cohesion only; they also bring a collective insight that can be used in ongoing transformation by the group and its members. "Unfolding" allows us to facilitate challenges without having to rely on rational linear discourse and conversation alone. It can be applied to de-escalate heated and violent conflicts, and to assist facilitators to release fear-based control of group behavior.
The diverse ways in which we "know" and use this diverse knowledge inside of ourselves forms the foundation upon which these awareness tools can be learned and implemented. That is why all of our learning efforts will include ongoing inner work/play components.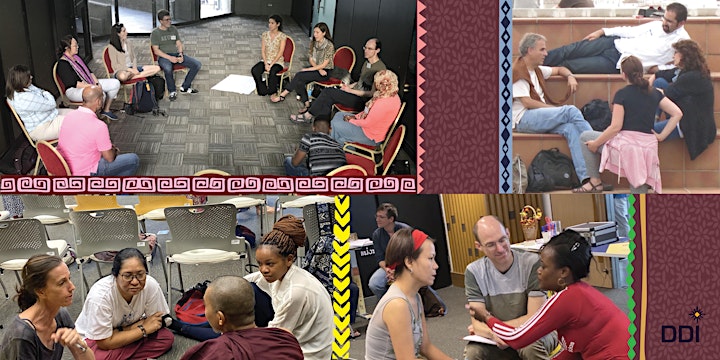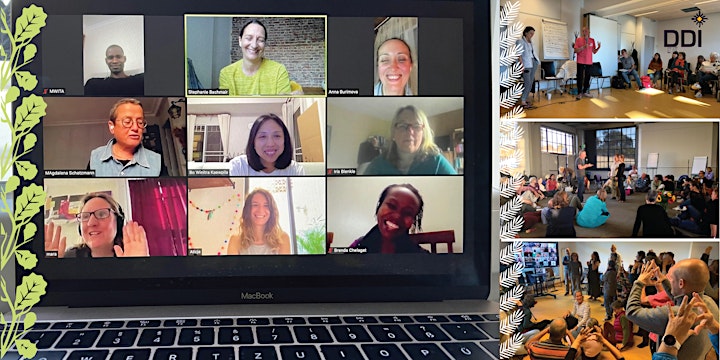 Course Format
Our Intensive Course is designed as a special training course in Process Work and Deep Democracy where we get to be both researcher and research "object". We are the garden, studying the diversity of our ecosystem and how to learn from its relationships so we can garden better, while flowering and blossoming ourselves along the way.
We teach and learn as trainers, and we learn and teach as participants. Together we co-create eye level learning and teaching. We provide individuals with (self)coaching tools to understand themselves in moments of conflict and polarization. They provide the ground we can use, when we are "Sitting in the Fire" : learning to facilitate polarized teams, communities and organizations, and develop fluidity in facilitating hot conflicts across vastly diverse communities.
Face-to-Face and Online – Hybrid Course and Hybrid Community
In 2021, under the influence of the Covid pandemic, we for the first time held a hybrid Intensive. About 70 of us met face-to-face in Paris and about the same amount were online across the world. We had two parallel Intensives, with many joint events. Most of us were equally excited about our learning and deep experiences working as one group (with a large screen and camera and mics on the f2f side ) and powerful experiences in each group (f2f + Online) on their own.
The process of working through the difficulties present in that experiment, and the WAY we worked through them, resulted in a lived experience of new relationships between Global South and Global North that is unforgettable. It moved us to structure all of our future Intensives as hybrid events.
The Intensive is a hands-on learning event, with mini lectures in the morning followed by a large group process, facilitated by one of the learning triads (formed on the first day). In the afternoon, we break into small groups to practice either self-facilitation + coaching skills in pairs, or facilitation of the small group. There will be a fair amount of demonstrations, but the focus will be on opportunities to practice what you are learning, as you wish.
Our Intensive groups (usually around 100 people) are a mix of newcomers with no background in facilitation or Process Work, Process Work and Deep Democracy practitioners who are part of our training programs, and experienced leaders and facilitators from related approaches.
Many of us are life-long learners who join in for a training, and then might drop out for a shorter or longer time, according to their own process.
Daily Format
F-2-F
We work as a whole group every morning from 10 am -1 pm, with theoretical presentations followed by a large group process. Some of these group processes will be with online+face2face participants together, and some will be separate.
We have a longer lunch break for networking and experiencing Amsterdam. From 4 - 5.45 pm we work in small groups of around twenty people that stay together throughout the course. From 5:45 -7 pm. trainers and participants present or debrief the day, process issues that came up during the day, etc.
Online
We live stream the morning theoretical sessions for online participation. The second half or the morning is for group process, either within the online group community, or with the entire group of participants, online + face-2-face. Our live streaming events are recorded and participants get secure links to watch the recordings when it fits into their timezone and life design. Small groups will consist of members of the same timezone, or if you wish, you can join any group as you like. For example a Thai student might prefer to be part of a group with members that live predominantly in the Middle Eastern, East African timezone.
Some evening sessions (5:45 – 7:00 pm) will be recorded, and some will be live streamed and recorded.
Email us at mpere@deepdemocracyinstitute.org with more questions, and you can also talk to one of our faculty members.

Public Open Forum
As in every Intensive, we will conduct a public open forum (on one of the evenings) on an issue that is current for Amsterdam and globally relevant for all of us. Public Open Forums are promoted citywide and open to anyone.
Field Theory and Process Work
One of the theoretical foundations of Process Work and Deep Democracy is social field theory. It states that individual experiences are symmetric to collective experiences and consequently mirror one another. Field theory allows us to view our inner lives as unique, with our own psychological and spiritual DNA. Our personal lifemyths partially mirror the world at large. And vice versa; the conflicts, beauty, pain and happiness in the world can be viewed as "life" interacting with human awareness as one of the elements in the connected universe (#selfawareuniverse). Although many belief systems know and describe this process, Process Work and Deep Democracy are unique in the specific interventions used to unfold them in oneself, and facilitate them in groups and communities. These interventions allow individuals to understand their own lives, discover the potential for themselves and the universe, and assist communities and organizations to have more interaction and vibrancy among their parts, bringing out creativity, meaning, and happiness for increased connectivity.
Intensive Themes 2022
Decolonialization of Our World + Our Micro-World
Living and learning together - with ourselves and each otherMultiverses, Inner Diversity and Childhood DreamsDiverse Ways of Knowing and Understanding, and using our Knowledge
Geopolitics + Ukraine
Crises, Purpose and Resilience, Inner and Outer Wars, End of All Wars
Intergenerational issues
Tradition + Freedom in Families + Communities
Pandemic + Health + Addictions
Loneliness + Community - Life, Death, Purpose + Joy, Parallel Worlds of Healing and diverse Medical Systems
Social Justice, Marginalization, Spirituality
Rank, Privilege, Dreams + Relationships, and Oneness
Im- and Emigration – Refugees
Home + Homelessness/Boundaries, Borders + OnenessSelf-Worth, Self-Confidence, Self-Respect, Self-Love
Food, Poverty, Inflation, Economics + Class
Careers + Corruption + Kissing the Frog
The Crack in Everything
Your Childhood Dream, Your Dreaming Path and Your ImpactFind the Light, Follow the Light, Be the Light, Give your Gifts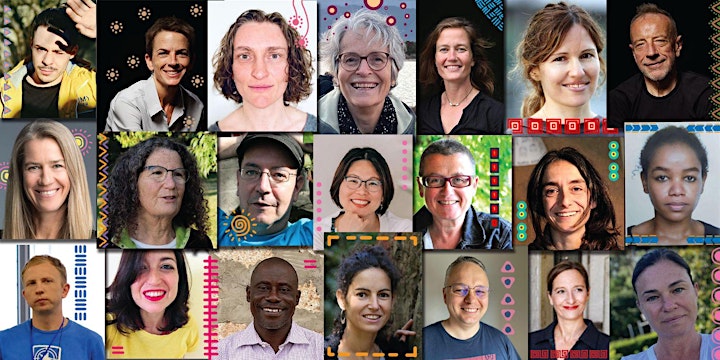 DDI INTENSIVE TEAM
Presenters, Small Group Facilitators, Tech and Coordinators
Ellen Schupbach, Ph.D. + Max Schupbach, Ph.D.
Ellen and Max co-founded the Deep Democracy Institute with co-learning communities in East and North Africa, North America, Europe, West Asia (formerly known as the Middle East), Ukraine, Russia, and Southeast Asia.Ellen Schupbach is the executive director of DDI International. Max Schupbach is a founding member of the Process Work and Deep Democracy movements since their beginnings in the Eighties and has been part of co-creating Process Work communities worldwide.Ellen and Max co-learn with diverse groups across the globe, including Fortune 100 corporations, large and small NGOs, indigenous communities, academic groups, spiritual communities, social- activist groups, grassroots movements, and indigenous communities in Africa, Australia, and Canada. They are both Process Work Diplomats.
Gabrysia Anna Gabryjelska, M.A.is a psychologist and economist based in Warsaw, and has a Process Work diploma. She facilitates development, conflicts, and creative processes in teams and organizations and works with individuals as a psychotherapist and leadership coach. Gabrysia is the dean of students in the DDI training programs.
Anna Pujol, M.A.
is a facilitator, trainer and coach living in Northern Spain. She is especially interested in working with social polarities through Open Forums and Group Processes. Her passion is to find inspiration from Nature in conflict management. She has a dual Diploma in Process Work from DDI and Instituto Trabajo de Procesos in Spain.
Anton Yermolenko
is a dreamer, entrepreneur and facilitator living in Ukraine. His main passions are building platforms to empower communities, riding his mountain bike and dancing with inner dream figures. He is a DDI Diplomat.
Beatrice Leone Ph.D.
is a facilitator, trainer, and coach based in Southern Italy. She works with grassroots communities, migrants and refugees, artists, social and cultural operators, youth, and policymakers. Facilitating means for her acknowledging and giving space to the most invisible parts within us and in communities to feel and make them alive so that they do not remain rigid and silent. She has a DDI Diploma.
Emmanuel Karisa Baya, B.A.
is from the Magarini Coast province of Kenya. He is a farmer and founder of the Magarini Children Centre and Organic Farming Demonstration Farm. Emmanuel is a Rotary Peace Fellow and holds a bachelor's degree in community development and resource mobilization. He has a DDI diploma.
Eva Sanchez, M.A.
is a therapist, trainer, and facilitator based near Barcelona. She facilitates exploration among individuals, organizations, and communities, helping them to find deep meaning in their processes of growth and development. Her passions are creativity, movement, and body language. She has a dual Diploma in Process Work from DDI and Instituto Trabajo de Procesos in Spain.
Gabrysia Anna Gabryjelska, M.A.
is a psychologist and economist based in Warsaw, and has a Process Work diploma. She facilitates development, conflicts, and creative processes in teams and organizations and works with individuals as a psychotherapist and leadership coach. Gabrysia is the dean of students in the DDI training programs.
Husna Hamisi, B.A.
is currently studying in Denmark and Kenya. Her interests are as broad as her studies, combining Architecture, Process Work, and Cultural Transformation. She is a coordinator of DDI East Africa. She is an advanced student enrolled in a DDI program.
Josef Helbling Ph.D.
Has a Diploma of Process Work, and is a facilitator and supervisor from Switzerland. He works mainly with individual clients and is recently reconnecting to the timeless energy of mountains and oceans. He is a co-founder of DDI.
Julia Wolfson Ph.D.
coaches and facilitates leaders, teams, and people internationally who are involved in housing, education, and support services, often grappling with inner and outer conflicts. When at home, Julia is living on Ngunnawal/Ngambri lands in Canberra, Australia. Julia has a DDI Diploma.
Magdalena Schatzmann
is a musician, coach, and facilitator, living in the Swiss Alps. She has a DDI diploma. In her work and life, she loves to move back and forth between the silence of the mountain world and the vibrant urban life.
Mara Verduin, MSc
is a cultural anthropologist, facilitator, and coach living in Amsterdam. Being passionate about human relationships, nature, and collective leadership she works and co-learns both with grassroots communities and organizations around Europe. She is part of the DDI Amsterdam coordination team and enrolled in a DDI program. She holds a Process Work Certificate.
Petra Voss M.A.
is a leadership and organizational consultant and coach based in Germany. She works with individuals, organizations, and communities, specializing in shared leadership, team dynamics, and responsive collaboration structures. Petra is a long-time DDI practitioner and a passionate beginner.
Ruth Weyermann, Ph.D.
is a therapist and facilitator living in Switzerland, and director of DDI Europe. Her passion includes exploring the wisdom of body symptoms and unfolding the healing power of movements. She is a co-founder of DDI and has a Process Work Diploma.
Sara Huang, M.A.
is an independent strategic and creative wayfinder. She is a human-centered facilitator and a heart-based consultant who specializes in team leadership. Sara becomes most alive when she crafts transformational spaces for folx to connect, collaborate and experience creative conflict together. Her journey in Process Work began in 2018, after completing the four levels of the Lewis Method, which led her to the vibrant learning environment of DDI. Sara leads the Amsterdam co-ordination team. She is a DDI Diploma Candidate in her final phase of studies.
Serhiy Riabchuk, M.A.
lives in Vinnitsya, Ukraine, and runs a web hosting company. He is a DDI diplomate and passionate to apply process work and group facilitation skills in organizational development.
Stephanie Bachmair, M.A.
lives in Hamburg and is a facilitator and coach in the organizational field (with a special focus on leadership and communication challenges). Stephie is a passionate researcher and practitioner of the art of storytelling. She has a Process Work Diploma from DDI.
Xenia Kuleshova, M.D., Ph.D.
is a Russian-born physician and psychologist, living in Switzerland, and the director of DDI Russia. She produces films about intercultural relationships. Xenia has a Diploma in Process Work.
Yuliya Filippovska, M.A.
is from Kyiv, Ukraine. She fled the war with her four-year-old son and lives temporarily in Geneva now. She is the director of Deep Democracy Institute Ukraine and holds a DDI Diploma. Yulia also brought the Hub Kyiv social entrepreneurship network and the TEDxKyiv conference to Ukraine.