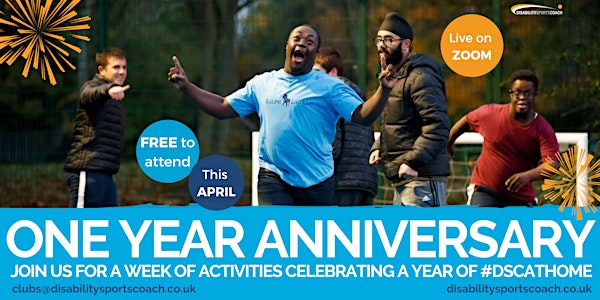 One Year On - Celebrating our Home Activity Programme
Join us to celebrate the one year anniversary of the start of our Home Activity Programme.
About this event
#DSCATHOME One Year On
To mark a whole year since the start of our Home Activity Programme, we are running a week of exciting virtual activities!
The event will be taking place entirely online, with live sessions taking place on Zoom throughout the week.
This pan disability event is open to all completely free of charge, meaning that anyone can join in the fun!
Inclusive sports and activities for all
Activities will include a range of fun interactive workouts and sports, creative sessions and a quiz!
The activities will run from Tuesday 13th - Saturday 17th April. Please see the below timetable for further details.
Registration for the event is completely free and is open to all - you only need to register once and you will be able to join as many sessions as you like (including the regular sessions). You will receive a confirmation email including the Zoom code once registered.
More exciting information will be released on our website, Facebook, Twitter & Instagram before the event, so keep yourself updated.
For more information, please call Emma on 07496 737507 or email clubs@disabilitysportscoach.co.uk