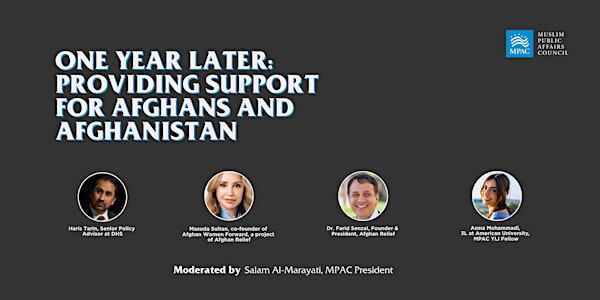 One Year Later: Providing Support for Afghans and Afghanistan
A reflection on the anniversary of the US withdrawal and support of Afghans and Afghanistan.
About this event
Last year MPAC and the Afghan-American Foundation hosted a 4 day virtual summit to discuss key issues relating to the crisis in Afghanistan and the coalition withdrawal in August 2021. The goal of this summit was to humanize Afghans and Afghanistan. To coincide with the 1-yr anniversary, MPAC is hosting this discussion to reflect on the current humanitarian crisis that continues to play out in Afghanistan on a daily basis and to discuss the most realistic way to help Afghans and Afghanistan.
Panelists:
Haris Tarin, Senior Policy Advisor at the Department of Homeland Security
Masuda Sultan, Co-founder of Afghan Women Forward, a project of Afghan Relief
Farid Senzai, Founder & President, Afghan Relief
Asma Mohammadi, 3L at American University, MPAC YLI Fellow
Moderated by: Salam Al-Marayati, MPAC President