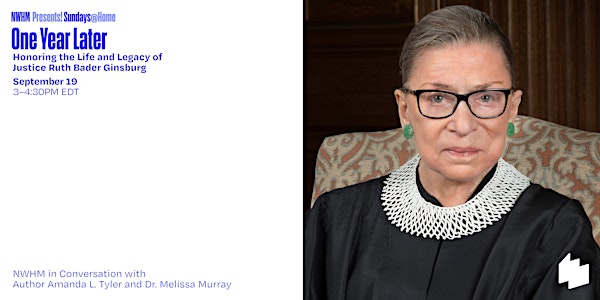 One Year Later: Honoring the Life and Legacy of Justice Ruth Bader Ginsburg
Join the NWHM, author Amanda L. Tyler and Dr. Melissa Murray as we honor the Life and Legacy of Justice Ruth Bader Ginsburg.
Refund Policy
Contact the organizer to request a refund.
Eventbrite's fee is nonrefundable.
About this event
Join the National Women's History Museum on Sunday, September 19th at 3:00pm EDT as we honor Justice Ginsburg one year after her death. Amanda L. Tyler, who co-authored Justice, Justice Thou Shalt Pursue: A Life's Work Fighting for a More Perfect Union (University of California Press, March 16th 2021) with the formidable Ginsburg will be joined on the virtual stage by Dr. Melissa Murray, Frederick I. and Grace Stokes Professor of Law at NYU School of Law for a conversation that honors her legacy of breaking barriers, fighting for gender equality, and inspiring multiple generations of women to pursue their dreams and the power of the ballot.
In the fall of 2019, United States Supreme Court Justice Ruth Bader Ginsburg visited the University of California, Berkeley School of Law to deliver the first annual Herma Hill Kay Memorial Lecture in honor of her friend, the late Herma Hill Kay, with whom Ginsburg had coauthored the very first casebook on sex-based discrimination in 1974. Justice, Justice Thou Shalt Pursue is the result of a period of collaboration between Ginsburg and Amanda L. Tyler, a Berkeley Law professor and former Ginsburg law clerk. During Justice Ginsburg's visit to Berkeley, she told her life story in conversation with Tyler. The two brought together that conversation and other materials that share details from Justice Ginsburg's family life and long career. Each document was chosen by Ginsburg and Tyler to tell the story of the litigation strategy and optimistic vision that were at the heart of Ginsburg's unwavering commitment to the achievement of "a more perfect Union."
The University of California Press is pleased to offer a 30% discount off the cover price of Justice, Justice Thou Shalt Pursue! Please follow this link (https://www.ucpress.edu/book/9780520381926/justice-justice-thou-shalt-pursue) to take advantage of this offer. Use the discount code 21W6873 in the coupon discount box during checkout.
In a decades-long career, Ruth Bader Ginsburg was an advocate and jurist for gender equality and for ensuring that the United States Constitution leaves no person behind. Her work transformed not just the American legal landscape, but American society more generally. Ginsburg labored tirelessly to promote a constitution that is ever more inclusive and that allows every individual to achieve their full human potential. In the area of gender rights, Ginsburg dismantled long-entrenched systems of discrimination based on outdated stereotypes by showing how such laws hold back both genders. Justice Ginsburg had a special ability to appreciate how the decisions of the high court impact the lived experiences of everyday Americans.
The passing of Justice Ruth Bader Ginsburg in September 2020 as this co-authored book was heading into production was met with a public outpouring of grief. With her death, the country lost a hero and national treasure whose incredible life and legacy made the United States a more just society and one in which "We the People," for whom the constitution is written, includes everyone.
Ruth Bader Ginsburg's last book is a curation of her own legacy, tracing the long history of her work for gender equality and a "more perfect Union." Please join us for this timeless conversation at this monumental time.
The National Women's History Museum strives to provide programs that are accessible to all visitors. For questions, or to request accommodations such as an ASL interpreter or captioning, please email history@womenshistory.org at least 7 days in advance of the program.
_______________________________________________________________________________________
About the Speakers:
Melissa Murray is the Frederick I. and Grace Stokes Professor of Law at NYU School of Law, where she teaches constitutional law, family law, criminal law, and reproductive rights and justice. Her writing has appeared in a range of legal and lay publications, including the Harvard Law Review, the Yale Law Journal, the New York Times, the Washington Post, and the Nation. Prior to joining the NYU Law faculty, Murray was the Alexander F. and May T. Morrison Professor of Law at the University of California, Berkeley, where she received the law school's Rutter Award for Teaching Distinction, the Association of American Law School's Derrick A. Bell Award, and, from March 2016 to June 2017, served as interim dean of the law school. Murray serves a legal analyst for MSNBC and is a co-host of Strict Scrutiny, a podcast about the Supreme Court and the legal culture that surrounds it. A graduate of the University of Virginia and Yale Law School, Murray clerked for Sonia Sotomayor, then a judge of the U.S. Court of Appeals for the Second Circuit, and Stefan Underhill of the U.S. District Court for the District of Connecticut. She is a member of the American Law Institute and the New York bar.
Amanda L. Tyler is the Shannon Cecil Turner Professor of Law at the University of California, Berkeley School of Law. Professor Tyler's research and teaching interests include the Supreme Court, federal courts, constitutional law, legal history, civil procedure, and statutory interpretation. She is the co-author, with the Honorable Ruth Bader Ginsburg, of Justice, Justice Thou Shalt Pursue: A Life's Work Fighting for a More Perfect Union, which the University of California Press will publish in early 2021. The book is an outgrowth of Justice Ginsburg's 2019 visit to Berkeley Law when she and Tyler sat down for a conversation about Justice Ginsburg's life. Tyler is also the author of Habeas Corpus in Wartime: From the Tower of London to Guantanamo Bay, published in 2017 by Oxford University Press and released in paperback in 2019. Tyler has contributed to many books and published with the Atlantic, the Lawfare Blog, other media outlets, and numerous law journals. Recent articles include Courts and the Executive in Wartime: A Comparative Study of the American and British Approaches to the Internment of Citizens During World War II and Their Lessons for Today, 107 California Law Review 789 (2019); Habeas Corpus in Wartime and Larger Lessons for Constitutional Law, Harvard Law Review Online (April 2019); and A "Second Magna Carta": The English Habeas Corpus Act and the Statutory Origins of the Habeas Privilege, 91 Notre Dame Law Review 1946 (2016). Since 2016, Professor Tyler also has served as a co-editor of Hart and Wechsler's The Federal Courts and the Federal System (Foundation Press) (with Richard H. Fallon, Jr., Jack L. Goldsmith, John F. Manning, and David L. Shapiro).