One week free intensive FOREX Trading Masterclass.
About this event
One week free intensive FOREX Trading Masterclass.
Inclusive of:
WINNNING STRATEGY TEMPLATE
Fundamental and Technical
Mentorship and free signals
Huge investment insight
Copy Trading
Take home: Free 250 pages practical manuals worth 500 Dollars.
Contact: 07037803804, 08028270644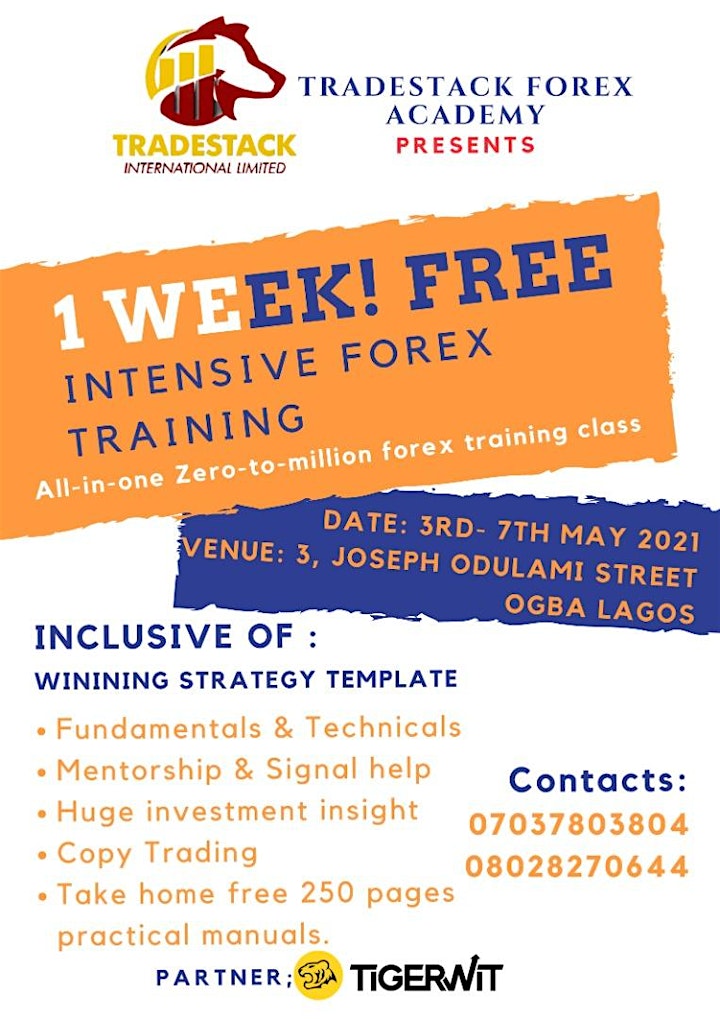 Organizer of One week intensive Forex Trading Master Class
Tradestack International was Incorporated under laws of the Federal Republic of Nigeria as a Limited Liability Company.
The company specializes on investment and trading activities, e-commerce and general trading activities and services, logistics, marketing and sale of petroleum products and many others.
We offer a portfolio of low risk wealth creation programs that enables individuals and companies grow their income without stress while we watch over their financial input for them.
We achieve this by partnering with other organizations cutting across various industries that offers genuine and profitable businesses which we leverage on to bring satisfaction to our clients.
Our focus is to help you manage your fund and grow it over time by spreading it across various platforms that has been verified and trusted us thereby giving our clients the rest of mind they deserve while their funds grow gradually on daily basis.
We also trade with our clients funds through our e-commerce platform and other platforms to generate the profit which we share with them on monthly basis.
We do not offer a get rich quick program but a sustainable and dependable program that will stand the test of time.
We also have an affiliate program for those who have what it takes to promote our business and make daily unlimited profit for themselves.