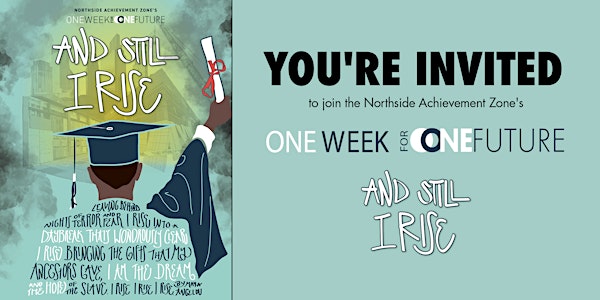 ONE WEEK FOR ONE FUTURE Virtual Event - Friday, November 13, 2020
It's the vibrant 'ONE FUTURE' event that you know and love, but this year, we're bringing the "luncheon" to you!
About this event
JOIN THE NORTHSIDE ACHIEVEMENT ZONE AS WE GATHER TOGETHER/APART!
After careful consideration and a deep desire to ensure our scholars and their families' health and safety, NAZ is doing something it has never done before. The 6th Annual ONE FUTURE event will occur as a series of high-impact virtual events celebrating the power and resiliency of North Minneapolis.
Join other NAZ supporters on Friday, November 13, 2020, at 4:00 p.m. CST for one of four pre-planned virtual viewing parties complete with surprise guest cameos.
NAZ has compiled a short yet dynamic suite of video assets viewable via Zoom. This dynamic power hour will focus on some of North Minneapolis' most inspiring voices as they share what NAZ means to them. We hope you learn more about the issues that NAZ addresses on a daily basis and lend your support at this critical time.
This year's theme, "AND STILL I RISE," comes amid a global pandemic, a financial recession, and the ever-present achievement gap. Yet, with the help of supporters like you, NAZ envisions a not-so-distant future where the promise of prosperity and opportunity is a reality for every neighborhood, every family, and every single child. There are so many reasons to support NAZ and to support NAZ NOW – it's for our children, it's for our future, it's for our city, it's for our shared well-being.