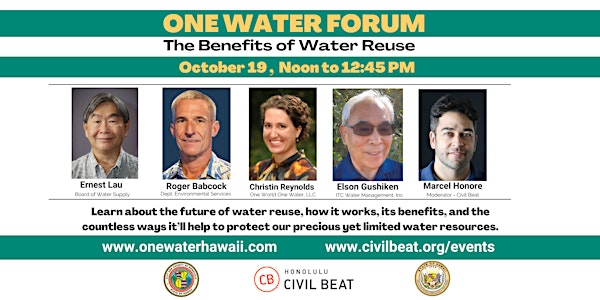 One Water Forum: The Benefits of Water Reuse
The One Water Forum is a part of "Imagine A Day Without Water 2022"
About this event
Water conservation is more important than ever due to the shutdown of three major BWS water sources near Red Hill. One way to help maximize our groundwater resources is through the practice of water reuse. This includes repurposing stormwater, wastewater, and graywater for uses such as on golf courses and landscaping, cooling towers, industrial needs, and more.
Oahu has repurposed wastewater since August 2000, with the opening of the Honouliuli Water Recycled Facility used for irrigation, agriculture, and industrial needs across the Ewa plain, saving millions of gallons of potable water per day.
The panel will discuss the future of water reuse, how it works, its benefits, and the countless ways it'll help to protect our precious yet limited water resources.
Viewers will also be given a chance to ask questions during the forum.
Moderator:
Marcel Honore - Honolulu Civil Beat
Panelists:
Ernest Lau - Manager & Chief Engineer, Board of Water Supply
Roger Babcock - Director & Chief Engineer, City's Department of Environmental Services
Christin Reynolds - Director at One World One Water
Elson Gushiken - Vice President of ITC Water Management, Inc.
By registering for this event, you'll receive a subscription to Civil Beat's free e-newsletters. And don't worry, we hate spam too! You can unsubscribe any time by clicking the link at the bottom of each email.