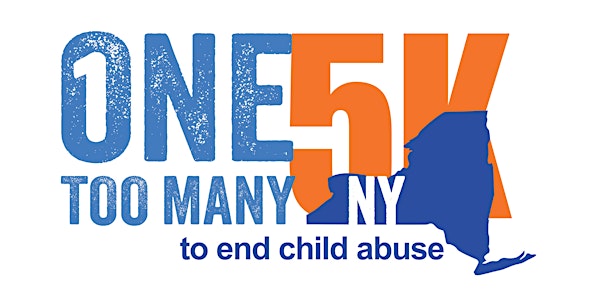 One Too Many NY 5K
The One Too Many NY 5K virtual run/walk will be held Friday, September 16th through Sunday, September 18th!
About this event
1 in 10 children will be abused before their 18th birthday. One Child Abused is One Too Many.
But you can help make a difference and support a Child Advocacy Center in NY state as they work to end child abuse and provide children in crisis with free support, services and hope for the future.
When: Anytime/ Any day between Friday, September 16th through Sunday, September 18th
Where: It's a Virtual Event. Wherever you choose! Your neighborhood, your park, or hop on your treadmill. NOTE: Some of the Child Advocacy Centers will be having an in-person event too--please select Virtual or In-Person when registering.
Who: Anyone! Anywhere! Grab the kids, grab the dog!
Cost: $40 per runner/walker. Each runner will receive a race bib, race t-shirt, and instruction sheet.
EXTENDED T-SHIRT DEADLINE: Register by 4:30pm on Wed., August 17th for a guaranteed 5K t-shirt
5K Registration remains open through to Sept. 17, 2022
Don't forget to take selfies, take videos, and if you're an avid runner, submit your time to us at the conclusion of the 5K. Submit your photos for several of our statewide prize categories. Please note: Winners will be selected from all the participants, not based on individual local communities. You may win in one of these categories:
• Best View on my Run/Walk Selfie
• Dogs Need a 5K too
• Funniest Sunglasses
• Best TEAM Costume
• Best Race Time Male and Female
Select the Child Advocacy Center you are supporting or select the New York State Children's Alliance. If you have any questions, please email OneTooMany@nyschildrensalliance.org. More information at: https://www.nyschildrensalliance.org/5k/
The One Too Many NY 5K is a virtual event. You can participate and still stay apart or join your friends and family and come together to support the work of Child Advocacy Centers throughout New York state. 75% of your registration fee benefits your selected Child Advocacy Center.
Liability Waiver
In consideration of accepting this entry, I, the participant, intending to be legally bound do hereby waive and forever release any and all rights and claims for damages or injuries that I may have against the New York State Children's Alliance, Inc., and all of their sponsors and their employees for any and all injuries to me or my personal property. This release includes all injuries and/or damages suffered by me before, during or after the One Too Many NY 5K Virtual Race. I recognize, intend and understand that this release is binding on my heirs, executors, administrators, or assignees.
I know that running a 5K race is a potentially hazardous activity. I should not enter and run unless I am medically able to do so and properly trained. I assume all risks associated with running in this event including, but not limited to: falls, contact with other participants, the effects of weather, traffic, and any course conditions, and waive any and all claims which I might have based on any of those and other risks typically found in running a 5K race. I acknowledge all such risks are known and understood by me.
As it applies to my participation in this race, I agree to abide by the Center for Disease Control (CDC)'s and my County's recommendations and updates regarding COIVD-19.
Further, I grant permission to NYSCA to use my name, voice and images of myself in any photographs, results, publications or other print, or videos of my participating in the event for legitimate purposes. This event follows the standard running industry policy: All entry fees are non-refundable. We reserve the right to postpone or cancel the event due to circumstances beyond our control such as a natural disaster or emergency or as required to protect the safety of participants and staff. No refunds will be issued under these circumstances. We reserve the right to change the details of the event without prior notice. I understand that my entry fee is nonrefundable and bib numbers are non- transferable.