2hours private session of Reiki Healing
About this event
What is Reiki Healing?⁠
Reiki is gentle energy healing practice where a practitioner receives Reiki energy from the Universe and transmits the energy onto the receiver. Reiki improves the flow of energy in the body, removes any blockages. It awakens natural healing ability of the receiver. Reiki works not only for physical ailments but also for psychological health - healing for the body, mind and soul.
Reiki Healing also helps the receiver to enter a calmed & relaxed mood much quicker which allows one to enter the meditative zone easier.
What are the benefits of Reiki Healing?
- Deep Relaxation⁠
- Helps in sleeping problems⁠
- Release stress & tension⁠
- Clear energy blocks⁠
- Helps the body to detox⁠
- Clear the mind & improve focus
- Help to release the past
What happens during the session?
⁠During healing, you may feel nothing, or you may feel a certain sensation, or you may have a certain experience or simply fall asleep. Most people feel relaxed & have better mental clarity after the session. Please join us to experience it yourself.⁠
Bonus Healing:
1. Crystals may be placed on your 7 chakra points for deeper healing.⁠
2. Reiki Booster Heart attunement which allows healing to continue in you for next 3 days will be conducted.
3. Reiki surgery (aka psychic surgery) will be done to remove anything that no longer serves you.
Free gift:
Reiki Energised Himalaya salt scrub (made with organic coconut oil & Young Living's essential oil) which helps in energy cleansing will be gifted.
The whole sessions takes around 2hours, please drop a whatsapp Hwee +65 9646 9599 to arrange a time slot.
Locations available: Newton & Hillview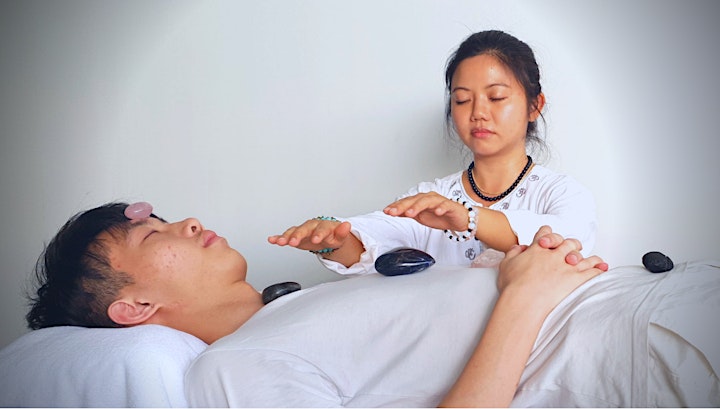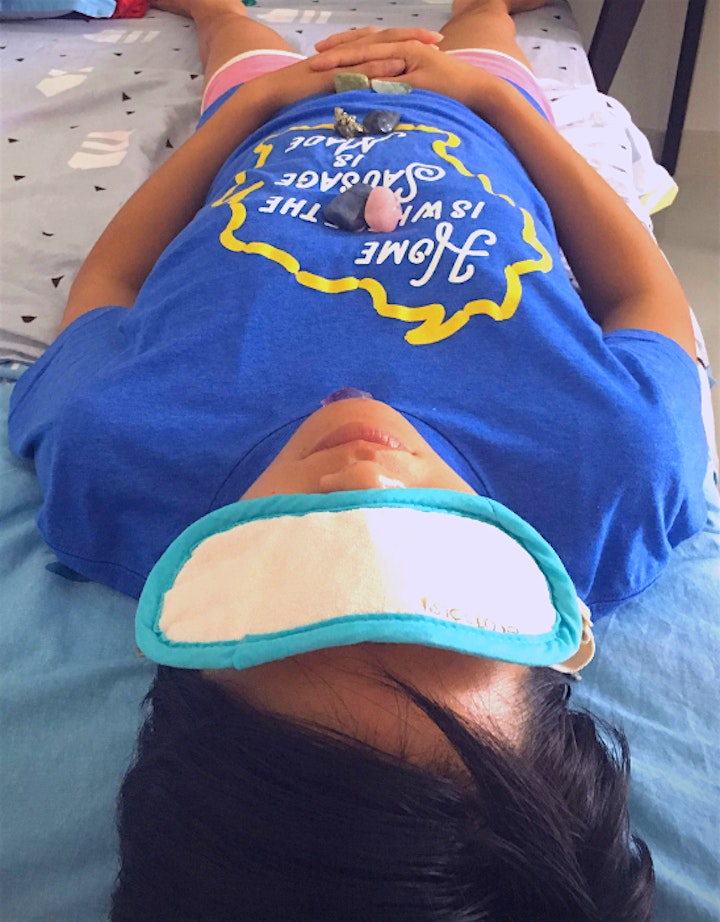 About Hwee Hwee
Reiki Healer, Hatha Yoga Instructor & Bhakti Yogi
Hwee is a yoga instructor who hurt her wrist, dampening her asana practice and just could not recover it 100% with physiotherapy and Traditional Chinese Medicine. A calling drew her to Reiki healing and her recovery progressed so much more! Hwee is now an advanced Reiki Level 3 practitioner.
With yoga, Hwee fell in love with the low impact workout (which was gentle for her teenage injured spine). Wanting to know yoga beyond the physical aspects (asanas), she went to one of the oldest yoga school in world, G.S. College of Yoga and Cultural Synthesis, Kaivalydham in Lonavla, Pune, India in 2017 and attained her Hatha Yoga teaching certifications from both Kaivalydham and Quality Council of India (QCI) by Indian Yoga Association. With many injury experiences (she has injured every where possible in her body), she is even more mindful in giving variations and modifications for all body types during asana practice.
Through a long depressive phase at work and a bad relationship in 2013, Hwee searched for a spiritual meaning in her existence, a deeper meaning in life and an identity on this Earth. She often wondered why did she come into existence? Is there more to life than this shell that we live in? The search led her to the practice of breath meditation, Rebirthing Breathwork, Vipassana meditation, Kundalini Yoga and many more. She was happier with those practices, however something was still missing.
In 2017, she left her corporate job in search of "herself" and landed in a Gauḍīya Vaiṣṇava temple. Through living as Brahmacharini in the temple's ashram, she found her relationship with Lord Krishna in Bhakti Yoga which gave her the true meaning and identity in life. She is now a practising Vaiṣṇavi.
As an advocate of self awareness, she believes that the whole point of practising yoga is to increase self awareness. And hence, the practice between asana (physical exercise) and meditation has integrated into one. It is said that we don't do meditation, meditation happens to us.
Join Hwee for Reiki healing, asanas and pranayama practice for meditation to happen!
Hwee is also proficient in Chinese and Japanese language. Please also follow her on Instagram and Facebook @NamasteWithHwee
https://www.facebook.com/namastewithhwee/
https://www.instagram.com/namastewithhwee/
Organizer of One-to-One Reiki Healing (2h private session)
Through a long depressive phase at work and a bad relationship, I searched for a spiritual meaning in my existence, a deeper meaning in life and an identity on this Earth. I often wondered why did I come down to Earth? Is there more to life than this shell that we live in? The search led me to the practice of meditation, Yoga, Reiki Healing and many more. I am now sharing these practices. Find me on Instagram/Facebook @NamasteWithHwee