Sales Have Ended
Ticket sales have ended
All tickets sales are now taken. Please keep in touch as there may be some last minute cancellations. Alternatively, if you haven't managed to get a ticket to attend, your businesses can still be seen at the event by booking some of the promotional space in our event brochure. Please contact Mike or Sue on 07966553284, info@onesunderland.co.uk, via our website www.onesunderland.co.uk or via eventbrite. Thank you
Sales Have Ended
Ticket sales have ended
All tickets sales are now taken. Please keep in touch as there may be some last minute cancellations. Alternatively, if you haven't managed to get a ticket to attend, your businesses can still be seen at the event by booking some of the promotional space in our event brochure. Please contact Mike or Sue on 07966553284, info@onesunderland.co.uk, via our website www.onesunderland.co.uk or via eventbrite. Thank you
Description
Welcome to the One Sunderland Small Business Autumn Conference. This is our first ever Autumn event and we have a fantastic day lined up for our attendees.
The event is sponsored by our partner the Federation of Small Businesses and will be held in the Thompson and Doxford Suites at the BIC in Sunderland on Thursday October 18th 2018. The aim of the day is to bring to the forefront, the need for a 'joined up' small business strategy for Sunderland and the surrounding areas, to look at the business outlook for the coming years and to explore ways small businesses can survive, grow and flourish post Brexit.
We have four guest speakers who will share their experiences, try to look at what is available to the small business community and demonstrate how success is possible in a City like Sunderland.
The last session of the day is a Q&A panel made up of invited Guests who can field questions about the North East economy (Sunderland in particular), some of the challenges we face and possible solutions to make Sunderland a destination place for small businesses to survive and thrive.
There are only 70 tickets available at a small charge of £5+Vat each and we would ask that attendees only book tickets if they are available to attend as demand for this event will be high. The itinerary is as follows:
9.30 - 10 a.m.

coffee and networking
10 - 10.45 a.m.

Jonathan Walker North East Chamber of Commerce



10.45 – 11 a.m.

tea/coffee
11 - 11.45 a.m.

Tony Davison MD of Sunderland Football Club



11.45 - 12.30 p.m.

Buffet lunch (provided)
12.30 - 1.15 p.m.

Two local success stories Art Venturers & Discover EDventure



1.15 - 1.30 p.m.

tea/coffee
1.30 - 2.30 p.m.

Q&A Panel

NE Bic CEO/ FSB/ Sunderland Bid/ JacksonsSolicitors/Sunderland Council/ NatWest/ BEiS/ Growth Hub

2.30 p.m.

networking and coffee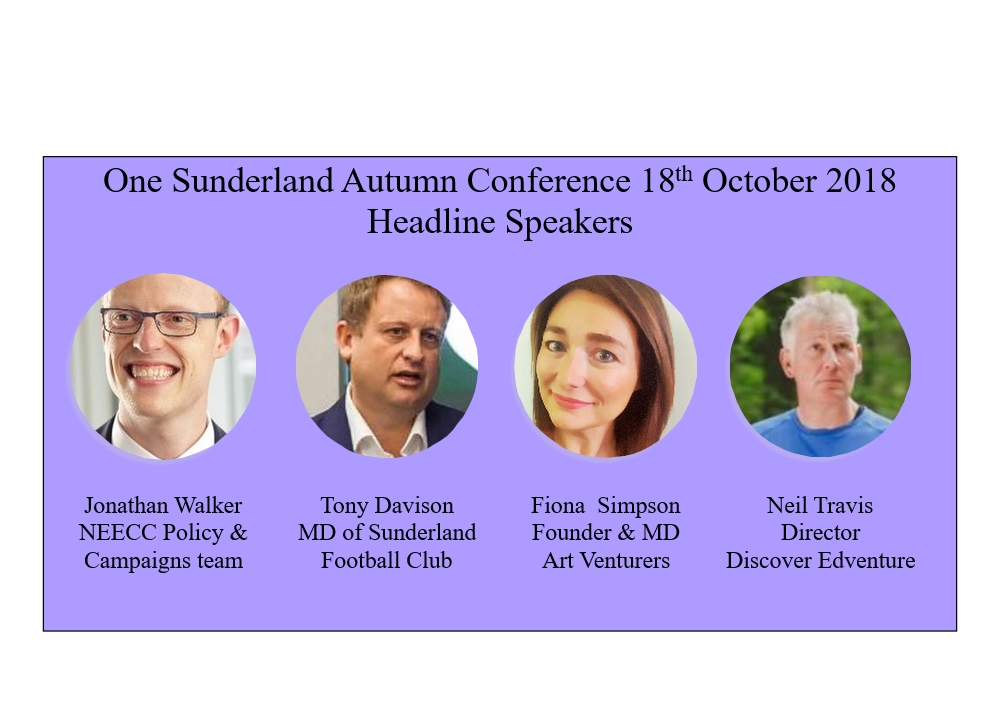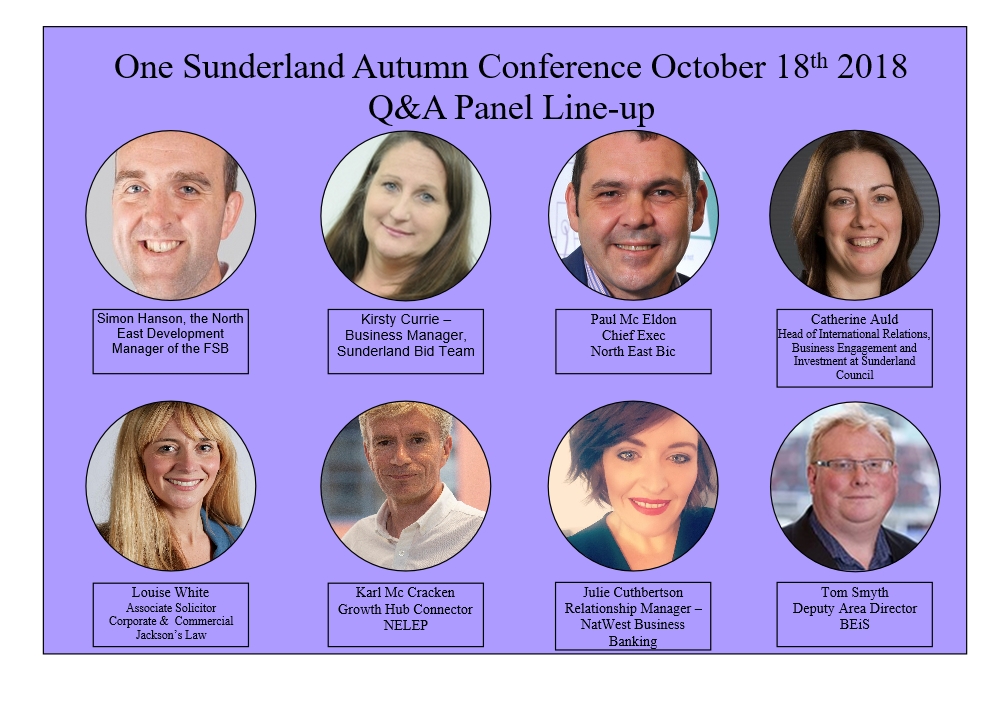 To celebrate the event, we are producing an A5 colour brochure which will be given to all attendees on arrival and 500 more will be given to local business centres across Sunderland and the surrounding areas. There are limited spaces available for local businesses to advertise and showcase their business within the brochure for only £99 per space (first come first served basis) Please book your space via eventbrite or e-mail us at info@onesunderland.co.uk
Or visit our website www.onesunderland.co.uk
Prior to the event we will be sending attendees a short questionnaire to complete with any questions they might like to put to the panel. All tea/coffee and lunch is provided throughout the day and there is ample free parking on site. We would like to say a big thank you to the BIC for supporting our event and they will have a representative available on the day to find out more about what services they offer.
PLEASE BOOK EARLY AS TICKETS ARE LIMITED AND WILL FILL VERY SOON.
If for any reason you book a ticket to attend and are unable to make it, please contact us via e-mail and we will arrange a refund back via your method of payment