Actions and Detail Panel
One Step Ahead of Hitler: A Little Boy's Long Run Home
Thu, May 11, 2017, 6:30 PM – 8:00 PM EDT
Description
Interfaith Paths to Peace Spirituality U.
Presents:
One Step Ahead of Hitler:

A Little Boy's Long Run Home


Fred Gross, Holocaust Survivor & Author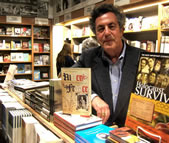 ​
____________________________________________________________
Fred Gross, a journalist, Holocaust survivor, educator, and peacemaker, knew much about the history of the Holocaust, but he didn't know his story, being a young Jewish child during those terrible years. He learned about his story years later from his family and the internet.

Join us to hear about his family's flight from the German invasion of Belgium and the Nazi policies that would become the Holocaust. The tenuousness of memory took place in France during its defeat and collaboration with the Nazis, rounding up more than 75,000 Jews for deportation to the death camps.

Gross will share how he and his family made it through these anguished years because of their fortitude and ingenuity and the help of brave men and women of other faiths, reverently referred to as The Righteous Among the Nations, who risked their lives standing up to their collaborationist government.
_____________________________________________________________
REGISTRATION REQUIRED | Cost $15, Students $10
Scholarships available:
Email interfaithpathsinfo@gmail.com or call 502-214-7322