One Spirit Heritage Festival
One Spirit is a heritage festival with various cultures sharing one stage with a unified message: we can unite through spirit.
When and where
Location
Durban Bay of Plenty – Lawns Lower Marine Parade Durban, KZN 4001 South Africa
About this event
Expect music, dance, theatre, edutainment, and family fun time—many cultures, many tastes, many voices unified in purpose: One Spirit.
Highlights
One Spirit Concert – An awesome cultural concert with some of Mzansi's hottest artists: 12pm-5pm
One Spirit Market: 8am-5pm
Sacred Sound & Yoga: 8am-10am (Booking Essential!!)
One Spirit Peace Parade: 10am-12pm
Food For Life South Africa will be providing 6000 free Sumptuous vegan meals.
Facebook: One Spirit Festival
Instagram: @onespirit_heritage_fest
Be sure to follow our social media pages and do keep an eye out as more artists and attractions will be added in the days ahead!
One Spirit Concert 12pm-5pm
An awesome cultural concert with some of Mzansi's hottest artists!
Sacred Sound & Yoga 8am-10am
This is a booked event. Please use the booking link above. Join us in the tranquil milieu of the Indian Ocean and give in to a sensory immersion of Restorative Sound Healing, an hour-long Hatha Yoga practice topped off with a sacred sound concert.
Peace Parade 10am-12pm
Experience the joy of singing and dancing to the healing sound vibrations at our colour-filled heritage fest parade! Join arms with fellow South Africans in one spirit.
One Spirit Tree 8am-5pm
Express your individual style at our creative art event by adding your hand-print to One Spirit Tree. Let's journey self-exploration together through creative expression!
One Spirit Market 8am-5pm
Locally supplied food and retail market.
One Spirit's Yoga & Sacred Sound Lineup!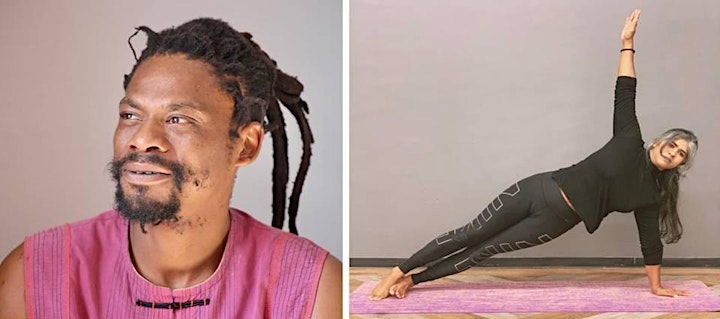 Bongani Luthuli, born in Eastern Cape but now based in Durban, runs yoga classes focusing on fitness yoga and meditation.
He strongly believes Yoga is the relationship that is built between body, mind and breath.
"Sharing the knowledge of creating space free obstacles in your own body to live is always my pleasure"
Ramy Naidoo spent 13 wonderful years, traveling the World, working as a Flight Attendant.
She always had a keen interest in Fitness, Spirituality, Art and Holistic living, which she practiced in her spare time.
Yoga had featured as a prominent part her life, growing up, as her mother was a practitioner but her own journey and interest in teaching Yoga only began later, when she decided to slow down the jet-setting, pace of her life and quit her flying career.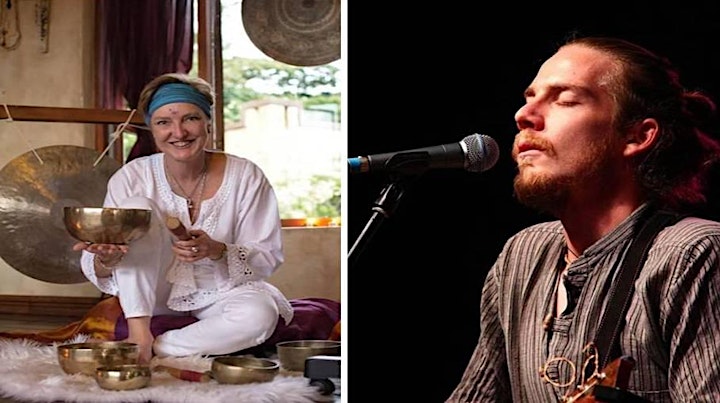 Anne de Chazal is a Kloof based Sound Therapist. She studied at the International Association of Sound Therapy in Spain in 2015 and has 7 years experience offering one-on-one and group Sound sessions.
Using Gongs, Tibetan bowls and Solfeggio chimes you will journey to a place of deep relaxation and release.
Join us to experience peace and beauty as you are immersed in Sacred Sound bringing mind, body and soul into balance.
Aden Hinds is a singer-songwriter, guitarist and producer best known for his work with SAMA nominated folk-rock group The Hinds Brothers.
With a rich baritone voice of great originality and songs crafted around the lush textures of the acoustic guitar, Aden's music is rest for the weary soul. His songwriting is insightful, lyrical and passionate, while his original takes on cover material is refreshing and anything but run-of-the-mill.
He has performed for the Princes of England William and Harry and has shared the stage with the likes of Syd Kitchen, Madala Kunene, Steve Fataar, Willy Mason, Guy Buttery and Johnny Clegg.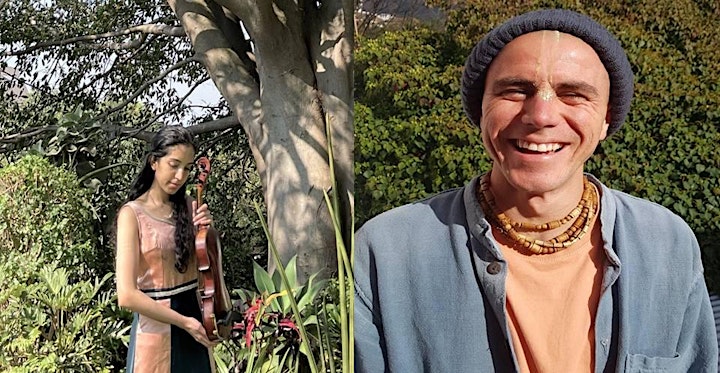 Krishnarupa is a classical violinist who has had the privilege of studying music under the guidance of violinists and music theorists of international acclaim.
At university, she has studied Mathematics, Computer Science, and Music in Philadelphia, and she hopes to be able to use whatever skills she has cultivated to benefit the planet and others.
She aspires to use her instrument, compositions and engagements in classical music to ignite hope, purpose and wonder in people's hearts.
Hari Kirtan Das means one who assists great saintly persons in glorifying God with sacred song and dance.
For 10 years he had searched for purpose in life, and for his community.
Throughout the years he has been following the path of Bhakti Yoga and currently, he is a monk living and serving full time at a Temple in Cape Town, South Africa.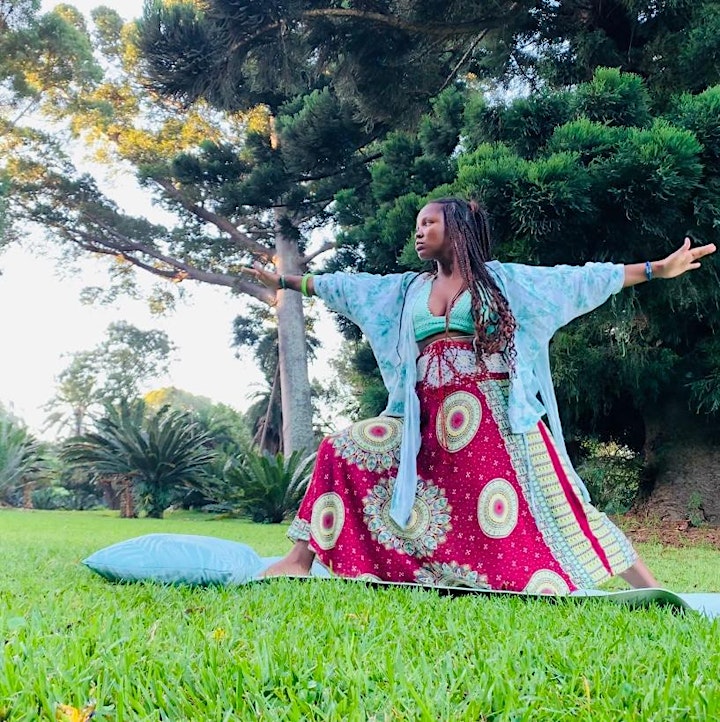 Sphindile Mthembu
was born in Eshowe, in KZN. A qualified Horticulturist who has worked locally and internationally on Long Island for third largest grower in USA.
Yoga is the only thing that kept me from going insane while I was away from my family and mostly my 2 beautiful kids. When I returned home years later, my aim was always to take yoga to black communities because of many misconceptions around yoga being always associated with certain ethnic groups.
For me it is about representation, and I always want people of color to be included and feel represented because yoga is for everyone.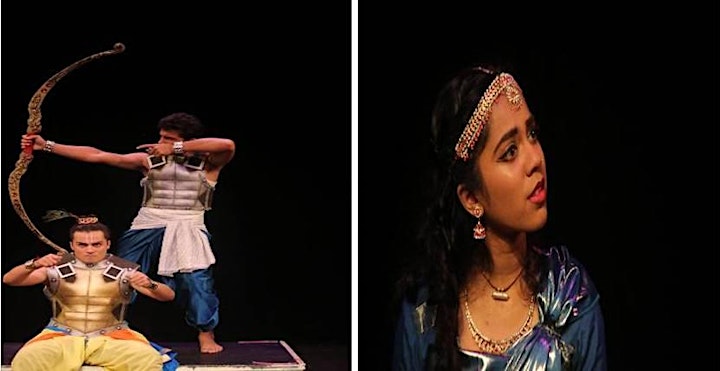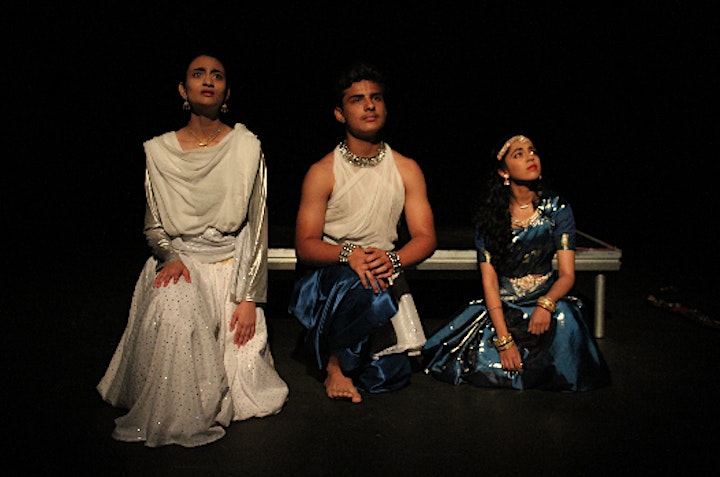 Bhakti Theatre - The Fire-born Princess
Love and Loss. Truth and Terror. Fate and Forgiveness. Based on the true story of how powerful warriors attempted to exploit Draupadi, The Fire-born Princess, resulting in a global war. It also brings to fore the design of karma, merging the stories of the classic Mahabharata with the science of the Bhagavad Gita.
Selected to perform at the 2018 Community Arts Festival held at the Durban Playhouse Theatre.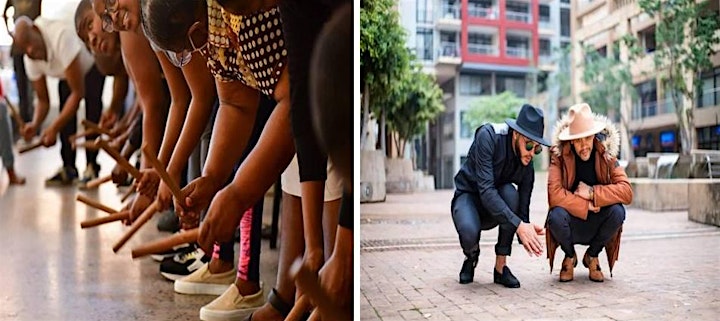 The Rubbish Orchestra and the Blue Shongololo - Musa Hlatshwayo
This is an interactive multi-disciplinary performance that will see the audience participate in a collaborative music and movement creation that will eventually produce a 'jam' performed by an impromptu orchestra using up-cycled and recycled materials.
The process of working on the 'jam' is performative on its own. The results of the impromptu workshopping will see everyone become a participant in the explosive colourful and vibrant performance that will feature music, movement and voice.
Soundmind - Clayton Willard
Born from a family doused in music, sibling singer/song writers/producers and recording artists, Soundmind, are known for their heart-melting vocal abilities. Growing up in a family that was constantly on the road with boots and trailers brimming with instruments,the rooted passion was engrained.
Coming from an RnB/Soul and Gospel background they quickly became a popular brand known by their unique sound, creating hits like 'Nothing without you' and the all new latest release 'Colours.'
With a profound passion for Africa, the Duo has since then been seen working with local and international artists producing hits for their catalogs, and are becoming a name on the local music scene.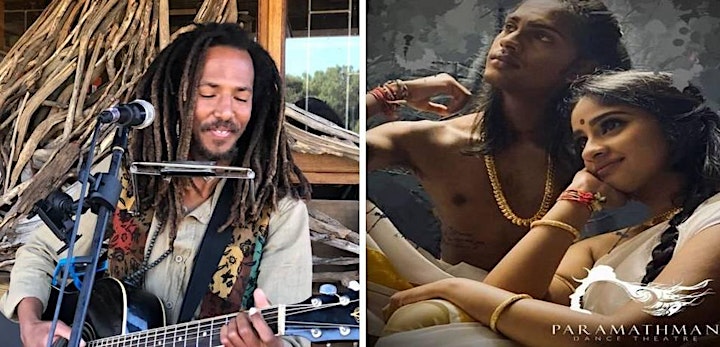 Julian Wenn Creativity
Birthed in the Mother City, he grew up in Parow Valley, where he is still active in his community to this day.
Auditioning for Annie get your Gun, with the Gilbert and Sullivan company in 2004, it reignited his Love for the Theatre, and in 2005 he began his training at Tshwane University of Technology (Pretoria). Obtaining his National diploma in Performing arts in 2007
Over the years he has performed many versatile roles, and in his first professional role at age 22 he played the 13 year old Chululongkorn in Rogers and Hammerstein's, The King and I, at the Joburg Civic.
After 2015 he wanted to stretch his teaching legs and started to teach Drama to youths through out the Cape Town communities with the Helen O'grady drama academy. He continued hosting events such as his own brainchild The Blender Box and working for the city of Cape Town with Concerts in the park at De Vaal park and Muizenberg mcing and introducing well known performers such as the Parlotones, Arno carstens , beatenberg and the Rudimentals.
Julian is currently still in living on the wild side somewhere in the Garden route, cooking all kinds of magic with musicians , plant based food and teaching the odd surf lesson wenn the waves are mild enough to enter. Wenn he isn't running on the beach with his dogs. He is manifesting for the beautiful new earth we are all collectively creating.
ParamAthman Dance Theatre
An Indian Diasporic South African based Dance Company. Focusing on Multiculturalism and Ubuntu, creating a niche that amalgamates our Diversity, will be performing a 10 Minute multi-genre piece.
NatyaArasan Cameron S. Govender (director) & NatyaArasi Primeshni Govender (co-director) realised that there was a missing link in the dance fraternity for a company that propagates South Indian identities, whilst simultaneously acknowledging our unjust divide as South African Artistes.
To bridge the gap, ParamAthman Dance Theatre was born to unite and unify various artistes from different socio-economic, cultural, training and disciplinary backgrounds.
Here, individuals are provided a space to just immerse themselves in sharing, engaging and ultimately creating work, free from creed and ownership.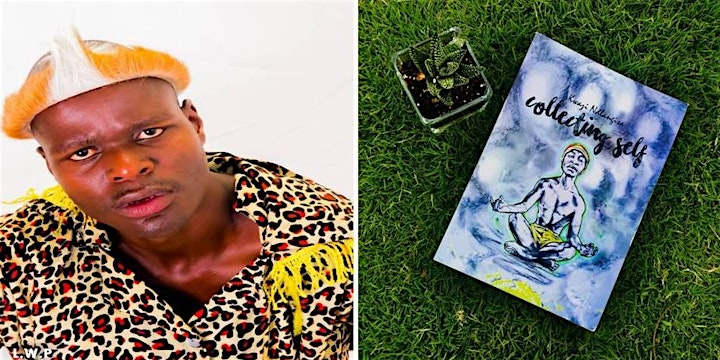 Gegelagege Musical written by Makhubalo Ikaneng and Directed by Sosha Lungisani Kumalo
This musical is an adaption of Makhubalo Ikaneng's musical of the same name. It is about a young woman having to make decisions about education and marriage after her drunk father invites all the men in the village to propose to her. A magical experience of Zulu songs and dance woven together by a captivating story of love. Directed by Sosha Khumalo.
Kwazi Ndlangisa is a multi-award-winning poet from South Africa, an author of Collecting Self and Vukani Kusile, a translator and imilolozelo singer based in Durban but rooted in the rural areas of UMzimkhulu, on the South Coast of KwaZulu-Natal.
His writings are a golden thread through Africanism and spirituality and are inspired by his surroundings and his inner being. He believes that writing and reading poetry is a perfect channel to collect self, back to its true purpose, both in the psychological and spiritual realm.
Ndlangisa is the Founder and Managing Director of IKhambi Writers Hub and the KZN Provincial Coordinator at Cultural & Creative Industries Federation of South Africa (CCIFSA).