|One PDH | ASCE Miami-Dade CI|FDOT Specification Details for Increased Serv...
Description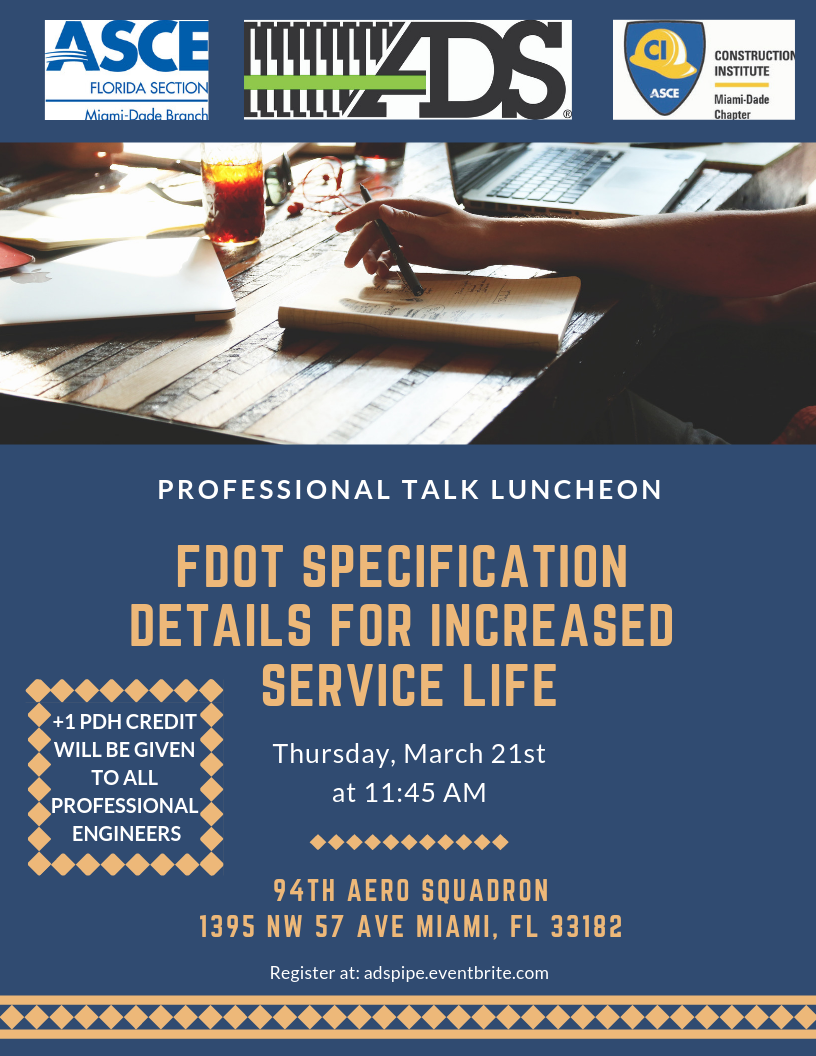 Summary:
Over the last several decades, the FDOT has made great effort into increasing the service life of their stormwater utilities. With the adoption of the 100-year service-life standard, the Department has elevated their requirements in order to ensure that utility maintenance is reduced, and longevity, resiliency, and sustainability have been maximized. To accomplish this task, the FDOT has taken a multipronged approach to modifying their standard specifications to reflect the needed changes.
Specifically, additional materials have been tested and approved (Section 948), installation and inspection protocols have been added/amended (Section 430), special attention is placed on soil conditions when specifying/allowing materials (FDOT CSLE), and higher restrictions have been placed on critical applications like MSE walls (Drainage Manual Table 6.1).
When designing, inspecting, and installing stormwater utilities for the FDOT, it is important to understand the new requirements for value engineering and the overall success of the project.
Presentation Outline:
Manufcaturing Speficiations

Installtion Speficiations

FDOT Pipe Specifications

FDOT Culvert Service Life Estimator

Value Engineering
Speakers: Eric Gonzalez, P.E.
Eric Gonzalez is a Civil Engineer who holds degrees from North Carolina State University. He began his career in construction and has experience underground utility installation and public project management. Eric currently works for Advanced Drainage Systems as the South Florida Regional Engineer.
In addition to working closely with FDOT at both the Central Office and District levels, he assists local municipalities in adopting drainage materials that improve sustainability, increase service life, and save tax-payer dollars. Additionally, he is a technical resource to local Engineering firms and contractors who have technical questions regarding value-engineering and ADS product lines

*** One PDH Credit will be Given to All Professional Engineers
*** Provided: Formal Three Course Meal and Coffee.
Organizer: This professional presentation is brought to you by Construction Institute Chapter of ASCE Miami-Dade. Registration price will cover the cost of lunch for attendees.
Construction Institute of ASCE Miami-Dade: ci@miamidade-asce.org (Daniel Giraldo)
We would like to thank ADS Pipe for being our sponsor for this luncheon. With their support, we're able to offer this lunch at a discounted rate. Thank you, ADS Pipe.