Description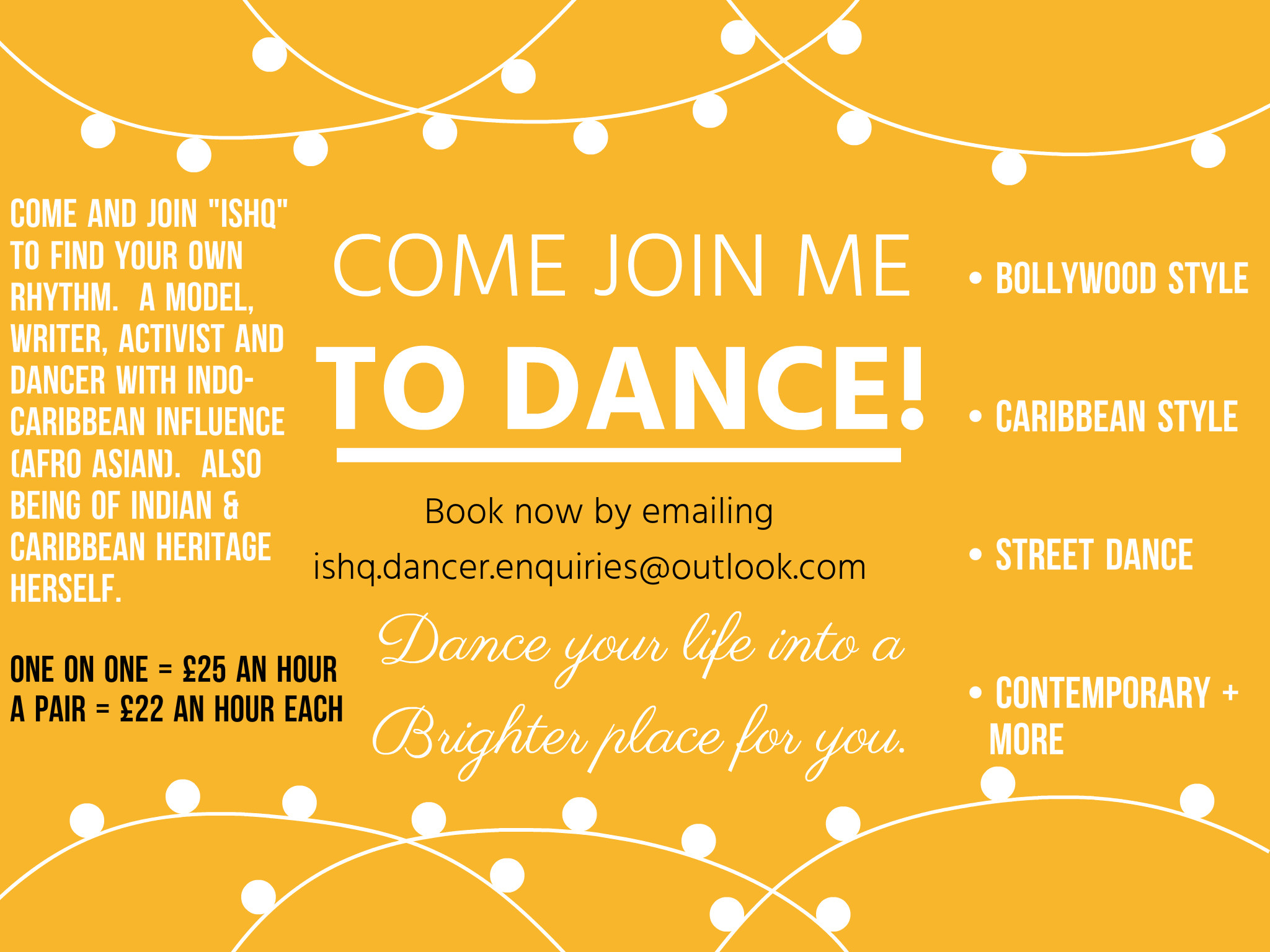 Hey there! (*PLEASE READ ENTIRE AD* AND know the time of start is subject to individual)

Call me Ishq.

I am a self taught dancer, among many other things and am available to teach dance individually and for pairs (friends or couples).

This would be aimed at younger to older women/men (LGBT included) aged 18 TO 35 looking to gain more confidence in themselves. This is suitable for complete beginners. I would set tasks from the start of our dance quest, in order to help you consciously develop a new found confidence in yourself. Lessons would take place in Northwest London.

Classes would start off with a workout and then we'd work our way into our dance routine, that I would have prepared for our session.

Music would mainly be Indian music, as I love to dance to what I am inspired by. It isn't "only" Indian music and bare in mind there are many different kinds of Indian music. I am of Asian(Indian)/Caribbean descent and like to incorporate this influence into my dance routines.

I would need to talk to you first to get an idea of what you are looking to gain from our sessions and to figure out when you would like to start. Bare in mind, that it is also sometimes subject to the studios availability.

Whether you are a couple preparing for your wedding, a pair of friends who want to bond or someone who wants to get into dance. My classes can be catered to you.
------------------------------------------------------------------------

BOOKING INFORMATION:

Individual dance sessions: £25 an hour (One on One)

Accompanied with one friend OR a partner: £22 an hour *individually*

I can be booked for two hours minimum to start with, which would be for two separate days as I only teach hourly.

Payment would be sorted before the lesson on the day of our practice.

The routine we practice, would be one that I have specifically created for our individual lesson.

Lessons would take place in Northwest London, Edgware.
I am Available from: 27/05/17 (But this is also subject to individual)

For more information see flyer & email Ishq.dancer.enquiries@outlook.com