One work of art. By one artist. For one night.
About this event
Join Intuit on the last Wednesday of the month for One Night Stand, a free series of art talks led by Intuit staff or an outsider art scholar. This month, arts educator Imani Parkinson will engage attendees in a conversation about self-taught artist Gregory Warmack, or Mr. Imagination, and his piece Untitled (Totem).
One Night Stand is free to join! To show your support to Intuit, please consider the pay-what-you-can option when you complete your reservation. Your contributions help ensure the sustainability of our public programs and support guest lecturers and teaching artists.
Two hours before the event, Intuit will email the Zoom link to those who RSVP on Eventbrite. Please check your junk folder; unfortunately, these emails are sent there sometimes.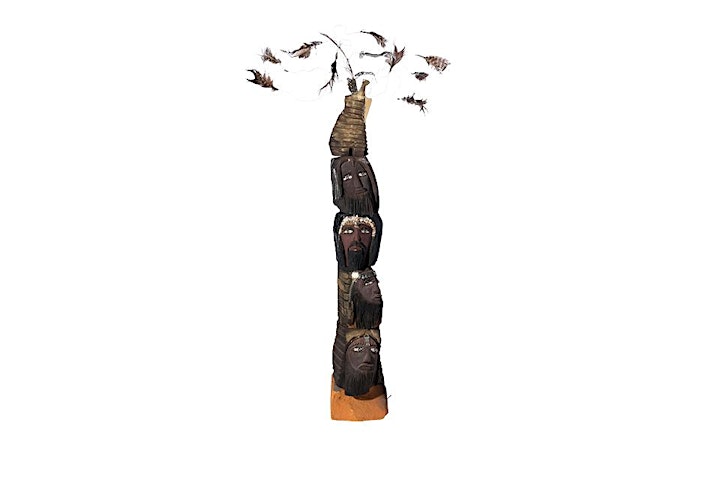 Image: Mr. Imagination (American, 1948-2012). Untitled (Totem), n.d. Composite stone and found objects, 80 x 32 x 30 in. Collection of Intuit: The Center for Intuitive and Outsider Art, Gift of Lyn M. Wolfson, 2006.20
One Night Stand is funded in part by the Alphawood Foundation, the Department of Cultural Affairs, Gaylord and Dorothy Donnelly Foundation, Illinois Arts Council Agency, Illinois Humanities, Prince Charitable Trust, Terra Foundation for American Art, and individual donations from Intuit members and supporters.
Organizer of One Night Stand: Mr. Imagination
Founded in 1991, Intuit is a premier museum of outsider and self-taught art, defined as work created by artists who faced marginalization, overcame personal odds to make their artwork, and who did not, or sometimes could not, follow a traditional path of art making, often using materials at hand to realize their artistic vision. By presenting a diversity of artistic voices, Intuit builds a bridge from art to audiences. The museum's mission—to celebrate the power of outsider art—is grounded in the ethos that powerful art can be found in unexpected places and made by unexpected creators.