One Night for One World: Celebrating International Women's Day!
Description
One Night for One World ... Join us in Celebrating Northeast Ohio's Commitment to Global Partnerships Building Justice, Peace, & Hope Around the World.
Please join us for One Night for One World benefit in celebration of International Women's Day on Friday, March 8th, 2019 from 6:00-9:00 pm at the Ariel International Center (located at 1163 East 40th Street, Cleveland, OH 44114). Hosted by a volunteer committee of Cleveland's corporate and community leaders, this annual event is held in celebration of the amazing and life-sustaining work of IPM's more than 50 community-based projects in 20 countries across the globe. Join IPM for an incredible evening of cultural celebration to benefit IPM's life-changing work across borders of culture, faith, and economic circumstance with children, women, and youth to nurture justice, peace, & hope in our world.
Enjoy a fabulous evening of international cuisine, local vendors, live music, live performances, open bar with wine and craft cocktails, silent auction & other entertainment all included in the price of admission!
Guests will enjoy Ariel International Center's breathtaking view of Cleveland's beautiful lakefront city skyline, and have the opportunity to learn about IPM's remarkable Project Partners from more than 10 countries including Brazil, Colombia, the Dominican Republic, El Salvador, India, Kenya, Nepal, Nicaragua, Uganda, & the USA.
Join the party as we celebrate IPM's 45th Anniversary and come together as Northeast Ohio's IPM Family in our work for social justice and ensuring that IPM remains one ray of hope-inspiring and shaping our world.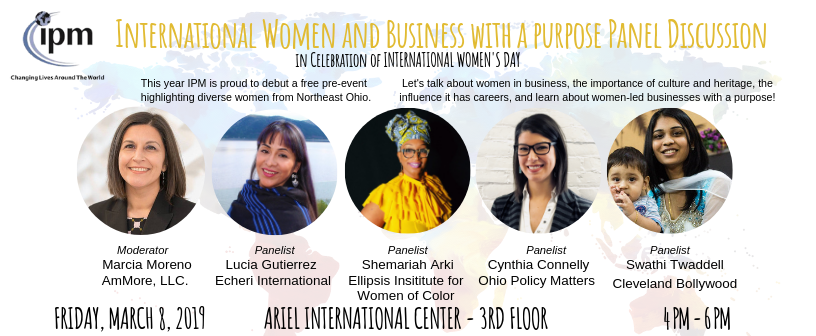 NEW! This year IPM is proud to debut a pre-event panel highlighting diverse women from Northeast Ohio from 4:00 pm - 6:00 pm. The panel will be moderated by Marcia Moreno, CEO of AmMore LLC., the first Cleveland based company dedicated to helping organizations diversify their workforce by creating strategies to attract, recruit and retain Latinx talent to thrive and succeed in Greater Cleveland. The invited panelist include Lucia Gutierrez, founder of Echeri International, Shemariah Arki, Founder of the Ellipsis Institute for Women of Color, Cynthia Connelly, Development Director for Ohio Policy Matters, and Swathi Twaddell, founder of Cleveland Bollywood.
RSVP with Selina directly at spagan@ipmconnect.org.
Since our founding in 1974, IPM has partnered with children, women, and youth around the world to create partnerships that build justice, peace, and hope. Over the years, IPM has helped implement more than 350 life-affirming Project Partner initiatives across five continents, impacting the lives of some 60,000 of the world's most impoverished and marginalized individuals annually. All of IPM's Projects work to promote education, community building, healthcare, and sustainable development to empower individuals and their communities while providing support and encouraging social and environmental justice.
Interested in sponsoring? Contact Selina Pagan at spagan@ipmconnect.org.