Description
one night dinner series: jonathon sawyer
tuesday, january 26, 6:30pm + 9:00pm seatings
multicourse menu by chef jonathon sawyer + beverage pairings
$135/pp, includes food, beverage, and service
tickets are non-refundable. please contact events@momofuku.com with any questions in advance of purchasing. due to the format of the meal, we are unable to accommodate dietary restrictions. dinner will begin promptly; please plan to arrive 5 minutes prior to your scheduled seating time. seating is communal and assigned.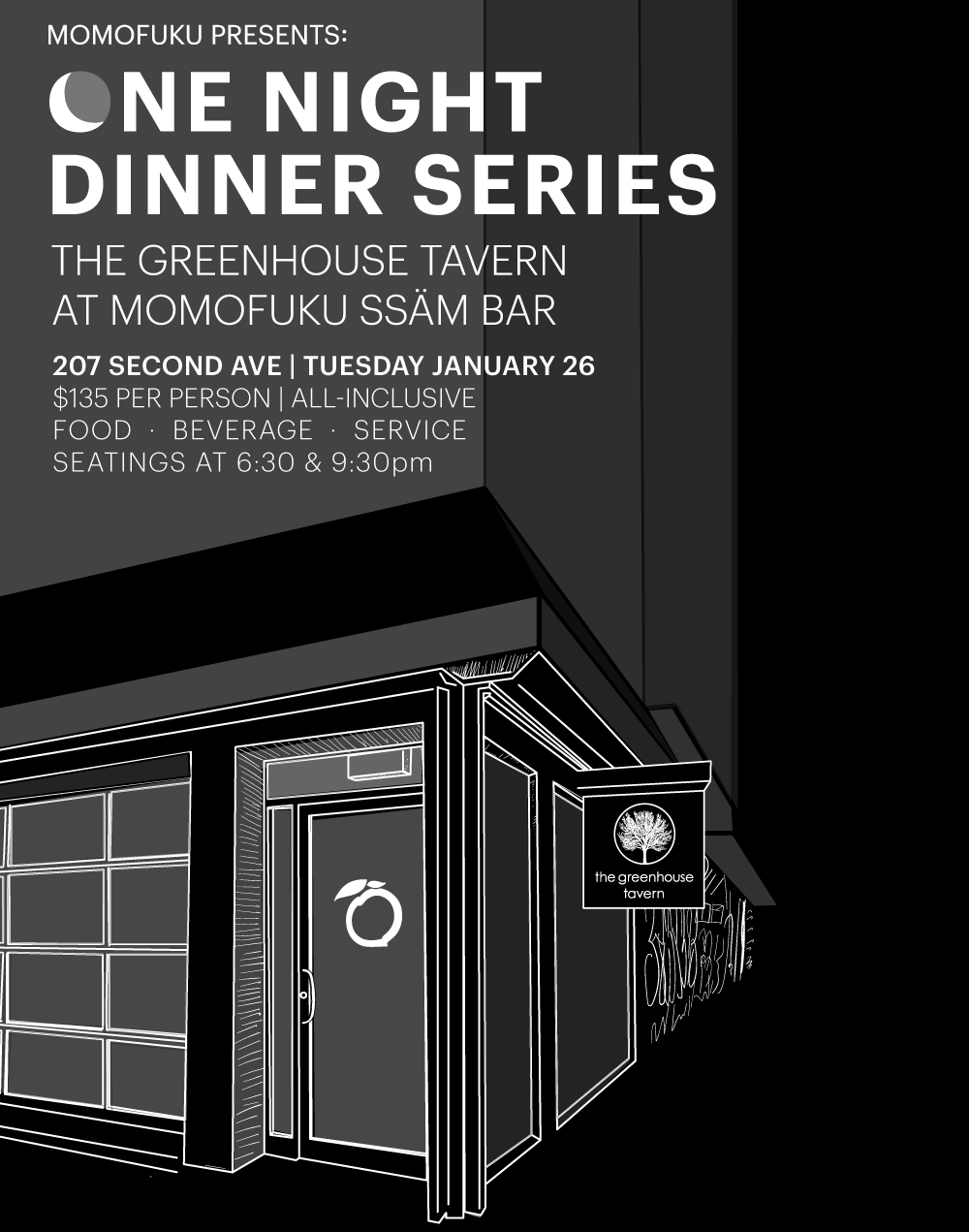 about the one night dinner series
the one night dinner series is an opportunity for executive chef matthew rudofker to bring chefs to nyc to re-create a meal like one at their respective restaurants within momofuku ssäm bar. previous one night dinners have featured michael solomonov of zahav in philadelphia, cosmo goss of the publican in chicago, matt woodall of cochon in new orleans, philip krajeck of rolf and daughters in nashville, chefs travis grimes and brian baxter of husk charleston and husk nashville, chef jeremy fox of rustic canyon in santa monica, and chris shepherd of underbelly. we look forward to featuring more chefs and restaurants from around the country in the future.
about greenhouse tavern
the greenhouse tavern is ohio's first certified "green" restaurant offering a wide range of gastropub fare made with seasonal ingredients from local farmers and purveyors. award-winning chef jonathon sawyer and executive chef brian goodman offer an eclectic menu of imaginative, flavorful dishes that push culinary boundaries while still remaining effortlessly approachable. always striving to be at the forefront of the innovate its city, kitchen, and menu.
about jonathon sawyer
an old world german chef was the best thing to happen to jonathon sawyer. back in the early 2000's sawyer was attending engineering school and cooking in a local dayton, ohio restaurant every night. one nght, the chef came to sawyer and said in his thick german accent "jon, (grimace) you… are not so bad at cooking." surprised & enamored with praise coming from his surly german boss he realized engineering school wasn't for him and promptly dropped out to attend to culinary school. he would find his love in the kitchen.
sawyer would go on to work for chef charlie palmer in new york city before opening parea in new york & lolita in ohio for michael symon. After his son catcher was born he headed home to cleveland where he went on to build a small empire of restaurants including the greenhouse tavern, noodlecat, & trentina, as well as a probiotic vinegar business tavern vinegar co. In 2010 sawyer won the food & wine "best new chef" award and in 2015 he won a james beard award for best chef: great lakes. when jonathon is not in the kitchen he is hanging out with his wife amelia, their two kids catcher & louisiana, their two dogs potato & vito, or their two backyard chickens bear & squid.