One Nation 10.2.10 - $10 LGBT NYC to D.C. Buses

Saturday, October 2, 2010 from 6:00 AM to 11:00 PM (PDT)
Event Details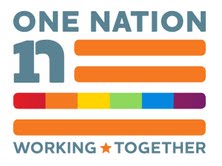 www.OneNationWorkingTogether.org
On Oct. 2, 2010, we have the opportunity to make history. On that day, the LGBTQ movement will join together with labor, civil rights, women's, youth, environmental, immigrant, faith and peace communities as we all stand unified as One Nation Working Together (ONWT).  Join over 30 local and national LGBTQ organizations and over 300 other progressive organizations as we demand equality for all, because everyone deserves equal access to jobs, justice, and education.  
Everyone in America deserves a just and fair chance to achieve the American Dream. Our national identity is rooted in the ideal that all people - regardless of race, ethnicity, class, sexual orientation, gender, gender identity or expression, or ability - should have the opportunity to fulfill their potential and contribute to an economy that works for everyone.
Yet today our nation remains in crisis. We face serious challenges, including: a deepening jobs crisis caused in part by a bubble economy of low wages and exploitative credit. We continue to struggle with a broken immigration system; crumbling infrastructure; too many failing public schools that help some, but not all, children; increased levels of division and discrimination; economic and energy peril; and environmental catastrophe. And, in this time of crisis, too many voices offer only a choice between doing nothing, and turning against one another.
Today, more than ever, we need to break the gridlock in Washington, and we need decisive leadership and policy that will move all in Congress, especially the Senate, forward. A committed public is also needed more than ever, to advance inclusive solutions that will overcome these challenges, put Americans back to work, and pull us all back together as one nation.
One Nation Working Together is about a better future for all of us here in America – a future of justice at home and peace abroad, where we create good jobs for all of us and take on the great challenges we face as a nation: rebuilding our economy; respecting all families; educating all our children in safe environments; transforming how we use energy; ensuring safe, vibrant, diverse communities; and providing for an economic future built on the principles that America has always aspired to achieve.
One Nation Working Together will chart a bold, pragmatic path toward a more unified, sustainable, prosperous future.
When & Where

Manhattan - Union Sq./14th St. -
Union Sq. West and E. 14th St. (NE Corner)
New York, NY


Saturday, October 2, 2010 from 6:00 AM to 11:00 PM (PDT)
Add to my calendar
Organizer
One Nation Working Together
ONE NATION WORKING TOGETHER is about reordering our nation's priorities to invest in our most valuable resource – our people.  We believe everyone deserves the opportunity to achieve the American Dream – a secure job, a safe home, and a quality education – but bankers and corporate lobbyists have made off with trillions of public dollars while small businesses can't get loans and cities are laying off teachers, police, and firefighters.
In this time of economic crisis, it is easy for fear-mongerers to pit groups against each other and to find convenient scapegoats for the problems that plague us. 
ONE NATION WORKING TOGETHER has a new story to tell and we want you to be a part of it. Sign up today and march with us in Washington, DC on 10-2-10 to create millions of good jobs, repair our immigration system, and reform Wall Street! Your voice is essential to demanding the change we voted for.
Organizations and individuals that are already involved with the One Nation Movement include 1199 SEIU, the NAACP, TWU Local 100, Bill Lynch & Associates, Harry Belafonte, Danny Glover, Rev. Al Sharpton, and many more.
One Nation 10.2.10 - $10 LGBT NYC to D.C. Buses