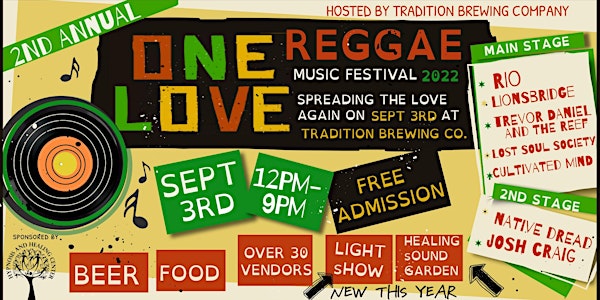 ONE LOVE Reggae Music Festival
We invite you come out and experience this spirit-cleansing oasis of love known as the ONE LOVE : Reggae Music Festival.
When and where
Location
Tradition Brewing Company 700 Thimble Shoals Boulevard Newport News, VA 23606
About this event
This year you won't miss a second of the music that not only moves your feet, but your heart and mind.
We will have 2 stages, and 7 bands, including:
RIO
LIONSBRIDGE
TREVOR DANIEL AND THE REEF
LOST SOUL SOCIETY
CULTIVATED MIND
NATIVE DREAD
JOSH CRAIG
We will host a Tibetan Sound Garden to heal your mind by Hypnosis and Healing Center.
Over 35 Local Vendors , 4 Food Trucks, and delicious Tradition craft beer. We will be rounding the night off with a light show to take you on a magical journey as the powerful message of peace, love, unity and spirituality fills the night sky.
FREE ADMISSION
GENERAL TERMS & CONDITIONS: By attending the ONE LOVE: Reggae Music Festival you are agreeing to the terms & conditions outlined herein.
1. Your ticket is non-refundable and non-transferable unless by written agreement with the organizers.
1.2. No refunds will be considered either one week before or immediately after the start of the festival.
2. The artist and performer line-up and all billed attractions may be subject to change at any time without notice.
3. The organizers reserve the right to refuse admission in any circumstances. In order to facilitate the security, safety, and comfort of all guests, Tradition Brewing Co. may refuse entry to those who attempt to enter the premises site with prohibited items.
Prohibited Items:
• Outside Alcohol or Flasks
• Ice or Ice packs
• Coolers
• Glass Containers
• Illegal substances, drugs, or drug paraphernalia
• Any of these items that are deemed unsafe or inappropriate, or are being used for purposes other than intended, may be confiscated on site.
• Illegal or unauthorized vending
• Knives or weapons of any kind
• Flammable lanterns or fire of any kind
• Fireworks or any types of explosives
• Bicycles inside the festival grounds
• Lasers or light pointers
• Soliciting
• Pepper spray
• Drones or UAV's
• Spray paint, large markers
4. Admission is at Ticket Holder's own risk. The organizers will not be held liable for any loss, injuries or damages sustained at the event including damage, theft, or losses to property and motor vehicles if the cause is due to the negligence of the guests, the actions of other patrons, or third parties or force majeure.
5. Duplicate tickets will not be issued for lost or stolen tickets.
6. Tickets are only valid when purchased from the official outlets and are strictly non-refundable. Tickets bought from other sources will be refused admission.
7. This ticket is personalized to the named ticket holder and may not be:
(a) sold or transferred to another person.
(b) used by any person for promotional purposes, including as a prize or other reward in a competition or lottery, except with the prior written permission of the organizers
(c) purchased by a third party and sold on for profit.
8. Where a ticket has been obtained by a person in breach of clause 7, the organizer's obligations in relation to the ticket will cease to have effect immediately.
9. Strictly no trading or other commercial activity by any ticket holder will be allowed on Festival Site without the Festival's prior written consent.
10. Entrance to the ONE LOVE: Reggae Music Festival is subject to both the Tradition Brewing Co Photography Policy and Broadcaster Internet and Filming Policy.
11. Tickets cannot be used as part of any marketing, media, sales promotion, staff reward program or general competition use whether commercial or non-commercial without prior written permission of the festival organizers.
12. As a condition of sale the ticket holder consents to being filmed, photographed, and recorded for television, radio, webcast, and other public broadcasts in any medium and/or for any video or DVD as part of the audience and/or by onsite CCTV cameras and recordings for security purposes.
13. Wristbands removed from the wrist or tampered with will be rendered invalid and will not be replaced. Lost or missing wristbands will not be replaced.
14. All under 18 years of age must have a paying adult accompanying them.