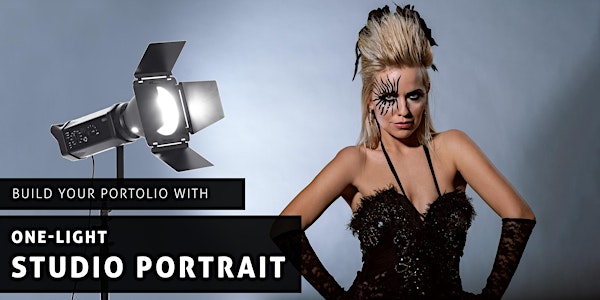 One-Light Studio Portrait Photography Workshop
This workshop breaks down the complex world of lighting into essential elements we can understand and employ in day-to-day shooting.
When and where
Location
BCIT, Aerospace Technology Campus 3800 Cessna Drive Richmond, BC V7B 0A1 Canada
Refund Policy
Contact the organizer to request a refund.
Eventbrite's fee is nonrefundable.
About this event
Flash Photography doesn't have to mean expensive gear. This workshop will show you how to take amazing photos with just one On-Camera Flash and basic light modifiers, making this the most accessible flash photography workshop and the perfect foundation for light photography. We will teach you to master a variety of Portrait Lighting Techniques and build your portfolio with amazing imagery.
Allow the intimidation of flash photography to melt away. You will walk away from this workshop with the confidence and knowledge necessary to take control of your shoots. Imagine walking into any environment with a simple lighting rig, confident that you will make great portraits you are proud to deliver because you understand light and how to use it.
During this workshop we will learn:
To make creative and compelling portraits, wherever we are and at any time of the day or night.
Light works in its simplest form through mastering shooting with a single light source.
Working with a single light can allow for amazing consistency between shots.
How light can give you control and versatility in your shooting environment and the final product options you can deliver to your clients.
Practical photoshoot in a studio setup with a fashion model (Yana Anne @yanaanne).
This workshop breaks down the complex world of lighting into into two sections. The first section covers the theory of Studio Photography and is followed by a practical session in a studio setup. All participants will have the opportunity to practice in a studio lighting setup - fashion shoot session with Yana Anne (@yanaanne) and build their own fashion portfolio. Seats are limited to only 15.
Who Should Attend:
You are a confident user of all the manual shooting modes on your camera for exposure control. You are aiming to be introduced to some new ideas and techniques to experiment with different creative outcomes.
About the Instructor:
Hello, I'm Anton, a Photographer, Educator and IT Professional based in Mainland Vancouver. I started my journey in Photography in 2007 while working as a Software Engineer for Emirates Airlines in Dubai. I joined the Emirates Group Photography Club (EGPC), formed by Photography Enthusiasts working at Emirates. I was fortunate to learn and explore my newfound passion with a group of skilled photographers. I won some national Photography awards in Dubai. Eventually, I started teaching Photography for EGPC, which made me realize the joy of sharing my passion for Photography. In 2010, I got an opportunity to do a degree in Photography at Bradford College affiliated with Leeds Metropolitan University. I'd still proudly say that I've never regretted a career switch from the Information Technology Industry to Photography. I have been teaching for more than a decade at Photography institutions, Schools and Companies. This experience helped me to understand my students' needs and create a unique structure and an unorthodox way of teaching Photography.
What participants have had to say
The workshop for De-Stress with Photography last Saturday was informative, pacing was good and 'such a fun class! Loved the energy, practical tips as well as open dialogues. Anton kept us engaged and would highly recommend attending his workshops 🙂 'Looking forward to learning more! - Pam Alonzo
Anton's teaching techniques are unique and it helped me to learn and improve my photography tremendously. - Roshan Razeek
I was pretty clueless about all the technical jargon in relation to photography. Few attempts at online lessons were disappointing. That's when I decided to take the basic course. I will recommend it 100%. Anton managed to instill a fair knowledge of photography into us. He is an excellent teacher and kept our attention every second. It was interesting, simple and straightforward. Was interactive and fun at times. His enthusiasm for photography tends to grow in his students.- Ruvani
At the outset, must state that Anton was awesome!!! He is a trainer of genius!!! His approach to teaching is very unorthodox but very effective from the standpoint of the students. He has a natural ability to perform as a trainer; teacher; mentor…Being the first-ever photography course, he was challenged to formulate the syllabus, method of delivery, and system of evaluation, which he did with much professionalism, enthusiasm and creativity. Throughout the course, he displayed innovation, creativity as well as his commitment to the field of photography. Honestly, following his teaching in photography was as much a spiritual experience. No doubt, he is a 'Master Photographer'. Waiting to enroll for his 'Master Class Photographer' training programme - Alester
I'm Nalaka from Faculty of science, University of Colombo. A guy who used to feel photos and keen to know the art of photography. Yes, indeed a beginner. When I came in the morning I knew nothing but photos are nice; and when I left the conference hall in the evening it was like I'm exposed to a new dimension. It was a superb workshop, comprehensive and out of box. Well organized even those who don't know the ABC of photography could easily catch up. I will never forget his words; "There is nothing right or wrong in photography", which leads me to a new dimension. Thank you very much sir. I would like to say just one more word. Awesome!!! - Nalaka Alex Kapuruge
More feedback on Anton's Facebook Page
Bluepascal Photography Facebook Page Review
For more information please contact :
www.bluepascal.ca | hello@bluepascal.ca