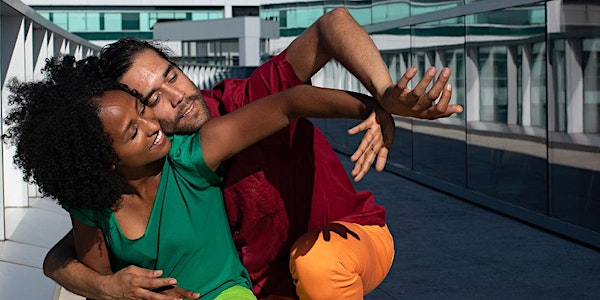 "One Leg at a Time" Exhibition
A culminating exhibition after our work with the California Institution for Women. Visual art, a dance performance, and a panel discussion.
When and where
Location
Track 16 Gallery 1206 Maple Avenue #Suite 1005 Los Angeles, CA 90015
Refund Policy
Contact the organizer to request a refund.
Eventbrite's fee is nonrefundable.
About this event
Gallery open: 5:30
Performance: 6pm
Screening: 6:30pm
Panel Discussion moderated by Abbe Land: 7 pm- 7:45pm
Performance repeats: 8 pm
Beginning in February of 2019, a group of women from the California Institution for Women participated in a three month residency with HDD's teaching artists, which involved movement workshops focussed on self-esteem, personal responsibility, and physical expression to reduce the negative impact of trauma. Through these workshops, participants were able to bring their stories to life, culminating with their own expressive choreography, poetry, and visual art. Attendees will be walking in the footsteps of the participants, witnessing a performance by the teaching artists, and participating in a panel discussion. This journey will allow all walks of life to be encapsulated in the participants' world, bridging the gap between the free and the incarcerated and fostering greater understanding, empathy and respect.
This project is made possible with support from the California Wellness Foundation, Just Detention International, a Los Angeles-based health and human rights organization, and California Humanities, a non-profit partner of the National Endowment for the Humanities. Visit www.calhum.org and www.justdetention.org
PANEL BIOS
Abbe Land
Abbe Land is the Executive Director at LA County's Women and Girls Initiative. For over 30 years Abbe Land has served as a leader within the non‐profit and civic government worlds. She is the former Executive Director and CEO of The Trevor Project, a nationally recognized nonprofit providing crisis intervention and suicide prevention services to LGBTQ youth. A recognized and respected health care professional and activist, Abbe has an impressive history of ensuring care to underrepresented populations and advocating for youth in the LGBTQ community. Prior to joining Trevor, Abbe served as Co‐CEO of The Saban Community Clinic in Los Angeles, a preeminent community clinic that provides comprehensive medical care to low income people in the Los Angeles area.
In addition, Abbe has a wealth of public policy knowledge as an elected Council member of the City of West Hollywood from 1986‐1997 and from 2003‐2015, Abbe served as Mayor five times. She is known for her support and leadership on women's issues, LGBTQ rights, affordable housing, healthcare access and civil liberties. Through her political advocacy, she was instrumental in the development of the City's Women's and Disability Advisory Boards, domestic violence prevention program for same‐sex couples, green building ordinance and landmark gun control legislation.
Theresa Martinez
Theresa Martinez, an accomplished social justice activist and peer health educator, is a founding board member of Justice Now—a human rights organization working with women in prison and local communities to build a safe, compassionate world without prisons. Of the 23 years she spent serving prison sentences directly related to her struggle with opiate addiction and gang membership, 10.5 years were spent in the world's largest women's prison in Chowchilla, California. While imprisoned, she organized women around healthcare and human rights abuses. Her pioneering work for Justice Now includes the development of an innovative organizational board structure that engages people in prison in all aspects of nonprofit leadership and governance.
Another of her numerous accomplishments includes organizing the first grassroots, underground, fundraising campaign among people in prison aimed at funding prison abolition work. Since her September 2009 release from prison, Theresa is actively overcoming the struggles of "reentering" her community, such as preclusion from public housing and food stamps due to her prison record, by continuing her diligent work to expose human rights abuses in women's prisons and to bridge the gap between activists inside and outside prison. Theresa is an eloquent, sought-after public speaker and has spoken at local and national conferences relating to reproductive justice and racial justice. Her personal story will appear in Dave Eggers' upcoming Voices of Witness oral histories volume on gender and imprisonment.
Theresa has spoken on numerous panels and facilitated trainings on Prison Industrial Complex with Civil Liberty Public Policy, has created policy and new laws for the Women's Policy Institute, attended progressive communication trainings at the Spin Academy and is an active member of the U.S. Human Rights Network. In 2015, Theresa was chosen to attend a United Nations hearing to expose the California prison system and the unlawful act of eugenics and sterilization on women of color, human rights violations and the abuse that takes place inside the prison.
Professor Geoffrey Robinson
Professor Robinson writes and teaches about the history of political violence, genocide, human rights, and mass incarceration, primarily in Southeast Asia. He is the author of several books and dozens of scholarly articles. His major works include: The Dark Side of Paradise: Political Violence in Bali (Cornell, 1995); East Timor 1999: Crimes against Humanity (Elsham & Hak, 2006); "If You Leave Us Here, We Will Die": How Genocide Was Stopped in East Timor (Princeton, 2010); and most recently, The Killing Season: A History of the Indonesian Massacres, 1965-66 (Princeton, 2018). A Canadian, he earned his BA at McGill University and his PhD at Cornell, where he was a student of Benedict Anderson and George Kahin. Before coming to UCLA in 1997, Robinson worked for six years at Amnesty International's Research Department in London, and in 1999 he served as a Political Affairs Officer with the United Nations in Dili, East Timor. His current projects include a co-edited volume of photographs and images related to the mass violence of 1965-66 in Indonesia; a study of the "Swedish Connection" to that violence; and a book on the history of mass killing in the United States, entitled Running Amok in America.
Vanessa Sapien
Vanessa Sapien, MA, is JDI's Mental Health Program Director. As a member of JDI's domestic programs team, she provides training and technical assistance for corrections staff, advocates, and service providers on how to keep prisoners safe from sexual violence. A mental health professional and trained domestic violence and rape crisis counselor, Vanessa has many years of experience helping survivors. She has received numerous awards for her clinical work, including a Presidential Service Award. Vanessa has also been recognized for her work in honoring diversity and social justice in mental health.
Terri Lynn Scrape
Terri Lynn Scrape is an Alumni Teaching Artist with The Actors' Gang Prison Project. She joined The Actors' Gang workshop while incarcerated at the California Institution for Women and later became a facilitator for the group. Terri was released from prison after serving 33 years on a wrongful conviction. She now enters prisons throughout California as a teaching artist continuing the transformative, invaluable work she experienced during her own incarceration. Terri has also been the lead teaching artist at two reentry facilities and serves as an advocate not only on behalf of The Prison Project but also for the Arts, Arts in Corrections, Rehabilitation and within the Criminal Justice Reform movement.
Sabra Williams
Sabra Williams has received international acclaim for her work as an actor and co-founder of The Actors' Gang Prison Project, including being named by President Obama a "Champion of Change" in 2016, and being honored with a British Empire Medal for services to the Arts & Prison Reform by Queen Elizabeth in 2018. Sabra is co-founder of Creative Acts, a new Social Justice initiative that uses the Arts as the tool for transformation. Creative Acts has Civic Engagement programs in juvenile facilities and a new Virtual Reality arts program in adult maximum security prisons, for people returning after life sentences.Sabra is a Visiting Lecturer at UCLA and a Bellagio Rockefeller Resident Fellow. She is currently a member of The Independent Shakespeare Company, LA ensemble.