ONLINE SALES SOLD OUT - Contact De La Vega to inquire about tickets at 386-734-4444
About this event
ONE LAST DRINK
January 16, 1920. The eve of prohibition. Greta Graspme is the hottest young jazz singer of the era. Tonight, she is performing a special invitation only concert at the world renown Warehouse Club for the top echelon of high society in order to bid farewell to alcohol – "the great deceiver."
Beautiful and talented, Greta has used her celebrity status to fuel the temperance movement and this concert has been sponsored by the Woman's Christian Temperance Union in an effort to celebrate the long hard fight finally coming to its "Christian end."
The evening progresses despite several problems until the stroke of midnight – the start of prohibition – at which time the night turns deadly as one concert attendee's time runs… dry.
*********************************************************************************************
Your ticket puts you in the middle of the action as this immersive mystery experiences happens all around you. You will meet the suspects, you will question each of them and you will determine whodunnit as you enjoy an amazing dinner at De La Vega in Deland.
Three course dinner includes your choice of entrée, appetizer and dessert. Nonalcoholic beverages also included. Full bar available.
Gratuity NOT included.
Appetizer
Cucumbers & Watermelon Gazpacho: Fresh Watermelon, cucumber, cilantro, red peppers, jalapeño, fresh mint served in a cup
Entrée choices include:
Pescado al pastor : Grilled fish marinated in Guajillo- Ancho paste, covered with Pico de Gallo. Served with salad.
Lemon- Rosemary Grill Chicken: Marinated Chicken breast with garlic, Rosemary, olive oil, and parsley. Served with salad. Served with salad.
Cauliflower "Steak" with Chimichurri Sauce: head of cauliflower roasted with bell peppers and spices with Chimichurri sauce. Served with salad.
Dessert
Vegan Chocolate Cream Pie.
Groups are asked to please purchase tickets at one group if they wish to be seated together. We can not guarantee that multiple groups of 2 will be sat together if not purchased as one larger group.
Please note that smaller parties MAY be seated together.
As YOU are being transported back to 1920 for the evening we encourage you to dress in your roaring 20's best and really get into the evening.
Large groups welcome!
Our show is rated PG-PG13 for potential adult topics and innuendo. Most of our show is improvised so you never can be sure in which direction things will go. We do promise no graphic violence, overt sexuality or excessive adult language.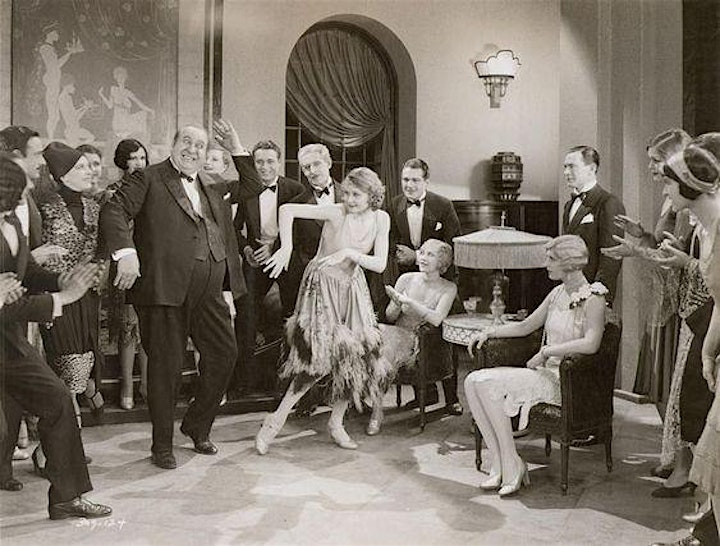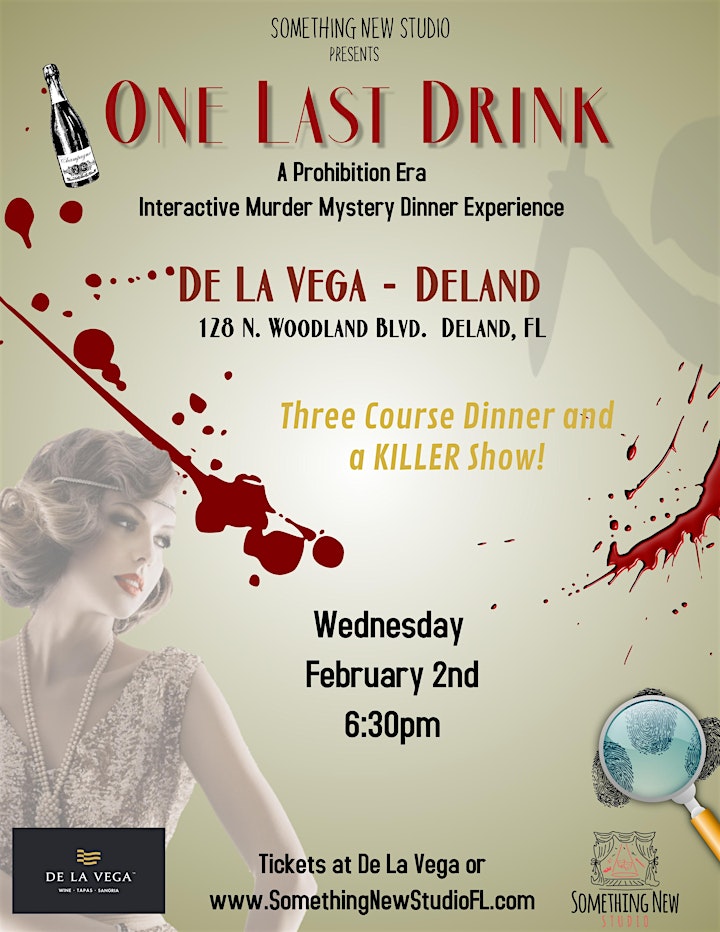 Organizer of One Last Drink - A Prohibition Era Interactive Murder Mystery Dinner Event