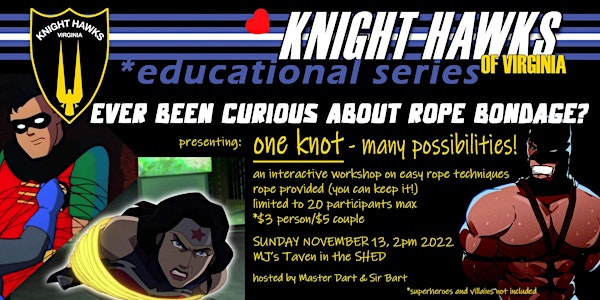 One Knot Many Possibilities
One Knot Many Possibilities- Taught by Master Dart & Sir Bart . An Educational event hosted by the Knight Hawks of Virginia.
When and where
Location
MJ's Tavern 4019 Granby Street Norfolk, VA 23504
About this event
Rope bondage does not have to consist of overly elaborate knot tying. Too many people shy away from learning bondage for fear they have to learn something "complicated". More possibilites can be had when you start with something basic that can be modified into something very devious and multi-functional. That's the motto for this basic bondage class in which Sir Dart and Bart will teach some very easy but very practical rope ties for wrists, ankles, and whatever else one might like to cinch on their victim 🙂 There will be ample opportunity for practicing the variations, as well as exploring all the ways the techniques can be modified...opening up many possibilities for the rope top. This is a hands on class so please be prepared to move. You may bring rope or if you don't have any, we will provide.