ONE HOPE Wine Tasting Event Benefiting Team Rubicon

Thursday, March 20, 2014 from 6:30 PM to 9:30 PM (PDT)
Event Details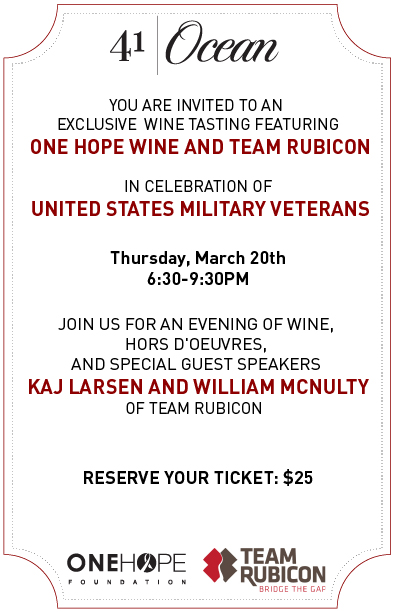 ABOUT ONEHOPE:
ONEHOPE is a social enterprise that integrates causes into products and services to make a social impact. ONEHOPE Wine donates half of the profits  to a different cause for each varietal of wine sold. 
 ONEHOPE is headquartered in Southern California and has formed partnerships with notable nonprofits that support many distinct causes. Some of the causes and organizations include breast cancer treatment (Gateway for Cancer Research), Autism research and treatment (ACT Today!), US forest preservation and protection (American Forests), pet adoption (ASPCA), ending childhood hunger (World Food Program), and of course, Team Rubicon. 
ONEHOPE not only produces its own cause-centric products and services but is also the creator and leading provider of consulting services for companies small to large on Cause-Centric Commerce. 
ABOUT TEAM RUBICON:
Team Rubicon unites the skills and experiences of military veterans with first responders to rapidly deploy emergency response teams. Hundreds of US military veterans, many returning home after fighting ten years of war, find a renewed sense of purpose for their skills and experiences through TR. 
Team Rubicon Sets Itself Apart In the Nonprofit World. Is it a disaster relief organization? A veteran-focused enterprise?  The truth is it's both. TR pioneered a new paradigm in disaster response while redefining the meaning of veteran reintegration into society. Team Rubicon Pioneered the Concept of Veteran-Focused Disaster Response. On the streets of Port-au-Prince, in the immediate aftermath of the Haiti earthquake, TR's military veterans realized a simple truth – natural disasters present many of the same problems that confront troops in Iraq and Afghanistan: unstable populations, limited resources, horrific sights, sounds and smells.  The skills cultivated on those same battlefields – emergency medicine, risk assessment and mitigation, teamwork and decisive leadership – are invaluable in disaster zones.
When & Where

41 Ocean Club
1541 Ocean Ave
#150
Santa Monica, CA 90401


Thursday, March 20, 2014 from 6:30 PM to 9:30 PM (PDT)
Add to my calendar
ONE HOPE Wine Tasting Event Benefiting Team Rubicon