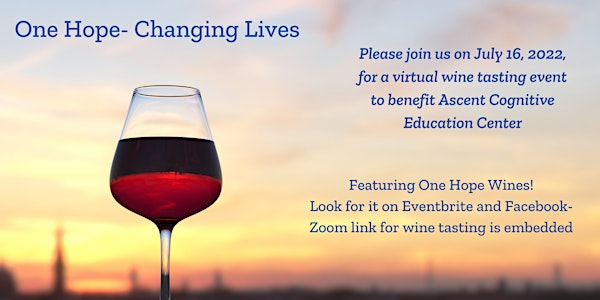 One Hope, Changing Lives- Charity Online Wine Tasting Event
Raise a glass for better Brain Health this Summer!
About this event
Attendance is Free!
To purchase a "Wine Flight" sample tasting box please go to:
https://www.onehopewine.com/tasting-flight-checkout/?page=EVENT_LANDING&event=00762410-a10a-43ae-9595-bacfccb3bca6
OR purchase your favorite wine at:
https://www.onehopewine.com/event/131794
Did you know that mild consumption of wine(1-2 glasses) can actually be beneficial to the brain, by helping it remove toxins and reduce inflammation? Some studies showed a reduced level of inflammation in Alzheimer's patients. For more information follow the link below:
Ascent Cognitive Education Center is dedicated to helping Colorado families living with chronic conditions improve brain health and thrive. We use a unique mix of three scientifically- proven, drug-free programs to help clients and their families, restore and improve brain function, as well as overall well-being.
July 16, 2022, we are partnering with One Hope Wines to host a virtual wine tasting as a summer fundraiser. These funds will be used to help cover program and operating costs as well as start to build a scholarship fund! Many of our clients who live with these chronic conditions already experience a serious financial burden from medical bills, we are on a mission to one day be able to provide our services for free to individual clients and their families.
Please join us on July 16, 2022, and raise a glass to better brain health.
For more information on the study go to: Article from Science Reports