Description
Media Contact: press@lemonlimelightmedia.com
Vending Inquires: info@mscattv.com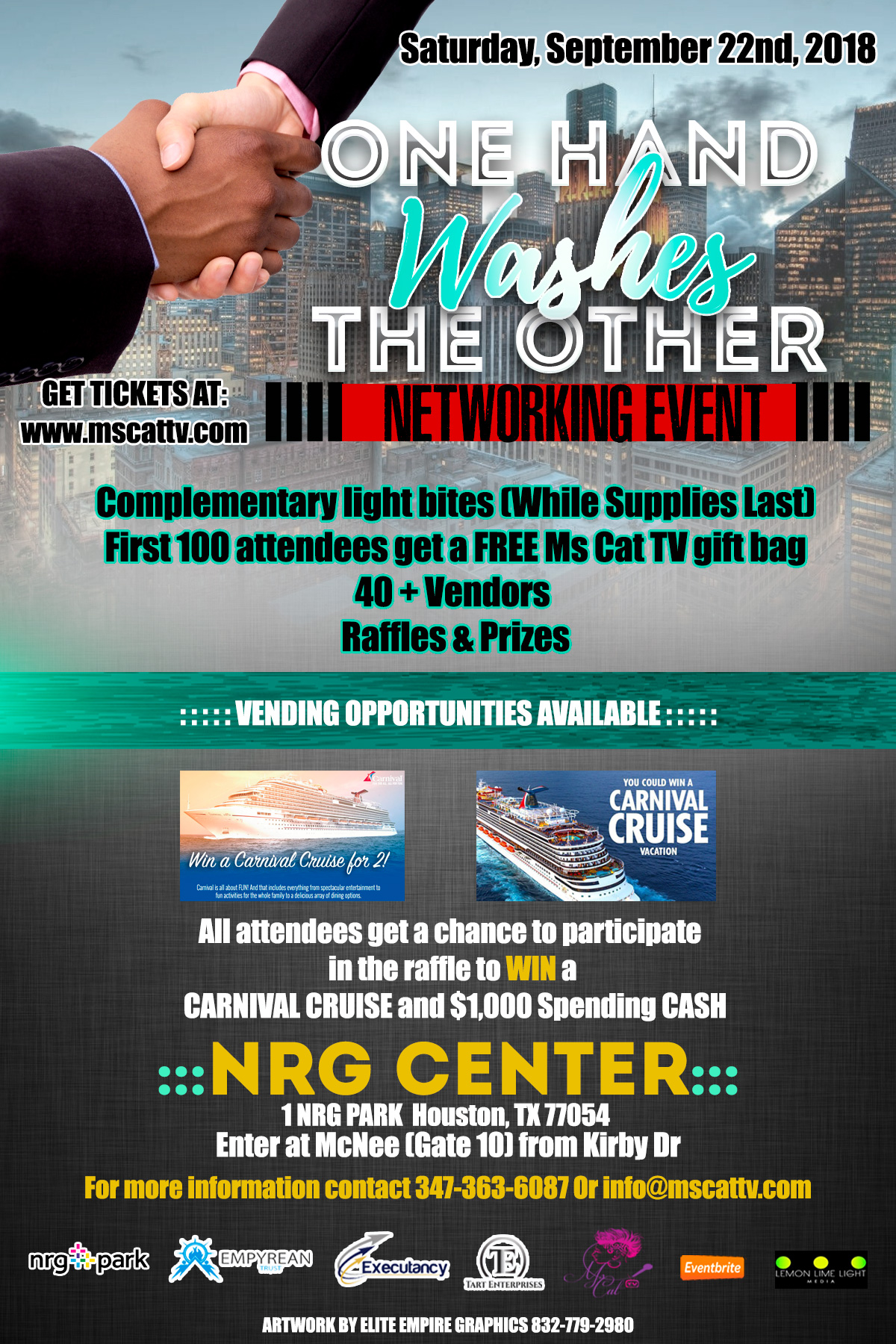 May 18, 2018 - Houston, TX – Networking is one of the most essential personal skills for business people, and it is extremely important for entrepreneurs. The One Hand Washes the Other networking event brings together an extraordinary group of highly-skilled and talented entrepreneurs on Saturday, September 22, 2018, at NRG Center to foster the exchange of knowledge and ideas.
The purpose of the event is to help entrepreneurs build a foundation for relationships while gaining credibility for their businesses among the Houston community. "I want to keep my name relevant in the community while helping others do the same," says Ms Cat, Creator of the "One Hand Washes the Other" Networking Event. Along with opportunities for face-to-face interaction with like-minded peers, attendees will be given valuable insights from other successful entrepreneurs.

Reputable keynote speakers will cover topics and share industry advice on subjects including:
Public Relations - La'Torria Lemon of Lemon-Lime Light Media
Marketing - Erica Candley of Tart Enterprises
Fundraising - Nathan "Nth" Bar-Fields of Empyrean Trust
Business Coaching - Roshawnda Reed of Executancy Business Solutions
In addition to networking and industry insights, guests will have the chance to win door prizes, participate in hourly raffles, and other exciting incentives!

No matter your industry, networking is always a useful tool for business owners and professionals to open doors for new opportunities.
Please visit www.mscattv.com for more information.
About Ms Cat TV:
Ms Cat is a Houston-based director and filmmaker who created the broadcast company, Ms Cat TV which offers full TV production services for other filmmakers, artists and businesses to be seen nationwide. Ms Cat has worked with BET, TV One, and the OWN Network to help connect major networks with independent outlets.
###
Nathan "Nth" Bar-Fields

Empyrean Trust

CEO & Head of Fundraising

Erica Candley

Tart Enterprises

Independent Marketing Consultant

La'Torria Lemon

Lemon-Lime Light Media

Public Relations Specialist

Roshawnda Reed

Executancy Business Solutions

Strategic Business Consultant