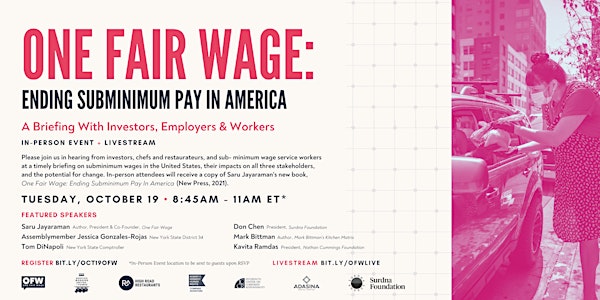 One Fair Wage: Ending Subminimum Pay In America
Join One Fair Wage and our partners for a briefing with Investors, Employers & Workers to discuss the impact of subminimum wages in America
About this event
Please join us in hearing from investors, chefs and restaurateurs, and subminimum wage service workers at a timely briefing on subminimum wages in the United States, including their impacts on all three stakeholders, and the potential for change.
This event is being held on the launch date of Saru Jayaraman's new book: One Fair Wage: Ending Subminimum Pay in America, (New Press, 2021), which uplifts the stories and voices of subminimum wages workers across many sectors - including tipped restaurant, nail salon, parking attendant and airport wheelchair attendant workers, gig workers, workers with disabilities, incarcerated workers, and youth workers.
In the restaurant industry, the largest employer of subminimum wage workers, pandemic-impacted service workers have cited subminimum wages as the reason they are leaving the industry in the millions - leaving restaurants massively understaffed.
We will be hearing workers, employers, investors and policymakers in conversation about how subminimum wages are a source of inequity for workers and liability for employers and investors, and how setting one fair minimum wage for all workers across the nation will help alleviate poverty, sustainably grow the economy, and advance gender, racial, disability, and economic justice. In- person attendees will also receive a copy of the book.
IN-PERSON EVENT GUESTS: This event will be held outdoors, on a private rooftop in Midtown Manhattan. The exact location will be sent to registered guests 72 hours prior to.this event. Due to the rise in COVID cases and in accordance with NYC and NY state guidelines, proof of vaccination will be required for entry. Guests will be asked to wear masks at all times and observe social distancing. Please see below for OFW's full COVID Safety Protocol. We kindly ask that you arrive by 8:45am to allow time for guests to check in, grab breakfast, mingle and be situated by the time the speaking program begins promptly at 9:00am ET.
*VIRTUAL EVENT GUESTS* - Livestream will begin promptly at 9:00am ET. Join us: bit.ly/ofwlive
-- Featured Speakers --
Saru Jayaraman - Author, President & Co-Founder, One Fair Wage
Assemblymember Jessica Gonzales-Rojas - New York State District 34
Tom DiNapoli - New York State Comptroller
Don Chen - President, Surdna Foundation
Mark Bittman - Author, Mark Bittman's Kitchen Matrix
Kavita Ramdas - President, Nathan Cummings Foundation
This event is hosted by: One Fair Wage • Service Workers United For Power • High Road Restaurants • Surdna Foundation • Robert F. Kennedy Human Rights • Interfaith Center on Corporate Responsibility • Adasina Social Capital
-- COVID SAFETY PROTOCOLS --
In light of updated guidance from the CDC regarding new COVID virus variants, all attendees of this event must follow OFW COVID Safety Protocols. OFW organizers and volunteers will be trained in advance of any in-person actions for the duration of the COVID-19 pandemic. All events will be outside if called for by state law, and socially distanced. There will be signs reinforcing these guidelines at all in-person events. In order to avoid pen sharing, sign in will be using a unique text code.
Please remember to:
Wear a mask (over both your mouth and nose!). Current CDC guidelines strongly recommends double-masking
Observe social distancing guidelines by maintaining a minimum distance of 6 feet from others
Make sure all materials (menus, signs, banners) are sanitized and we encourage attendees to bring their own personal hand sanitizer as well
Wipe down surfaces after each and every use
If you have experienced any symptoms of COVID-19, have been exposed to anyone who has symptoms, or have tested positive for COVID-19, DO NOT attend this event or carry petitions — stay home! Attendees in violation of these guidelines will be asked to exit the event immediately. For any questions regarding this event, please contact Francheska: francheska@onefairwage.org
Thank you in advance for your cooperation - your safety and the safety of our communities remain our HIGHEST priority.
To learn more about the fight for a fair minimum wage with tips on top, please visit our website and connect with us on social media: Instagram • Facebook • Twitter