Event Information
Refund Policy
Contact the organizer to request a refund.
Eventbrite's fee is nonrefundable.
About this Event
ONE DAY SATURDAY WOMEN'S CARPENTRY
This workshop is about empowering you to say " I can" and never to be limited by the fact you have never ... Whether the Nay Sayer is in your head or people in your life you will learn to blow them out of existence. Empowerment is more that just learning a skill, it is the feeling of confirmation that this is way it should all ways be. We take pride that with each graduate the world comes a little closer to gender equality.
Set aside all the misconceptions. Years of learning from men, by men what you like, your ability's, your limitations, visions and dreams. I am saying with confidence that if you can dream it you can achieve it.
Our classes for women and the female-identified take into account a more feminine learning style.  We put a focus on learning as we go, encouraging students to ask questions and ask for help. We work on group projects, along with individual ones, and we share meals together.  This sense of togetherness and connection with the group helps everyone feel safe and welcome. We highlight different abilities and strengths, noticing that everyone's contributions are needed and that they come in handy in different ways.  
ONE DAY SATURDAY WOMEN'S CARPENTRY CLASS 10am -3pm. This class is offered once a month.
The class is intended to get ladies up-to-speed on basic building skills, working with wood, and using hand tools as well as power tools. Focus is placed on creating a safe, comfortable, relaxed and fun learning environment in which students with beginning to intermediate skill levels can thrive.
You only have a day and you want to do something new. Learn how to use a few tools in the process. Most of the heavy cutting has been done for you. You will be able to concentrate on assembling the project and learn to finish it by sanding, wood burning, carving, and varnishing.
THE DAY WILL START by covering safety and an introduction to tools. You will coordinate with the instructor the project you would like to do. It will be small something like a Jewelry display or bird house. something that will fit in the time given. The instructor will purchase your supplies and rough cut them to size. You will use power tools to assemble your project and finish it by sanding. The last thing you will do is varnish it or paint it as needed.
Individual Basic Projects can be selected from this suggested list.
Cup mug wall holder, Knife Box, Jewelry wall display,Wall plant hanger, Bread box, Bed tray, Armchair tray, Note / blackboard wall hanger, Bird house, or Bat house. You can bring your ideas as well.
TEACHER:
Deborah Landry one of the first two women to be trained as a carpenter in the US Air Force. She has a long history of creating art, teaching, and carpentry. She works as a public artist and works in every material including concrete and mosaics with handmade ceramic tiles. In her Lithia springs, GA studio you can work in clay, wood, concrete, as well as paper making, painting and printmaking just to name a few possibilities. We hope you will stop by and see what is possible. We look forward to meeting you.
OTHER CLASSES AVAILABLE
Women's advanced Carpentry / Friday-Sunday, three days a month So, you know how to use a drill and a skill-saw and you can build a basic shelf, but you want to get proficient with building bigger things. Do you have buildings in your sights? This class will give you the skills you need for designing and constructing small buildings and sheds and will set you on the road toward more complex structures.
Open Shop - Friday -Sunday three days a month , or Saturdays / Once you have attend a basic and advanced class you can sign up for Open shop. You can pay for time in the studio and create projects on your own.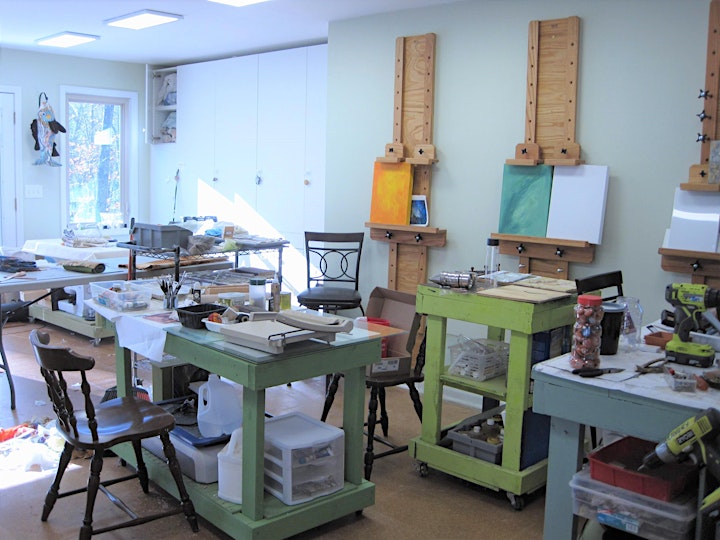 Date and Time
Location
Refund Policy
Contact the organizer to request a refund.
Eventbrite's fee is nonrefundable.