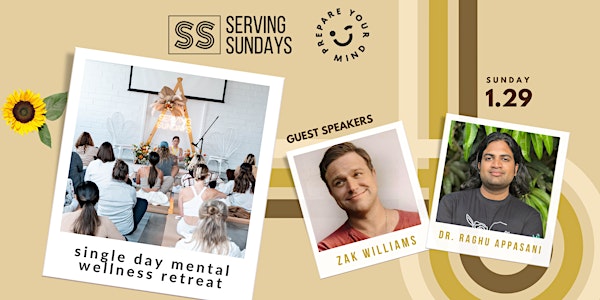 One-Day Wellness Retreat in SF | Self Care for All | 2023 Intention
Modern-Day Sunday Service in the form of a wellness retreat. Come relax, restore, reflect, and reset as you head into a new month ~
When and where
Location
The Firehouse at Fort Mason Center for Arts & Culture 2 Marina Boulevard San Francisco, CA 94123
About this event
6 hours 45 minutes

Mobile eTicket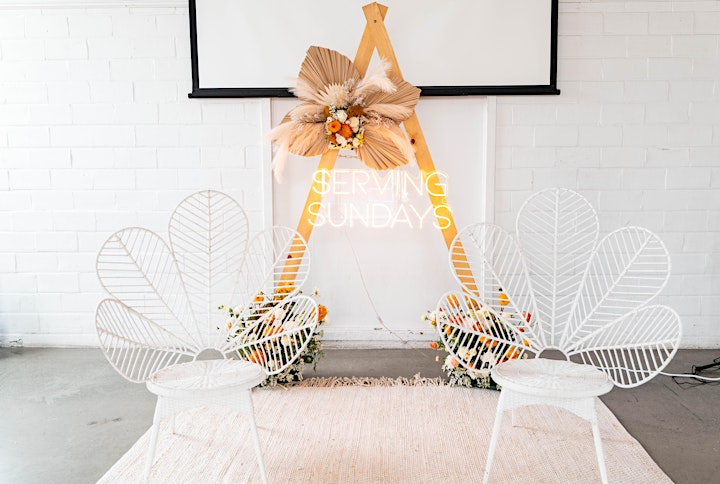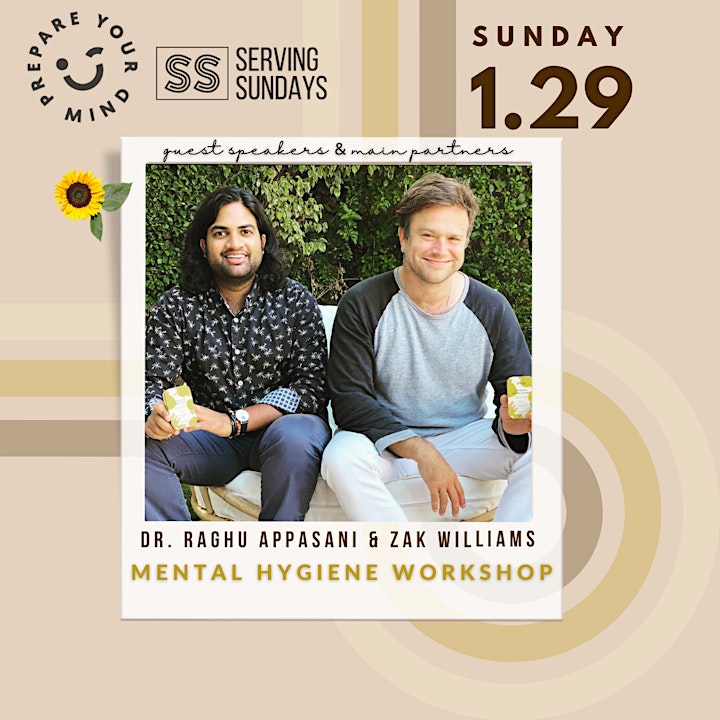 welcome to 2023.
let's disconnect from the noise & reconnect from within.
Come as you are.
Explore where you're going.
All are welcome.
| Your Ticket Includes |
All event activities (see below)
A personalized journal & other goodies
Discount Ticket for Lunch at the Fort Mason Farmer's Market
| To Bring & Wear |
Your Serving Sundays branded Journal (**if this is your first event, you will receive one that day)
Extra Layers !
Neutral toned activewear (tan, cream, brown, white, grey, light yellow, nudes, golden tones, etc...)
We have yoga mats for your use; you are welcome to bring your own if you prefer
*there will be a videographer and photographer capturing our moments together. Neutral attire helps create a calm environment and provides high-quality content to capture our story
~ The Who.
Meet the Energy Movers & Leaders
~ The Why.
We've created an approachable single day retreat for you - on the water in the beautiful San Francisco at Fort Mason, to help you disconnect from the noise and reconnect from within
Our Brand concept: Modern-Day Wellness church; using Sunday to reset, reflect, and renew our energy for the day/week/month ahead; connecting & expanding with ourselves & each other; finding guidance and freedom within our wellness journey; taking the planning/thinking out of 'Me Time'
We're helping you "escape" into goodness.
~ The What.
['I Want More Details' ]:
Welcome
Check in, decorate your journal, make new friends ~
Drop in Meditation [Karrie - Founder of Serving Sundays]
Intention setting for the day > dropping into the renewed energy and space together to allow for self-exploration, open-mindedness, and recognizing our starting point
45 Minute Choose Your Own Movement
[Option 1] : Mindfulness Yoga Flow w/ Brandon - Owner of 'B YoSelf Yoga'
**this will be an outdoor yoga class** please dress accordingly if you choose this option
[Option 2] : Mindfulness Deep Stretch w/ Areli - former 49ers Cheerlead and Warriors Dance Team captain
**this will be an indoor movement option
Mini Sound Healing Experience [Karrie - Founder of Serving Sundays]
A guided sound healing experience for deep relaxation w/ the use of sound bowls, rain sticks, and chimes. Learn the benefits of sound healing and easy ways to implement this sound/song healing into your day-to-day life
Lunch Break
45 minute break to walk around Fort Mason, grab lunch (or eat your own packed lunch), relax by the water, meet new friends etc...
Discount card will be offered for the Fort Mason Farmer's Market
GUEST SPEAKERS: Prepare Your Mind
Join Robin Williams son, Zak Williams (Co-Founder of PYM), and Dr. Raghu Appasani (CMO of PYM & Founder of Minds Foundation) for a transformative mental wellness workshop. Attendees will walk away feeling more connected to their 2023 Mental Hygiene routine.
Guiding Writing Wrap Up [Karrie]
Guided writing session (branded Serving Sundays journal provided) to reset, reflect, and renew the energy going into the next week+month
Morning Session (10:30a - 3:20p w/ lunch break)
will start with Meditation/Movement/Sound Healing & end with Guest Speaker/Writing
Afternoon Session (1:15p - 5:15p)
will start with Guest Speaker/Writing and end with Meditation/Movement/Sound Healing
Extras! Optional side fun --