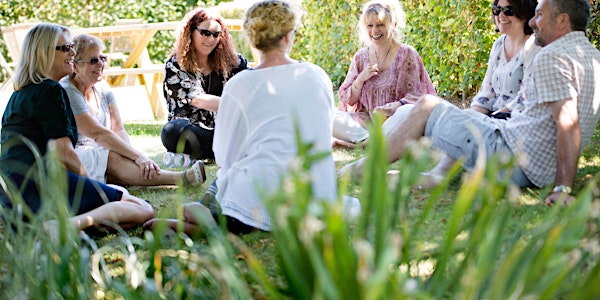 One-day Wellbeing Retreat
A day for you to find yourself again amidst the daily stresses of life; a chance to relax, have some fun and reset.
When and where
Location
Hellingly Community Hub Hellingly Community Hub The Drive Hellingly BN27 4EP United Kingdom
Refund Policy
Contact the organiser to request a refund.
Eventbrite's fee is nonrefundable.
About this event
Do you...
- feel overwhelmed with life's demands?
- need a break from it all?
- just need some time-out?
- want to connect meaningfully with like-minded people?
- want to learn new tools and techniques for self-care?
What to expect
Your day will include:
- mindfulness/relaxation techniques
- a silent walking meditation (the venue is part of a country park)
- a look at what self-care means for all of us
- creative activities to help with letting go of stress
- ritual to celebrate the transition from winter to spring
- lunch and refreshments
- a gift bag to take away with you
********************************************************************
This retreat will provide you with a pause on life, one from which you will come away with a new perspective on how you look after yourself on different levels. You will learn different techniques that you can easily employ as part of your self-care. You will experience relaxation, visioning, nurturing and ritual. All in one day.
This one-day retreat offers the perfect space for such an experience. You will be watered, fed and nurtured and take part in a range of activities throughout the day.
From time to time, we just need some time-out to take stock, recalibrate and just to chill out. We seem to lead extraordinarily busy lives and unless we're able to occasionally press 'pause' even for just a day, then we run the risk of creating different problems for our long-suffering bodies and minds.
Many people have said to us that they worry that if they take some time to themselves, that their whole world might collapse as they're trying to hold it all together. And whilst that's understandable, the truth is that the other option is to continue living life on auto-pilot, tired all the time, unable to think clearly or make decisions aligned with what serves us best.
The Venue
Hellingly Community Hub is a modern, wheelchair-friendly community centre that sits on the edge of the lovely Hellingly Country Park. It is located below the High Weald Area of Outstanding Natural Beauty, providing tranquil vistas. Together with plenty of parking spaces and kitchen facilities, this is truly an excellent venue.
Testimonials
Read what some retreat participants have said after coming along to our retreats:
'Su made me feel so safe and secure straight away, allowing me to really fulfil my need to relax and de stress. Revisiting and refreshing myself with techniques I am aware of was very useful to ground me and re focus on my well being. I learnt a range of new techniques that were both interesting and effective. Before this retreat I had been unwell for two months and also been suffering with increased anxiety and stress levels. I could not believe the difference this day made, the following day I felt so energised it was as though I had cleared all the negative energy and re started myself, it also allowed me to deal with two highly stressful meetings with a calm and positive attitude. I cannot recommend Su enough and am so looking forward to attend the signature workshop!' SM
'Fantastic!! Thank you so much – today has impacted me more than I ever thought it would. I no longer feel like the swan gliding on top and swimming like hell underneath. Now I'm taking my time to happily glide and sometimes just be still'. SP
'Truly wonderful nurturing experience giving validation to my own needs and allowing time to meet those needs. Thank you so much Su for a great day!!' KT
'A wonderful calming day. Really useful tools to take away. Great venue and lunch. Thank you so much Su, for enabling me to experience so much of value to my self care and wellbeing and feeling that I can give myself permission to be 'self'ish whilst in the company of wonderful people'. LC
______________________________________________________________
Your Facilitators
Su Orosa
Su is a Humanistic counsellor, supervisor, senior accredited life coach, tutor, trainer, EFT practitioner and Reiki master. She works in a process-experiential way. Whilst integrating aspects of other modalities, the person-centred approach forms the bedrock of her work. She is also co-director of South Coast Wellbeing and Training - a training centre for those wishing to train as qualified counsellors.
She is an experienced group facilitator, having run many process groups over the years as well as many workshops and retreats. She is a trained yoga teacher (Scaravelli), incorporating mindful, gentle movement into her workshops and retreats.
Su is passionate about the power of connection through group work and loves nothing more than to facilitate a co-created group of people who are open to seeking authentic living.
Mia Hughes-Smith
Mia is a trauma-informed person-centred experiential counsellor, supervisor and tutor based in Eastbourne, East Sussex. She has gathered a wealth of experience working with individuals, young people and teens, families, couples and groups.
Over the years Mia has focused her passion on supporting women who are experiencing or have experienced domestic abuse. Mia's passion for supporting women has led to her running support groups focused on the experience of being a woman in the world.
As a naturally creative person, Mia draws on her creativity as both part of her counselling work and continued personal well-being through the medium of mixed arts, the power of images and healing through story.
Mia's enthusiasm for the transformative potential of group work, connecting with ourselves, each other and with nature, is an energetic driving force for our inherent striving for growth and our wish to live as our most authentic self.
So…if this sounds like you, and you'd like to start living life differently, or perhaps you're someone who likes to have a space where you can reflect on your life in wonderful surroundings, then book a place.
We look forward to meeting you!
Su and Mia x