One Day Symposium: Haiti Investment & Education

Saturday, July 28, 2012 from 9:00 AM to 5:00 PM (EDT)
Event Details
The National Association of Haitian Professionals (NAHP) has partnered with the Joseph Denis Thomas Foundation (JDT Foundation) and New Jersey Haitian Student Association (NJHSA) Alumni to host a one-day symposium entitled "Haiti Investment and Education" on Saturday, July 28, 2012 at the Newark Museum (Billy Johnson Auditorium) in New Jersey from 9:00 a.m. - 5:00 p.m.  The event is free to the public
Over 200 professionals from the tri-state area and abroad, who represent leaders in their industries, are expected to attend the conference and discuss the challenges and opportunities that exist in the redevelopment of Haiti.
To read the press release, click here "Press Release - Haiti Investment & Education"
FEATURED SPEAKERS:
Richard A. Morse
Special Envoy

of President Martelly
Conor Bohan
Founder & Executive Director, Haiti Education & Leadership Program (HELP)

Nathalie Liautaud
Diaspora & Investment Outreach Manager, Pan American Development Foundation

Dr. Francois Pierre-Louis, PhD
Associate Professor of Political Science, City University of New York
Phillipe Saint-Cyr
Executive Director, American Chamber of Commerce, Haiti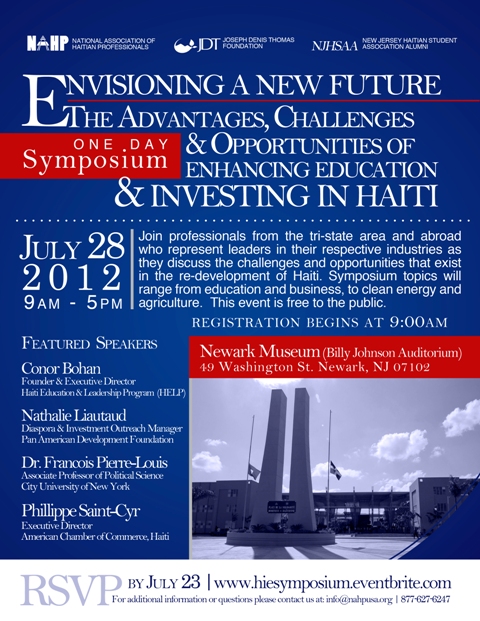 ABOUT THE ORGANIZATIONS:
The National Association of Haitian Professionals (NAHP) was created in 2011 as a non-profit organization with the vision of becoming the premier organization dedicated to preparing Haitian professionals in the Diaspora for leadership positions throughout the U.S. The NAHP develops partnerships that result in the creation of intellectual and economic wealth within the Haitian community while creating mentoring opportunities between Haitian professionals and high school or college age students to assist in growing the talent pipeline of professionals in various industries. We remain committed to making a difference in the United States by providing the cultural awareness and sensitivity vital in the management of the nation's diverse workforce, and abroad by building a strong network of Haitian professionals and like-minded organizations to help rebuild Haiti. 
The Joseph Denis Thomas Foundation is dedicated to entrusting the Haitian people to reverse the economic, environmental, health and social effects of deforestation, loss of agriculture, and lack of water system management. Through higher education opportunities, and with strong partnerships and collaboration, the Foundation works towards increased engagement in the development and conservation of natural resources for the benefit of the community.
The New Jersey Haitian Student Association (NJHSA) Alumni Chapter's purpose is to bring together the collective resources of NJHSA alumni in order to promote education and other services within the community; to maintain a liaison between the alumni; to maintain a continuing supportive relationship with NJHSA, its members, programs and events. The mission of the Alumni Chapter is to foster alumni loyalty, involvement and support.
For more information, contact the NAHP at:

National Association of Haitian Professionals, Inc.
PO BOX 7075
West Orange, NJ 07052
To Email: info@nahpusa.org
Toll Free Number: 1-877-627-6247
Fax: 1-877-627-6247
When & Where

Newark Museum (Bill Johnson Auditorium)
49 Washington Street
Newark, NJ 07102


Saturday, July 28, 2012 from 9:00 AM to 5:00 PM (EDT)
Add to my calendar
Organizer
ABOUT NAAHP
Founded in 2011, the National Alliance for the Advancement of Haitian Professionals (NAAHP) is a 501(c)3 non-profit organization established by diverse group of forward-thinking industry experts, youth leaders, faculty, public and nonprofit sector professionals from Haiti and its global diaspora. NAAHP is focused on connecting a global community of peers with career advancement resources as well as fostering transformative relationships between NAAHP members and committed stakeholders to strengthen Haiti through philanthropy and social entrepreneurship.
VISION STATEMENT
We believe that, through the collaborative efforts of Haitian students, professionals, and diaspora members, we will see a better Haiti in our lifetime.

MISSION STATEMENT

To connect, empower, and mobilize students and professionals in the Haitian diaspora, and to facilitate diaspora contributions to Haiti's economic and social progress.
--------------------
Contact NAAHP at: Email: info(at)naahpusa.org 
NAAHP main website: www.naahpusa.org
NAAHP is a 501(c)3 non-profit organization. All contributions are fully tax-deductible to the extent allowed by law. 
One Day Symposium: Haiti Investment & Education