Description
Don't Miss This Unique Opportunity...
ONE DAY RETREAT: RELAX AND REJUVENATE
Join us Wednesday, November 1st from 7.00 PM - 7.45 PM EST to to learn more about our upcoming Mindfulness Retreat on November 11th . We will teach you some useful techniques to get you started on your mindfulness journey.
Register in advance for this meeting:
https://zoom.us/meeting/register/bcf43ea48405f8dfd746f627e8486654
After registering, you will receive a confirmation email containing information about joining the meeting.
-------------------------------------------------------------------------------------------------------------------------------
After a sold out and very successful One Day Retreat in Princeton, NJ, we decided to offer this Unique Opportunity again to a small group of neighbors in Wilmington, DE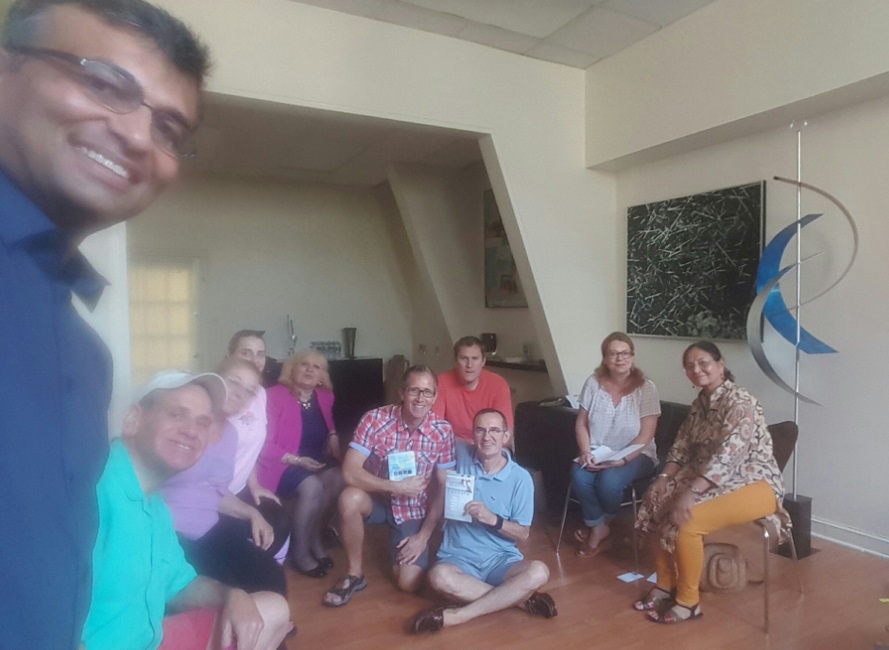 What Participants from the past One Day Retreat event say about this program....
It is absolutely amazing what we learned in just 8 minutes exercise - about ourselves and our wellbeing. Wow!
- Mona
It is everything I expected and much, much more.
- Mike
I was unaware that drawing my perfect moment can bring me so much happiness.
-Kathy
It is stunning how just 2 minutes visualization with guided journaling can help me feel better and reach my goal.
-Roopak
--------------------------------------------------------------------------------------------------------

This is a unique opportunity to apply the tools and secrets that are scientifically proven to increase your happiness level, improve your overall wellbeing and help you apply mindfulness techniques in the upcoming Holiday Season.
Create an Awesome Life For Yourself and People Around You!
Apply the tools and secrets that are scientifically proven to increase your happiness level, improve your overall wellbeing and help you become even more successful in your life
Learn the scientifically proven 3 Steps Process to improve your life
1. HABITS
Change and / or introduce any new habit
2. GOALS
Set and achieve any life goal using the scientifically proven tools
3. SUCCESS
Relationships. Family. Work. Spiritual. Health. Life Meaning.
At the end of this course, you will be able to:
Practice multiple forms of meditation, mindfulness, breathing techniques and more
Perform Basic Yoga Techniques
Practice mindful eating

Choose your food wisely

Establish new healthy habits
Know yourself better
Develop a deeper relationships with your body and your mind
Transform everything you encounter daily into a perfect support for meditation
Rewire your brain
Learn and practice informal meditation such as mindful breathing, eating, body scan, walking, waiting in line, etc.
LEARN AND PRACTICE
Meditation
Body Scan
Loving Kindness
Mindful Eating
Mindful Breathing
Laughter Practice
Sitting Yoga Nidra
Develop deeper
relationships with
yourself and your family / friend
Meditation
Basic Meditation, Body Scan, Loving Kindness
Mindfulness
Mindful eating, listening, walking,
Body Scan

Laughter Practice

Breathing

Alternate Nostril, 2 to 1, finger count.
Sitting Yoga Nidra

Q and A
Q:What do we do for lunch?
A: We will take a lunch break from 12 - 1 PM. You are welcome to bring your lunch or visit one of the many places around where the retreat is being held. . For some of us that decide to do a silent lunch, that will be an option as well.
Q: Do I have to dress for yoga?
A: No.We will do seated gentle yoga so there is no need to dress specifically for yoga.
ABOUT DARLENE JORDAN, LCSW
Darlene Jordan received her Master's in Social Services from Bryn Mawr College in 2001.

She is a Licensed Clinical Social
Worker, Registered Yoga Teacher, and CIPP (Certificate in Positive Psychology) graduate.

She has

worked as a Civilian Family Advocacy Therapist at Dover Air Force Base, as a Medical Social Worker with Heartland Hospice, and as a Psychotherapist for Associates in Health Psychology.

Her

passions include Mindfulness, Positive Psychology, Stress Management and Yoga. She is the founder and Chief Happiness Officer of Happiness Starts Here.



ABOUT BRACO POBRIC, CIPP
Braco Pobric is the bestselling author of Habits and Happiness: How to Become Happier and Improve Your Wellbeing by Changing Your Habits. Mr. Pobric received a Certificate in Positive Psychology from Dr. Tal Ben Shahar - Wholebeing Institute. He was a presenter at the Fourth World Congress of Positive Psychology,
International Conference on

Positive Psychology and Cognitive Behavioral Therapy, International Festival of Positive Education

and teaches Applied Positive Psychology in corporations, public programs and as a personal coach. He has over 30,000 registered online students in 136 countries. Formerly, he was a Certified Trainer and Business Coach for Dale Carnegie Training.