Description
Our breathing affects our whole life, for better or for worse, and if we can control and deepen our breathing, in turn we can control our minds, emotions, and improve all aspects of our life.
Yoga breathing, or pranayama, is an essential practice for all Spiritual aspirants who want to live a better, fuller, more controlled Spiritual life. It will especially give us strength and balance in the essential service of others.
Benefits of controlled yoga breathing, pranayama, include:
Increased vitality and better health

Decreased stress

More positive approach to life

Mental and emotional balance

Greater concentration and memory

Stronger awareness of our Divine self
In this course you will learn a simple, safe, ancient and powerful set of 6 pranayama exercises put together by Western Master of Yoga, Dr. George King. We will give you the tools and training that you need to include pranayama in your daily life and supercharge it!
* Course fee includes a copy of the classic yoga breathing booklet, Contact Your Higher Self Through Yoga, by Dr. George King.
This course will be led by Rev. Oscar Leon who has been practicing pranayama for over 14 years and has led various classes on pranayama and other yogic practices. He currently serves as a Minister, Healing Program Administrator and Staff Team Member at The Aetherius Society.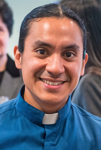 Testimonials:
"I have already found the exercises to be transformational the last two mornings and found my creative flow more open. It is so exciting to experience those sweet fleeting moments of God and gradually unlock the door within. Thank you for adding a key I didn't realize was missing. I have taken classes with master teachers in India and California but you brought something unique and special in conjunction with the information from Dr. King." - A.H.
"Oscar was outstanding; very thorough, patient and highly knowledgeable. I thoroughly enjoyed the workshop and the manner in which he taught it." -S.B.
"I can't think of anything that could have been better. [His] attention and dedication with each student was excellent. I learned a lot and it is very much worth the time to take this type of workshop." -J.M.