One-Day Intensive: Blogging and Social Media
When and where
Location
Linden Hall 4765 Dorsey Hall Dr Ellicott City, 21042
Description
We're sold out, but you can add your name to the waitlist if a ticket opens up. Or, email jessie@hocoblogs.com if you'd like to hear about other/future workshops. Thanks!
FYI: Here's a blog post from David about why he's doing the workshop, who the intended audience is and what will be covered.
One-Day Intensive: Blogging and Social Media
HoCoBlogs presents a one-day intensive on blogging and social media, led by Howard County-based blogger David Hobby*. The full-day seminar, Monday, October 21st, is appropriate for bloggers of any experience level—whether blogging personally, as a small business or as part of a larger company's social media efforts.
The seminar will draw from Hobby's practical experiences as a full-time professional blogger for the last seven years. Topics covered will include:
Understanding how different forms of social media work, both individually and together
Ecosystems: Building positive feedback loops between your social media and physical worlds
Relative strengths and weaknesses of Blogs, Twitter and Facebook
The mechanics of blogging: Voice, content creation, Arc, organic SEO, creating reader funnels
Understanding Twitter: Powerful, yet deceptively simple—how to use it effectively
Audience: The most readers vs. the right readers
A roadmap for creating your best quality content on a consistent basis
Differences in approaches: Passion Bloggers vs. SmallBiz Bloggers vs. Corporate Social Media
The class will be fun, interactive and packed with useful information that you can apply to your own social media efforts. Lunch is on your own at any of a number of nearby restaurants. Dress is exceedingly casual.
Registration starts at 9 a.m.; the workshop starts at 9:30 a.m. and ends at 4:30 p.m.
*********
Money-back guarantee: We are so convinced that you will find great value from this workshop that if, by chance, you don't, we will refund your ticket fee upon your request.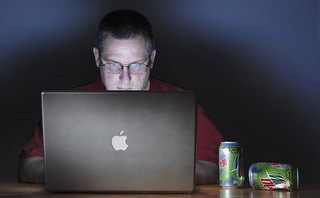 *David Hobby worked as a staff photojournalist for twenty years at Patuxent Publishing and The Baltimore Sun before founding Strobist.com in 2006. He has been a full-time blogger ever since. Over 100 million page views later, Strobist is widely recognized as a worldwide leader among photography blogs and in 2010 was named one of the top 25 blogs in the world by Time Magazine.
Hobby has led photographic and social media workshops in London, Paris, Dubai, Geneva and in nearly every major city in the United States.
He lives in the Village of Dorsey's Search in Columbia with his wife and two children, where he coaches soccer and wears long pants fewer than five times per year.