One Day Intensive Arabic: Understand Qur'an and Salah The Easy Way

Saturday, February 17, 2018 from 9:15 AM to 6:00 PM (GMT)
Event Details
Are you really really busy?
But always desired to learn Arabic. Want to understand the Arabic you use in your daily Salah (namaz). Join us for a 1-day Arabic intensive course.
---
The quickest, easiest, most interactive, enjoyable and productive course for learningQur'anic Arabic.
---
Understand Quran and Salah - The Easy Way!
Al-humdulillah, we are blessed to provide an opportunity for the East Midlands' busy Muslims to join a unique course.
Unique course, pioneered by Dr Abdulazeez Abdulraheem over 25+ years of research and teaching. Taught across the world, (Saudi Arabia,Kuwait, Bahrain, UAE, Malaysia, South Africa, and India.) with more than 100,000+ students, and shown on number of International Satellite channels. Join the 100's who have already completed this course in the UK. 
You will be amazed how quick and easy it is.
---
Too busy for Qur'an
We have such busy lives with work, family commitments, social life, entertainment etc. Shaitaan makes us think that we are too busy or too old to learn Quranic Arabic. We have somehow convinced ourselves that Understanding Quranic Arabic is very difficult, impossible or (God Forbid!) not important. 
However Allah (swt) tells us in the Quran:
And We have indeed made the Qur'an easy to understand and remember: then is there any that will receive admonition? 
Sura Al-Qamar [17: 22: 32: 40]
---
Join us for 1-day Arabic Intensive
In just one day, we will cover (min) the first 4 of the 19 lessons. You will learn to understand in Arabic Surah Al-Fathiha, unique grammar learning technique, and 19% of the words of Al-Quran.
Your fear of learning Arabic will be removed forever.
---
Completing this short course of just 19 lessons will enable you to:
Understand the core Arabic you use in your daily Salah: Sura Al-Fatiha; six additional Surah; parts of Salah, Adhan, and dua related to Wudu and after Salah.
You will study just 4 days in total,  19 sessions in which you will learn 125 words that occur in the Quran 40,000 times (out of a total of approx. 78,000 words).  That comes to 50%
Boost your connection with Allah, by understanding what you are saying in your Salah
After the one day session you will have the opportunity to register to complete the remaining 15 lessons at a later date (dates and venue TBC)
----------------------
 Register now! Do not miss this opportunity!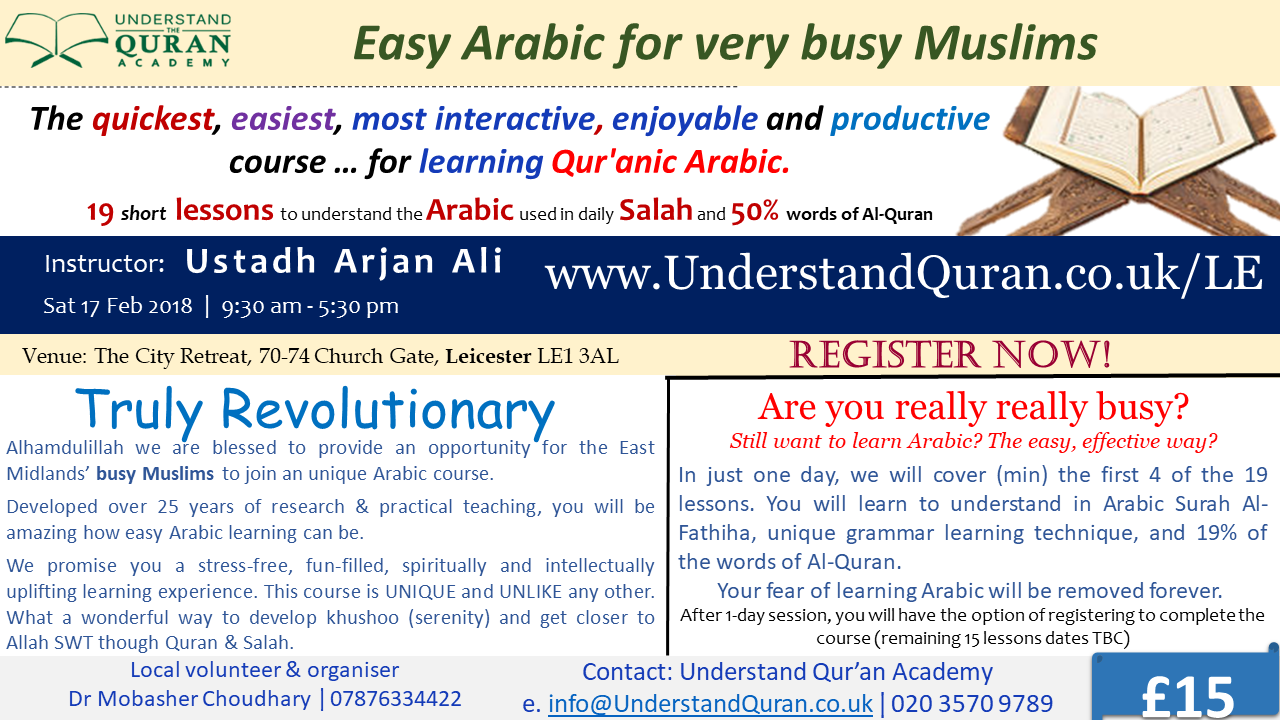 --------------------- 
 Go from ritual to spiritual, by understanding the Arabic you use in your daily salah and begin your first major step in Understanding Quran. 
 Experience the Joy of Praying Salah with understanding. 
---
Testimonials
http://www.understandquran.co.uk/testimonial/
https://vimeo.com/183222507
---
For further information: 
E-mail: info@understandquran.co.uk
For curriculum information, text: Ustadh Arjan Ali - 020 3570 9789
For logistical information, text: Dr Mobasher Choudhary 07876 33 44 22
---
.
When & Where

The City Retreat
Church Gate
70-74 Church Gate
LE1 3AL Leicester
United Kingdom


Saturday, February 17, 2018 from 9:15 AM to 6:00 PM (GMT)
Add to my calendar