Starting a business? Shifting one you already have?
About this event
Joule U .  One Day
STARTUPS + SIDE HUSTLES + SHIFTS
HOW TO STARTUP AND STAY IN BUSINESS
Thursday . September 16 . 12:00N-2:00P . ONLINE
One day crammed with insight, information, and inspiration.
Got a Biz? A Side Hustle? An Idea?
Trying to Shift or Sustain your Business?
This is for you!
From just thinking about it to growing an existing business, startup, coop or nonprofit.
Four 30 minute sessions.
12:00N-12:30P . 12:30P-1:00P . 1:00P-1:30P . 1:30P-2:00P 
You choose the speakers and topics. See schedule below.
BRAND. Alison Cromie . Cromie Creative
COMMUNICATION. Melissa DeLay . Tru Perception
CONTENT. Joe Zeigler . Mr. Write
HEALTH. Liz Loney . SE Entrepreneur
LEGAL . Michael R Kuhn . Ballard Spahr LegalCORPS
LINKEDIN. KimAileen White . Whitestone Marketing
PROMOS. Angela Albee . AdWear Specialties
SALES. Jason Jones . The Coaching Hour
and the ever popular MORE
Ask questions. Get answers.
Register and get a Free BIZ PLAN WORKBOOK .
Cost: Complimentary
Hosted by Jackie Menne .  Joule Micro Nation 
WHAT'S A MICRO?
A single digit business (1-9), most of us are a Force of One!
Spanning 5 generations – we're an inclusive group – of race and religion – gender and geography – ethnicity and econimic status – size and sexual orientation – political persuasion, profession and philosophy.
Micros are like superheroes. A unique group of individuals with a passion for what they do who often work alone. Although capable of overcoming impossible odds, everything doesn't come naturally. Sometimes we need help to Save the Day.
JOULE MICRO NATION Joule U . MB2MB . MicroForce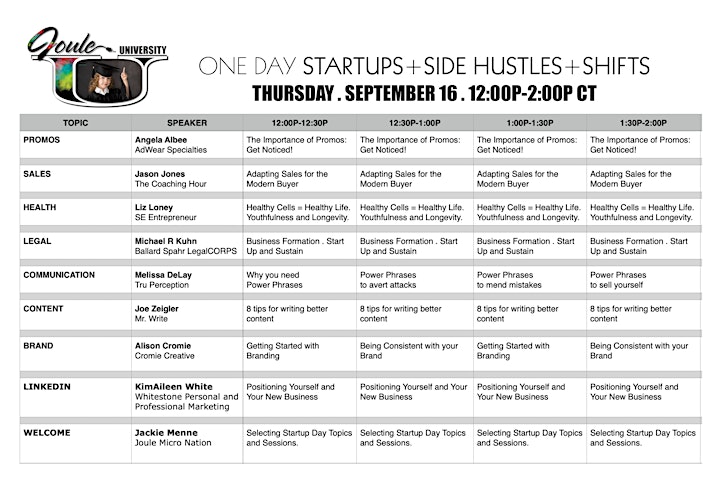 Organizer of One Day for STARTUPS + SIDE HUSTLES + SHIFTS
Joule University . Learning  |  MB2MB . News  |  MicroForce . Connecting 
Since 2010 Joule has advocated for micro businesses, startups and nonprofits with convenient ways to learn something new, meet someone new and go from "No" to "Know".. What's a Micro? A single digit business, startup or nonprofit. Most of us are Freelancers and Founders—a Force of One!