Description
Join us for an exosome symposium featuring leading experts in aesthetic and regenerative medicine. Learn more about the science of exosomes and the the role they may play in the future of clinical diagnostics and therapeutics.
Duncan Ross, Ph.D.
Jason Sanders, M.D.
Doug Spiel, M.D.
Michael Wolff, M.D.
Matt Cook, M.D.
Greg Chernoff, M.D., F.R.C.S.(C)
Sheldon Jordan, M.D.
---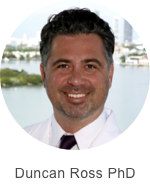 Dr. Duncan Ross is an expert in stem cell culture and has developed and patented proprietary methods of stem cell manipulation and licensing using growth factors and nucleic acids. A native of Miami Beach, Florida, Dr. Ross earned a Bachelor of Science in Microbiology and Immunology and a Ph.D. in Immunology/Biochemistry from the University of Miami in Coral Gables, Florida, where his research focused on mechanisms of suppression of graft vs. host disease in minor antigen mismatched allogeneic hematopoietic stem cell transplantation. As founder of Kimera Labs, Inc., Dr. Ross's work is focused on controlling disease with immunological molecular approaches, in particular, exosome isolation from perinatal cells and amniotic fluid. As a pioneer in the development of cell-free exosome products, Dr. Ross's research has been and continues to be employed by many physicians and clinics in a variety of regenerative medicine protocols. Dr. Ross has been featured in various peer reviewed publications including "Blood" and "Biology of Blood and Marrow Transplantation", in which he discussed the use of various cell types to suppress immunological diseases, and currently has a patent pending for wound healing exosomes. Dr. Ross is also the founding board member of the federal nonprofit research organization, The Kimera Society, which has developed a number of clinical partners in the US and abroad by serving as an educational conduit for clinics.
---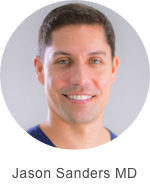 Board-Certified Orthopedic Surgeon Exosome Technology Developer Dr. Sanders graduated from Harvard University with an Honors degree in Biochemical Sciences. The focus of his undergraduate degree was molecular biochemistry and cellular signaling. Dr. Sanders graduated from the University of Miami School of Medicine and was inducted into the Alpha Omega Alpha medical honor society. He completed his residency in orthopaedic surgery at the University of Miami/Jackson Memorial Hospital and did a fellowship in shoulder, elbow and hand surgery. After building a successful subspecialty practice in upper extremity surgery over 10 years, Dr. Sanders shifted his focus to developing minimally-invasive regenerative techniques. With a holistic view of systemic rejuvenation, he has developed techniques using lasers, broadband light and advanced biologics to regenerate multiple organ systems including the musculoskeletal system and the skin. Dr. Sanders is currently involved in further development of exosome technologies and physician education.
---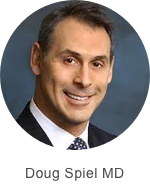 A clinical physician who is board-certified in both diagnostic radiology and interventional pain medicine. His extensive knowledge in both these fields coupled with his understanding of the physiological basis of stem cell therapy has made him a unique presence on the educational landscape of regenerative medicine. Dr. Spiel lectures nationally for some of the most respected societies including the American Academy of Anti-Aging Medicine, the American Society of Interventional pain Physicians, Boston BioLife, the American Association of Stem Cell Physicians and numerous state societies. Dr. Spiel serves on the editorial board of Pain Physician, section editor of Interventional Pain Management Reports and is a board member of the American Association of Stem-Cell Physicians. As an expert in Endoscopic Spine surgery, Diagnostic Radiology, Interventional pain and regenerative medicine, his novel treatment strategies serve as the standards for exosome therapy. Dr. Spiel has successfully treated numerous diverse pathologies ranging from central nervous system disease to alopecia, autoimmune disease and various spinal and musculoskeletal conditions.
---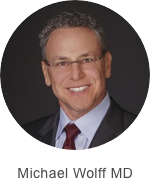 Dr. Wolff established Southwest Spine & Sports in 1999 and has been a respected member of the local medical community since 1997. He has been named as a "Top Doc" in Phoenix magazine for ten consecutive years. He prides himself on his ability to accurately diagnose musculoskeletal conditions and is an expert in non-surgical treatment options. He has a keen clinical and academic interest in regenerative medicine and has been providing patients with innovative PRP and stem cell treatments for years. Dr. Wolff created a non-profit foundation, SWSS FIRE (Foundation for Innovation, Research, and Education), which focuses on regenerative medicine. He is actively involved in research in this field and continues to develop and validate innovative biologic therapies to help his patients restore their function and lifestyles as quickly as possible. Dr. Wolff has a passion for martial arts, which he has studied for over thirty years. He is a 4th degree black belt in Tae Kwon Do. He enjoys hiking and other outdoor adventures. He has a fun filled and busy home life with his wife, five children, and numerous pets.
---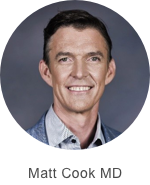 Matthew Cook, M.D. is a regenerative medicine specialist and the president of BioReset Medical in Campbell, CA. He graduated from University of Washington School of Medicine in 1997 and completed his residency in anesthesiology at University of California San Francisco in 2001. Dr. Cook is a board-certified anesthesiologist with over 20 years of experience in medical practice. Currently Dr. Cook is President of California Anesthesia and Medical Director of the National Surgery Center in Los Gatos, CA. (In addition, Dr. Cook sits on the scientific advisory board of several high profile medical companies including VMDOC, FREMedica & Vasper Systems.) Dr. Cook's early career as an anesthesiologist and medical director of an outpatient surgery center that specializes in sports medicine and orthopedic procedures provided invaluable training in the skills that are needed to become a leader in the emerging fields of Musculoskeletal Ultrasound imaging, nerve hydrodissection, and stem cell medicine.
---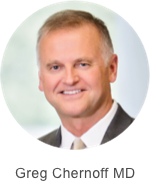 Greg Chernoff is a Triple Board Certified Facial Plastic and Reconstructive Surgeon in practice for over 25-years in Indiana and California. He is an international researcher, lecturer, and thought leader featured on ABC, NBC, CBS, Dateline, and TIME. Dr. Chernoff received AMERICA's TOP Doctor Award for four consecutive years. Dr. Chernoff is a National Institution of Health (NIH) certified researcher. He is an affiliate of the Cell Surgical Network, the investigational research arm of the California Stem Cell Treatment Center. Dr. Chernoff has expanded his research and treatment that includes an office in China. Dr. Chernoff has authored numerous scientific papers and medical laser textbook chapters. He has given over 700 lectures to physicians around the world on both surgical and non-surgical therapy.
Dr. Chernoff combines meticulous surgical techniques with the latest non-surgical therapies to give his patients consistent rejuvenation results. For close to 25-years, Chernoff Cosmetic Surgery has brought state-of-the-art procedures and exceptional care to patients in Indiana, California, and around the world.
Dr. Chernoff offers all cosmetic treatments and is among the largest and experienced laser centers in the United States. Dr. Chernoff conducts investigational and clinical research with projects that include regenerative medicine, skin improvement, cellular medicine, health improvement, acne reduction, and scar improvement.
Dr. Chernoff's laser research has been instrumental in developing and refining accepted laser techniques utilized by physicians worldwide. His centers provide alpha and beta testing for the major cosmetic laser, radio frequency, and ultrasound companies. Dr. Chernoff was one of the original clinical investigators for injectable fibroblast therapy. His ongoing research in the exciting field of cellular medicine is providing insight into expanded treatment indications. Dr. Chernoff has been featured on news programs to discuss the latest advancements in cosmetic surgery.
Dr. Chernoff has perfected the art of facial injections and teaches physicians and nurses in the art of meticulous injection techniques. Dr. Chernoff is known best for his down to earth personality and genuine caring approach.
Dr. Chernoff offers a trademarked procedure called Your Natural Best® that involves unique and individualized treatments, expertly and exclusively developed by Dr. Chernoff to provide patients with natural, lasting results. This procedure utilizes his extensive experience and capabilities, to develop a surgical, non-surgical, or combination approach suited to patients' individual needs.
Dr. Chernoff is the founder of the Survivors of Violence Foundation providing care and healing to victims suffering from painful physical injuries or disfigurements caused by injury, violence, or abuse.
---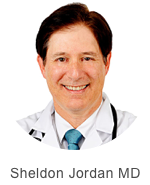 Dr. Jordan is a board certified neurologist. Considered a top doctor by Best Doctors in America, Who's Who, Global Edition, and Super Doctors, his philosophy is to listen to patients' individual stories and provide management and treatment solutions tailored specifically to their needs. He is a trained NeuroStar Transcranial Magnetic Stimulation (TMS) Provider and treats patients with depression using NeuroStar TMS Therapy, which is a safe and effective non-drug treatment for depression.
Dr. Jordon is board certified by the American Board of Psychiatry & Neurology, American Board of Clinical Neurophysiology, American Board of Addiction Medicine, and American Board of Interventional Pain Medicine. He was elected as Fellow of the American Academy of Neurology and holds additional certifications from the American Society of Neuroimaging in Magnetic Resonance Imaging, Computed Tomography and Ultrasonography.
In private practice in Westwood and Santa Monica since 1981, Dr. Jordon's emphasis is on interventional pain management, neuroimaging, clinical neurophysiology and sports neurology. He has numerous publications based on the clinical experience and research in these areas. He research interests include Transcranial Magnetic Stimulation (TMS) for treatment of depression, pain and a variety of neurological and psychiatric disorders. He is a member of the national consortium for developing guidelines for Thoracic Outlet Syndrome. He has taught on faculty at UCLA and USC as Clinical Associate Professor, helped establish the Stroke Service at UCLA and participated in some of the early work in surgical monitoring, brain mapping and evoked potential physiology.
Dr. Jordan is a neurology consultant for US Soccer Men's and Women's National Teams, Major League Soccer, professional boxing and the NBA. He has also served as a consultant for the State of California, Commission of Judicial Performance.
Dr. Jordan was a Goldwyn Scholar and graduated from UCLA Medical School in 1977 with the Upjohn Award for best student in combined research and academics and the Gold Medal in Surgery. He did his medical internship, residency and fellowships in clinical neurophysiology while staffing the electroencephalography laboratory and electromyography laboratory and completing all studies in 1981. He was also recognized with the best resident teaching accolade, the Augustus Rose Award.
Dr. Jordan is an artist in portraiture and sculpture with gallery showings in New York and California. Professional art activities have included illustrations for numerous journal articles and books.