One Book One Community: An Evening with Rachel Louise Snyder
About this Event
An award-winning journalist's intimate investigation of the true scope of domestic violence, revealing how the roots of America's most pressing social crises are buried in abuse that happens behind closed doors. Join us for a lecture and reception!
Free & Open to all!
Child Care, Spanish Translation and ASL Interpretation provided
Continuing education credits available for 1st responders, RNs, MDs, & educators.
Schedule of Events:
Doors open at 5:00PM
Lecture 5:30-7:30PM
Author book signing & Reception 7:30-8:00PM
Special thanks to our sponsors:
Lead Sponsors:
- Berkshire District Attorney's Office
- Berkshire Eagle
- Greylock Federal Credit Union
- Williams College
Champion Sponsors:
- Berkshire Health Systems
- Berkshire Theater Group
- Elizabeth Freeman Center
- MountainOne
Partner:
- Berkshire Community College
- Massachusetts College of Liberal Arts
Friends:
- A-List Luxury Vehicles
- Beacon Cinema
- Berkshire Immigrant Center
- Hotel on North
- Images Cinema
- Triplex Cinema
- 18 Degrees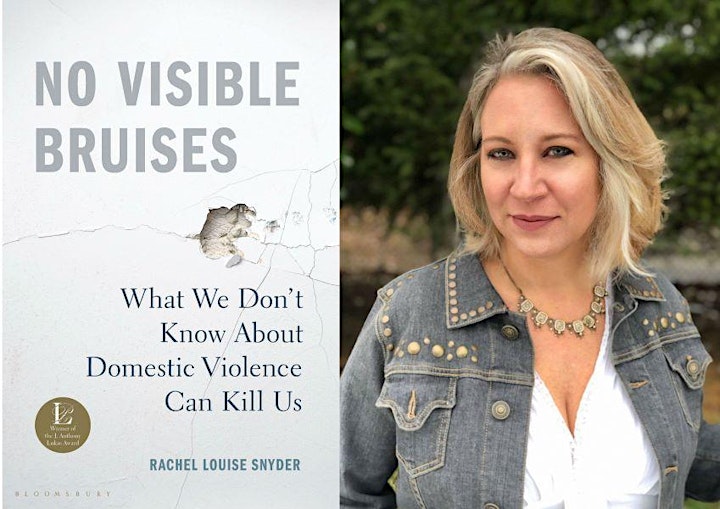 About RACHEL LOUISE SNYDER— Praised by Masha Gessen for The New Yorker as a "writer of uncommon talent and confidence," Rachel Louise Snyder is the author of No Visible Bruises: What We Don't Know About Domestic Violence Can Kill Us. An intimate investigation of the true scope of domestic violence, this deeply-reported book reveals how the roots of America's most pressing social crises—from mass shootings to mass incarceration to #MeToo—are buried in abuse that happens behind closed doors. Through the stories of victims, perpetrators, law enforcement, and reform movements from across the country, Snyder explores the real roots of private violence, its far-reaching consequences for society, and what it will take to truly address it. The New York Times called No Visible Bruises "extraordinary" and the Washington Post asserted of the book: "it will save lives." Snyder's other books include Fugitive Denim: A Moving Story of People and Pants in the Borderless World of Global Trade and the novel What We've Lost is Nothing. Her print work has appeared in The New Yorker, The New York Times Magazine, Slate, Salon, Washington Post, Huffington Post, The Chicago Tribune, The New Republic, and others. Previously, Snyder reported for public radio programs including This American Life, Marketplace and All Things Considered. She teaches creative writing and journalism at American University. http://www.lyceumagency.com/speakers/rachel-louise-snyder/