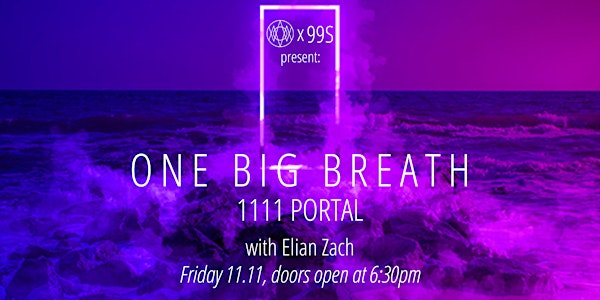 ONE BIG BREATH
A powerful journey of self-inquiry, mystery and magic.
When and where
Location
99 Scott Ave 99 Scott Avenue Brooklyn, NY 11237
Refund Policy
Contact the organizer to request a refund.
Eventbrite's fee is nonrefundable.
About this event
On the special portal of 11.11.22, we will invoke clarity and healing to pave the path for a new life. We will explore the depths of the psyche through three different breathing patterns and a curated and evocative musical selection. This is an opportunity to release stagnant energy from the body, induce cellular memory, and bring unconscious content into conscious awareness, as a means of entering an honest healing process.
By various ancient philosophies and cultures, the breath is seen as the portal between the physical and the metaphysical. It is a tool to explore non-ordinary states of consciousness and access unprocessed trauma and emotions that often run the show from the shadows. Inspired by the work of legendary psychiatrist and psychedelic researcher, Dr. Stanislav Grof's Holotropic Breathwork Technique, the breathing patterns explored during this session will encourage a harmonious relationship between body, mind and spirit.
The session will include:
A short informative talk about what you should expect, the practice, the science, the benefits, and shared tips and techniques on how to maintain presence.
A guided contemplation
An evocative playlist
3 breath patterns
Physical touch (upon consent)
Essential oils mist/vapor
Relaxation
Integration Circle
Community Hang
HOW TO PREPARE
Set an intention
You might already be working with some strong themes, but in case you are not and would like some inspiration, set aside 10-20 minutes and observe what comes up. Perhaps jot your feelings down.
CONSIDER THE FOLLOWING
What would you like to let go of?
Attachments, unhealthy habits or thought patterns, fear, pain, grief, addictions, or anything that weighs heavy and doesn't serve your greater purpose. What has ended? What is in the process of ending? Are you experiencing any resistance?
What would you like to welcome in?
Self-love, compassion, equanimity, discipline, pleasure, acceptance, or anything you believe might enhance your experience of being your best self. What is your vision for your resurrection?
What would you like to receive clarity about?
Relationships, work, the human experience, or the workings of the universe!
PREPARE YOUR VESSEL
To increase your sensitivity and openness, it is recommended that you refrain from alcohol intake and other substances for about 48-72 hours. Please, arrive on a fairly empty stomach (3-4 hours minimum).
WHAT TO BRING
Comfortable clothing (layers recommended)
Eye mask or a scarf (very important!)
A mat
Pillow and blankets to make the journey extra comfy
A refillable water bottle
A journal and a pen
--
Refunds can be issued up to 24 hours prior to the event. Eventbrite fees are non refundable.