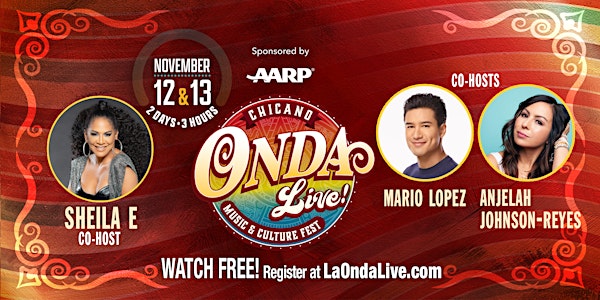 OndaLive! Chicano Music & Culture Fest
ONDALIVE! CHICANO MUSIC + CULTURE FEST SPONSORED BY AARP CELEBRATING LATINO HERITAGE & CONTRIBUTIONS!
About this event
Orale raza! It's time once again for prime time "Chicano programming" at ONDALIVE! CHICANO MUSIC & CULTURE FEST sponsored by AARP. LaOndaLive.com is your ALL ACCESS Free Pass to two days of music, comedy and lifestyle. Co-hosted this year by the queen of percussion, music icon and author SHEILA E, actor, author, and host of Access Hollywood MARIO LOPEZ, and actress, author and one of the most successful comedians touring today ANJELAH JOHNSON-REYES! Watch for FREE at www.laondalive.com November 12 and 13, 8:00pm CST/6:00 PST. Special encore airing November 17 at 7:00pm CST/5:00 PST. For Fest updates stay connected by following official OndaLive! social media channels (@laOndaLive on twitter and Instagram, LaOnda Live on Facebook and YouTube).
Now in its second year, from acclaimed cultural content producer INGEÑUITY, returns ONDALIVE! Chicano Music & Culture Fest sponsored by AARP.
ONDALIVE! is a celebration of Chicano music and pop culture through uniquely produced themed segments of Chicano lifestyle and cultural time capsules, musical mash ups, tributes, premieres, fan sessions, community advocacy panels and live concerts with artist revealing vignettes, all amplifying the Hispanic narrative. Streaming highlights include:
Saturday, November 13
8:00pm LOUDMOUTH COMEDY ROADSHOW Hosted by CARLOS MENCIA
8:20pm FANTASMA: THE AWAKENING!
8:40pm TRIBUTE TO PAUL RODRIGUEZ
9:00pm CHICANO MUSIC MASH-UPS hosted by ESTEVAN ORIOL
ONDALIVE! Chicano Music & Culture Fest is sponsored by AARP, the nation's largest nonprofit, nonpartisan organization dedicated to empowering people 50 and older.
ENCORE SHOWING NOV. 17, 7:00pm CST.
Orale! Let's go! Sign up now!