Description
Ondalinda x Careyes is an exclusive four-day celebration that will awaken your senses through music, dancing, art, cuisine, nature, and human connection. For the maiden voyage this October 27th through 30th, we will go into the jungles and through the breathtaking beaches of Careyes, Mexico, one of the most coveted destinations in the world.
Some of our favorite artists including Audiofly, NU, BLOND:ISH, HVOB, Gandalla and LUM and others will be joining, along with the incomparable Mayan Warrior - straight from the Playa after its acclaimed performance as best art car at Burning Man 2016 !
On Saturday evening, renowned artist, Philippe Moellhausen will be creating a set on the spectacular site of Teopa Beach, transporting you to the magical world of Samadhi, a dimension beyond space and time.
Gigantic artwork sculptures of highly significant Mayan symbols will be displayed in Sacred Geometry alignment to allow music, frequencies and energies to flow fluidly, in a powerful vortex that will lift our souls all the way to unfathomable dimensions.
You can expect days and nights of celebration, exploration and culmination with mind-blowing visuals, outstanding music, unexplored emotions and soul-level abundance.
Ondalinda x Careyes celebrates indigenous Mexican culture through the art and teachings of the Huichol people. We will have "Los Navegantes del sueño," an exclusive collection of Wixarika/Huichol art that gathers never-before-seen masterpieces, reflecting the cosmo-vision of this mystic community.
For the first time, authentic Huichol masterpieces will be exhibited at Ondalinda x Careyes, including works by some of the most famous Huichol artists. For this event, Ondalinda x Careyes will have the privilege to display a special mural representing traditions and rituals of the Huichol community. A big portion of the art will be available to purchase.
The event also includes the screening of the multi awarded film "Eco de la Montagna" and a talk led by a world-renowned Huichol expert, Humberto Fernandez along with the 35.000 community leader, Santos de la Cruz.
A Huichol shaman and his musicians will perform a ritual at the opening of the exhibition to invoke the Gods and bless the event. Special artisans will be selling their unique creations and crafts.
Ondalinda x Careyes will donate 5% of net profits of the event to the Conservación Humana AC, in an effort to support them on their mission. We hope that each one of you will participate in supporting this organization and the vibrant culture of the Huicholes people.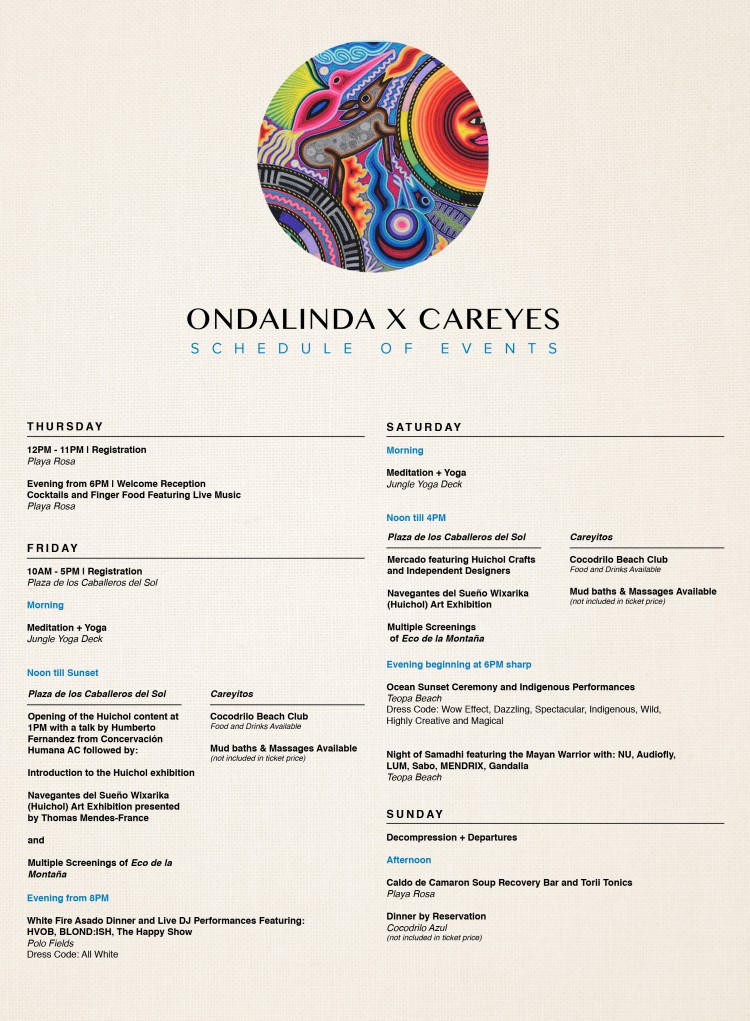 QUESTIONS ?
Email Kristen DePalma at Kristen@ondalinda.com
LEARN MORE | ondalindaxcareyes.com
---
1st Release Ticket $850 + 16% tax & handling = $986
The ticket bracelet gives you access to and includes:

- All access to Huichol content, art exhibition, Huichol expert talk, documentary screenings, Huichol market.
- All music and dancing parties and events on Thu, Fri, and Sat night
- Access to the Cocodrlllo beach day club
- Access to the yoga, spa, mediation house
- All the food served Thu, Fri and Saturday nights

The ticket does not include:
- Accommodation
- Drinks
- Food in the local restaurants (any food outside of the evening events)
- Spa treatments, healing sessions, sports activities
* Please note all ticket sales are final. There shall be no ticket refunds and/or ticket exchanges.
---
ONDALINDA VILLAGE - TENT + TICKET PACKAGES + 16% tax & handling = $1500
For the more adventurous, you may wish to choose our Glamping village. Beautiful tents from Morocco 25sqm with interior finishing, high ceilings, double layered fabrics for insulation, AC, carpet, new shack restaurant and open sky full bathrooms, on the most beautiful beach front in Careyes.
You will sleep on a high quality air mattress, towels, fresh linen and breakfast & snacks will be provided.
* Price includes 3 nights stay 27-30th Oct
** Each tent will hold 6 people, if you wish to book an entire tent, you must book 6 single spots.
---
The Careyes Foundation (a US registered 501c3, tax deductible) supports children's education, through english lessons, sports, ecology and arts within the local communities in the south coast of the Pacific in the state of Jalisco.
- Suggested Donation $40
---
The Ondalinda Foundation (a US registered 501c3, tax deductible) will use your charitable donation to give back to the Huichols to support their efforts in getting UNESCO protection to save their habitat from destruction.
- Suggested Donation $40
---
The Vista del Mar Foundation supports the biggest children and family services organization in Los Angeles providing home and care to hundreds of children.
- Suggested Donation $40