Description
ONCtoberbest Loc

ation:
Via Christi Hospital St. Francis - Via Christi Cancer Institute
929 N. St. Francis, 7 North
Wichita, KS 67214
Program Description: Oncology Nursing
Oncology nursing is a specialty with many things to consider while caring for our patients. Please take this opportunity to learn about disease processes, oncologic and medical emergencies, and caring for yourself.
Practice your nursing skills all week in the yoga room from IV starts, dressing changes, chest tubes, pleurex and other drains, and I.T. help.
Topics and speakers may be subject to change.
* Denotes possible CNE (continuing nursing education) with approval.
Registration

:
Via Christi associates must register through Via Christi My Learning. Cost: NONE
All non-Via Christi registrants -- Cost: $30 fee for this three-day event; please note that the $30 fee is the same whether registrant attends one day or all three days.
Register and pay online in Eventbrite.
Dates and Times

:
Monday, October 16, 2017 9:15 am to 5:30 pm
Tuesday, October 17, 2017 8:30 am to 5:30 pm
NO CLASSES ON OCTOBER 18, 2017
Thursday, October 19, 2017 8:30 am to 5:30 pm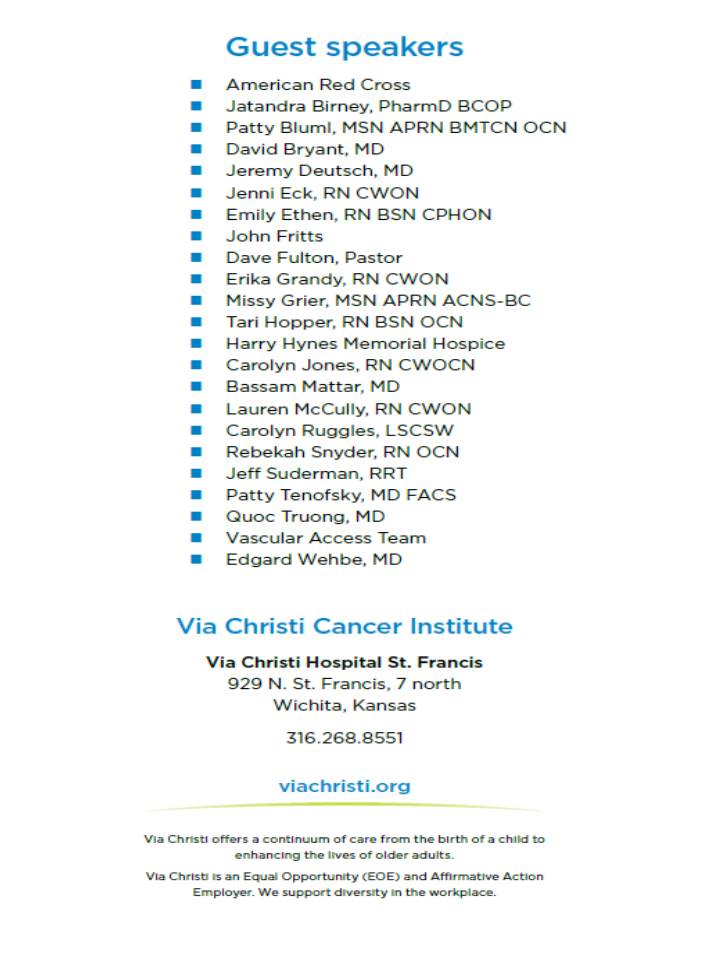 Date and Time
Location
Via Christi Hospital St. Francis
Via Christi Cancer Institute
929 N. St. Francis, 7 North
Wichita, KS 67214