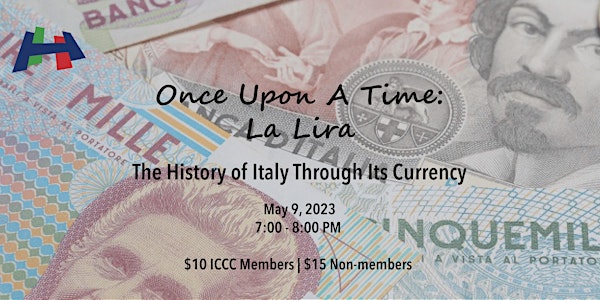 Once Upon A Time: La Lira
The history of Italy through its currency
By Italian Cultural & Community Center
Date and time
Tuesday, May 9 · 7 - 8pm CDT
Location
ICCC Houston 1101 Milford St Houston, TX 77006
Refund Policy
Contact the organizer to request a refund.
Eventbrite's fee is nonrefundable.
About this event
Alessandro Massa is a collector of Italian coins and bank notes that span the last 140 years of existence of the Italian Lira (1861-2002). Thanks to his collection, we can travel together through history, starting from the unification of the Country under King Vittorio Emanuele II, traversing World War I, the Fascist period, World War II , the Allied occupation and the beginning of the Italian Republic. We will be able to notice how the shape and value of the coins and bank notes changed throughout time and how their graphic representations adapted and evolved during these various historical periods, sometimes underlying ideology and propaganda. Many distinguished Italians have been represented, spanning every excellence from exploration to art, to science and music. We will also be able to notice the pernicious effects that high inflation had on the purchasing power of these currencies at different times.
About the presenter:
Alex di Bagno is not an expert in coins, but he has a passion for history, especially of Italy and Rome. After a career spent managing various Italian steel companies in the U.S., he is now retired and enjoys promoting the many interesting and beautiful things that Italy has to offer. A native of Roma, Bagno has been on the board of the Italian Chamber of Commerce and a member of the Comites for 15 years, until 2020. He has been awarded a Knighthood for his volunteer activities in the arts and for assisting Italians in hospitals. He is also passionate about opera, devolving much of his time to volunteering for the Houston Grand Opera, including being a supernumerary in various productions.
About the collector:
Alessandro Massa has been fascinated by foreign coins since he was young, after discovering one of his grandmother's Italian coins and banknotes. He began collecting foreign currency when he traveled to Europe. Motivated by the love for his country, he decided to showcase the history of Italy through his collection of currency from 1863 to 2000. Massa loves to share his passion with anyone that has the same affection for Italy. He enjoys reflecting on the past and recounting the memories that connect us through the pieces of metal and paper.
Date: Tuesday, May 9, 2023
Time: 7:00 - 8:00 PM
Price: $10 ICCC Members and $15 Non-members
-
By purchasing a ticket to this event, you acknowledge the following: I understand that I am holding a spot so reservations for this event are nonrefundable. If I am unable to attend, I understand that I can transfer to a friend.
-
Click here to become a member of the Italian Cultural & Community Center of Houston.
About the organizer
Experience Italy in the heart of Houston, Texas. The Italian Cultural & Community Center's mission is to advance, celebrate and preserve Italian culture and heritage through educational, cultural and social offerings for everyone: those of Italian descent, Italian expatriates living in Houston and Italophiles, non-Italians who are interested in Italy and its culture. It is our vision to be recognized as the Houston destination for all things Italian. The Italian Cultural & Community Center of Houston is a 501(c)(3) nonprofit organization.