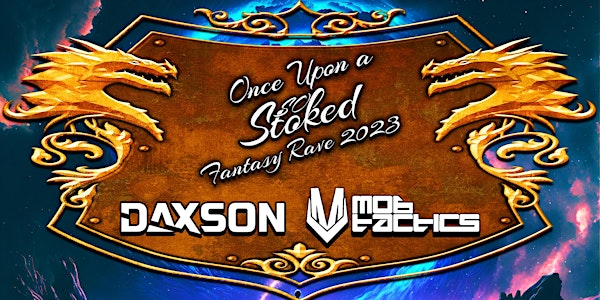 Once Upon a So Stoked : Fantasy Rave 2023 ft. Daxson, Mob Tactics, & more!
Once Upon a So Stoked - Fantasy Rave 2023!! Trance, DNB, Hardcore, Hyperpop, & more! Two rooms of top DJs & PLUR vibes! Kandi encouraged!
When and where
Location
715 Harrison St 715 Harrison Street San Francisco, CA 94107
Refund Policy
Contact the organizer to request a refund.
About this event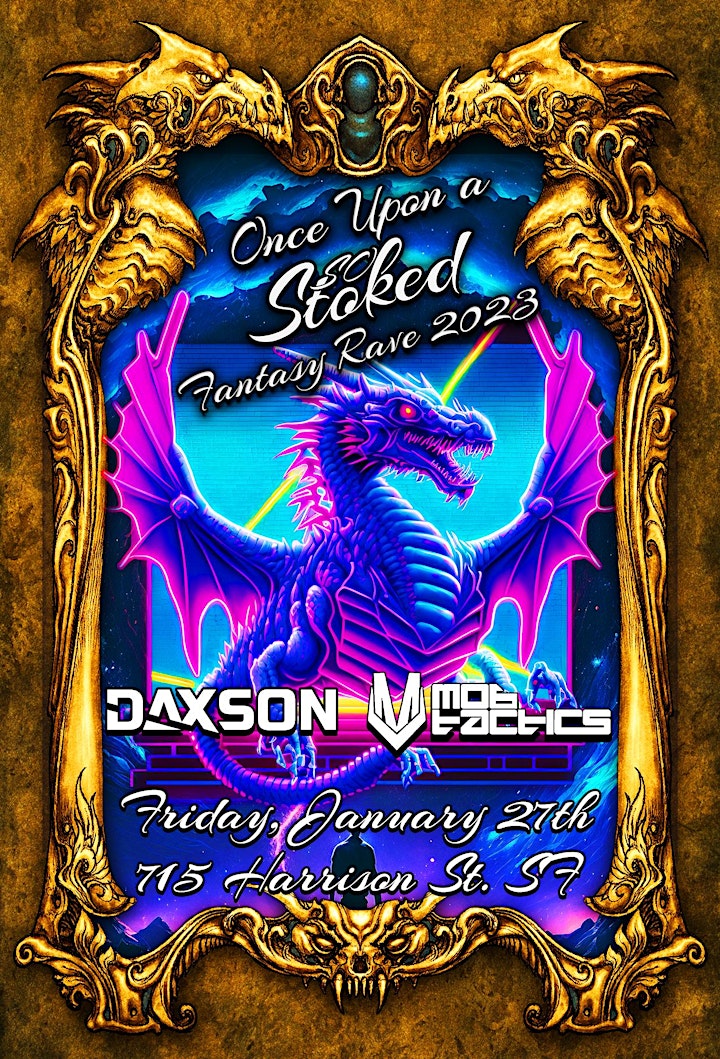 🐉👑🏰👑🐉👑🏰👑🐉👑🏰👑🐉👑🏰👑🐉👑🏰👑🐉👑🏰👑🐉👑🏰👑🐉👑🏰👑🐉
Once upon a time, in a land far, far away, Untz beats could be heard way off in the distance. If a maiden or knight stood at the edge of the magical forest they could hear beautiful music. But only someone PLUR of heart could travel into the forest and find the most magical party in all the land. Deep in the forest, princess, nymphs, knights, and folks of all magic gathered and danced all through the night to wicket beats that were spun from enchanting wizard DJs. Spells were cast all night so the party never ended and peace spread throughout the land. Kandi beads grew on the trees and love overflowed from the streams. Waves of unity floated through the air and respect was felt by all.
🐉👑🏰👑🐉👑🏰👑🐉👑🏰👑🐉👑🏰👑🐉👑🏰👑🐉👑🏰👑🐉👑🏰👑🐉👑🏰👑🐉
Trance - DNB - Hardcore - Hardstyle - Hyperpop - House
Main Room:
Daxson
Mob Tactics
Rafer Rawb
Switchblade
MoMoney
Front Room:
Kandi Up hosted by TreeKat! & friends - Get rave ready with Kandi Stations, Flow Arts and Gloving, Vendors, Free Pizza & Drinks!
Busby999
Indigo Child
Killpariah
Lilxmateo
Niqbo
Psymatik
Selecta & Rayne
Young4n
Zeus.Zero
9aradox
🐉👑🏰👑🐉👑🏰👑🐉👑🏰👑🐉👑🏰👑🐉👑🏰👑🐉👑🏰👑🐉👑🏰👑🐉👑🏰👑🐉
Once Upon a So Stoked: Fantasy Rave 2023
715 Harrison St. San Francisco, CA 94107
Tickets:
$10-$20 presale
Door: $25 before 9PM, $30 after.
Join the monkeys group for $5 off additional discount!https://www.facebook.com/groups/sostokedmonkeys
Wear kandi for $5-$10 door discount or get in free with a 3D cuff BIGGER (Wider AND Taller) than your head!!
Coat check: yes
All Ages
Full bars for 21+
7 PM—LATE
Kandi Love vibe
🐉👑🏰👑🐉👑🏰👑🐉👑🏰👑🐉👑🏰👑🐉👑🏰👑🐉👑🏰👑🐉👑🏰👑🐉👑🏰👑🐉
Kandi Discount!
Get $5 off at the door if you arrive with kandi fully covering both arms up to your elbows, $10 off if you arrive with both arms fully covered up to your shoulders, or get in FREE with a 3D cuff bigger than your head!!
🐉👑🏰👑🐉👑🏰👑🐉👑🏰👑🐉👑🏰👑🐉👑🏰👑🐉👑🏰👑🐉👑🏰👑🐉👑🏰👑🐉
RAVER RESCUE!
Ravers Helping Ravers! It has been a long and difficult year, and so many people are hurting right now. In this light, we want to do what we can to support the community we love. We will be helping people in crisis with emergency assistance. We are asking for the community's help! Donate a dollar and know it will go to feed a hungry raver, help someone get to a job interview, buy someone pet food, or help with other emergency needs. If we all do a little, we can help each other a lot. Consider donating to the Raver Rescue fund. Get more information in our discord server!
Donations can be made by purchasing a ticket above or via PayPal to help@plur.events.
RAVER RESCUE helps ravers with:
- An emergency meal
- Help with local transportation
- Purchasing sanitary products
- Providing emergency pet food
- One night lodging
🐉👑🏰👑🐉👑🏰👑🐉👑🏰👑🐉👑🏰👑🐉👑🏰👑🐉👑🏰👑🐉👑🏰👑🐉👑🏰👑🐉=
This is a drug free event! No bad vibes. PLUR and let the love flow. ^.^