The ONA Summit is an innovative conference on Organizational Network Analysis for Leaders and Organizational Development Professionals.
About this event
Maven7 is delighted to invite the entire community of Human Resources, Organizational Development and Change Management leaders, practitioners and researchers, to take part in a 3-day virtual global networking event.
REGISTRATION is FREE but mandatory for the event:
Registration & funding opportunities: https://onasummit.com/
Discover the opportunities and strengths of Organizational Network Analysis to help solve complex business problems. Learn from international thought leaders and discuss with peers about how networks of trust and data-driven insights can help you accelerate transformation and empower social capital across your organization.
WHAT IS ONA SUMMIT?
The ONA Summit is a unique opportunity to learn from international thought leaders about how networks of trust and data-driven insights can help accelerate transformation across our organizations. This pandemic has significantly challenged our organization, teams, work culture and workflows. Trust plays a key role in how our organization adapts to the "new normal" and how the crisis will affect the engagement and productivity of our people. However, building and strengthening trusting relationships among our employees has never been more important than now. Use this interactive opportunity to learn how to navigate the uncertainties and nurture a productive and constructive organization – one that will continue to provide value and have a positive social impact on the world.
Topics covered include:
-Future of Work and Shifting to Hybrid Work Models
-Digital Transformation and Culture Change
-Connected Leadership and Organizational Development
-Change Management and Social Capital
-People Analytics and Diversity & Inclusion
-Formal and Informal Social & Professional Networks
Confirmed Speakers include:
-András Vicsek, Co-founder and CEO of OrgMapper, Maven7
-Michael Arena, VP Talent & Development at Amazon Web Services (AWS)
-Renil Kumar, Vice President and HR Head- Health BU, Wipro Limited
-Dr.Leandro Herrero, CEO, Chief Organization Architect of The Chalfont Project
-Nicolas Petit, Senior Director, Global Culture Transformation Lead at GSK Vaccines
-Rob Cross, Author | Professor of Global Leadership | Chief Research Scientist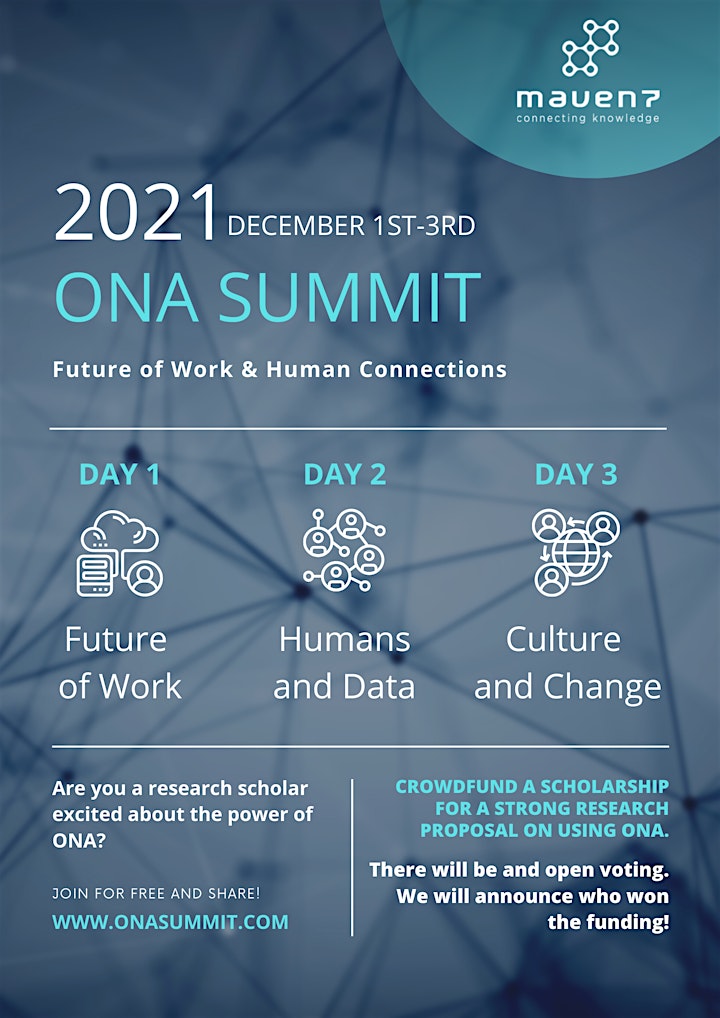 Organizer of ONA Summit 2021
You are guaranteed to take away from our events:
Learn about the methodology that best addresses complexity and uncertainty in human relations and business operations
Get an overview of the applications of ONA to solve diverse and specific business problems
Understand the unique power of ONA and its complementarity with other business methodologies
Gain practical, concrete knowledge and leave the webinar with a fresh and actionable perspective on people analytics, organizational development and change management problem solving