Event Information
Location
Z9 Musk Avenue and Kelvin Grove Road, Kelvin Grove
City Terrace, Level 6, Z9 Musk Avenue and Kelvin Grove Road
Musk Avenue and Kelvin Grove Road
Kelvin Grove, Qld 4059
Australia
Description
Writers and ideas at QUT
On the Terrace brings together writers, editors, and academics to discuss key debates and ideas animating the field of contemporary creative writing.
Open to all, these free seminars will ask speakers and audiences to engage with a spectrum of ideas about what it means to be a writer today, and debate the cultural factors contributing to our ideas of writing, publishing, and editing.
Seminar 1:
On the Circuit – Writers and Audiences
What happens when we ask authors to talk? Is it not enough that they write? Increasingly, authors have to talk about their books at festivals, in bookshops, and on radio in order to sell and publicise them. What does it mean when ask our authors to be the face of their own writing?
Featuring:
Anita Heiss
Dr Anita Heiss is the author of non-fiction, historical fiction, commercial women's fiction, poetry, social commentary and travel articles. She is a regular guest at writers' festivals and travels internationally performing her work and lecturing on Indigenous literature. She is a Lifetime Ambassador of the Indigenous Literacy Foundation and a proud member of the Wiradjuri nation of central NSW. Anita is an Advocate for the National Centre of Indigenous Excellence and an Ambassador of Worowa Aboriginal College. She currently divides her time between writing, public speaking, MCing, managing the Epic Good Foundation and being a 'creative disruptor'. Anita was a finalist in the 2012 Human Rights Awards and the 2013 Australian of the Year Awards and is a Board Member of the State Library of Queensland. Her latest novel Barbed Wire and Cherry Blossoms is longlisted for the Dublin International Literary Prize. She currently lives in Brisbane.
Sarah Kanowski
Sarah Kanowski hosts ABC Radio's Conversations on Thursdays and Fridays. Before joining Conversations permanently in 2018, Sarah co-presented ABC RN's daily culture program, Books and Arts. During her time with Books and Arts she particularly enjoyed longform author interviews with writers as diverse as Karl Ove Knausgaard, Helen Garner, Jonathan Franzen, Zadie Smith and Tex Perkins. After an undergraduate degree at the University of Queensland, Sarah was awarded a Commonwealth Scholarship to the University of Oxford. At Oxford she completed a Masters of Philosophy in English Studies, and received a Distinction for her thesis on the Mosley family. Sarah then spent a year teaching and travelling in South America before heading to Hobart to edit the literary magazine Island. She now lives in Brisbane with her husband and three young children.
Sarah Holland-Batt
Sarah Holland-Batt is a poet, editor, critic, and Senior Lecturer at QUT. Her first book, Aria, won the Anne Elder Award, the Arts ACT Judith Wright Poetry Prize and the Thomas Shapcott Poetry Prize, was shortlisted for numerous others, and was commended for The Age's Poetry Book of the Year. Her second book, The Hazards, won the 2016 Prime Minister's Literary Award for Poetry, and was shortlisted for the New South Wales Premier's Kenneth Slessor Prize, the Western Australian Premier's Book Awards, and the Adelaide Festival of Literature John Bray Memorial Poetry Award, among others. Her poems have appeared in numerous international journals and magazines, including The New Yorker and Poetry, and have been translated into Spanish, Dutch, German, Swedish and Bahasa Indonesian. She has been the guest of literary festivals in Argentina, Spain, Scotland, Indonesia, Mexico, Nicaragua, and England, and has been awarded residencies at Yaddo and MacDowell colonies in the United States and the Chateau de Lavigny in Switzerland. She is the editor of Black Inc.'s The Best Australian Poems 2016 and The Best Australian Poems 2017, and the Poetry Editor of Island magazine. She is presently a Sidney Myer Creative Fellow.
Panel chair: Kári Gíslason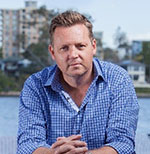 Associate Professor Kári Gíslason is a writer and academic who lectures in Creative Writing at QUT. Kári was awarded a doctorate in 2003 for his thesis on medieval Icelandic literature. He is the author of The Promise of Iceland, The Ash Burner, and co-author with Richard Fidler of Saga Land: The Island of Stories at the Edge of the World. As well as memoir and fiction, he also publishes scholarly articles, travel writing and reviews.
Please note: These seminars are free and seating is limited. Register now so that you don't miss out.
Date and Time
Location
Z9 Musk Avenue and Kelvin Grove Road, Kelvin Grove
City Terrace, Level 6, Z9 Musk Avenue and Kelvin Grove Road
Musk Avenue and Kelvin Grove Road
Kelvin Grove, Qld 4059
Australia